Wondering where to watch fireworks and celebrate the 4th of July in Raleigh and throughout the Triangle? Here are the answers! The biggest and best 4th of July fireworks and celebrations in the Triangle will be back in 2022! There are many fireworks shows taking place across the Triangle, including Raleigh, Durham, Cary, Wake Forest and more. There are also other celebrations and parades returning for 2022.
We will be updating this page in the months and weeks leading up to Independence Day, so please keep checking back.
Please make sure to check the date of each event, as some take place the weekend before the 4th of July, or other times.
4th of July Events in the Triangle
Please make sure to follow each link for full details. Sometimes details change, and we might not be notified!
Durham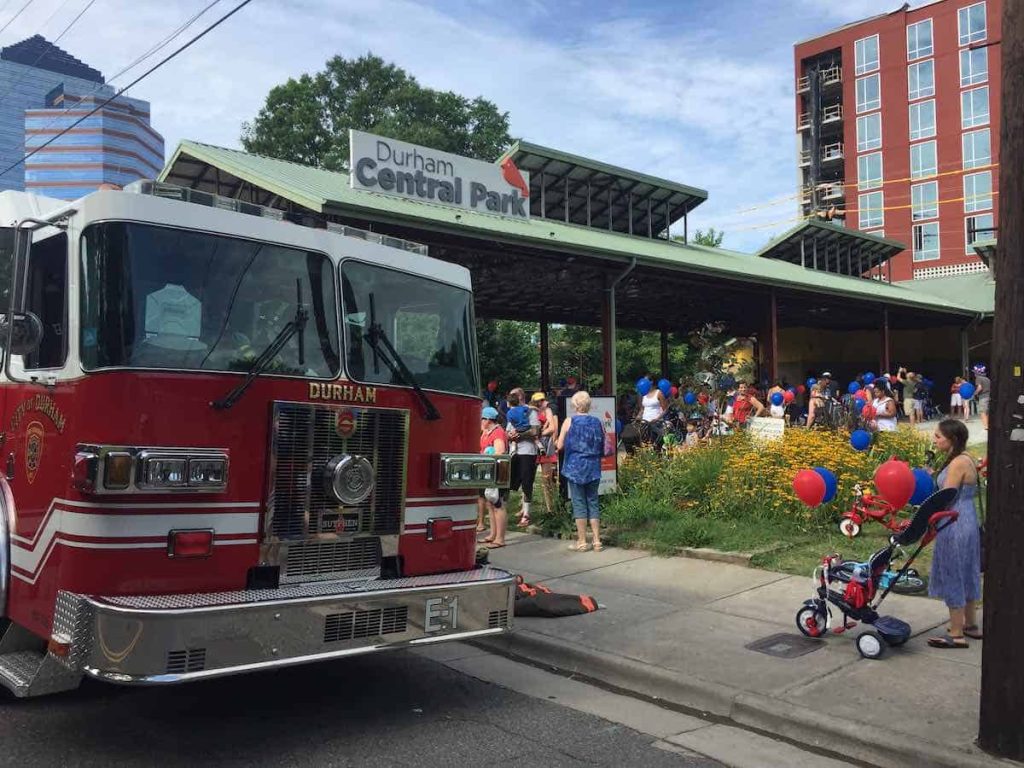 Children's Independence Day Parade
Monday, July 4th, 2022
9 to 11 a.m.
Durham Central Park, 501 Foster Street, Durham
Free
Bring the kids to the pavilion. Kids can decorate their bikes, trikes, wagons and scooters, and then participate in the parade. There will be free popsicles after the parade for the kids. There will also be tours of a fire engine and ambulance.
Fireworks after Durham Bulls Game
Monday, July 4th, 2022
There will be fireworks after the Durham Bulls game on July 4th. The game starts at 6:05 and the fireworks will start at approximately 9:15 p.m. Gates will open for general admission at the end of the 7th inning based on availability for those that would like to view the fireworks show from inside the ballpark. Please note, viewing areas are limited outside of the ballpark. Purchasing tickets to the game is strongly encouraged and ensures a spot inside the Durham Bulls Athletic Park to watch the fireworks. Viewing sites outside of the ballpark include the grassy area behind Diamond View 3, Burt's Bees – outside of the North Deck, Tobacco Road Sports Café, and Ponysaurus Brewing. Purchase tickets here.
Annual Watts-Hillandale Fourth of July parade and Celebration is Durham's oldest 4th of July celebration. It takes place Monday, July 4th, 2022, starting at Oval Park, 2200 W. Club Boulevard, Durham.
Festival for the Eno
This annual festival at West Point on the Eno will return for 4th of July weekend, 2022. It will take place July 2nd and 4th, from 10 a.m. to 6 p.m. each day.
Stars, Stripes & Strings! Fourth on the Farm Music Festival
Old Mill Farm, at 8913 NC 751, Durham, is hosting an outdoor music festival on Monday, July 4th, 2022. There will be two sessions, from 11 a.m. to 2 p.m., and from 3 to 6 p.m. The cost is $25 per car, and that includes admission for everyone in the vehicle, as well as sparklers. There will also be food trucks, vendors, carnival games and prizes.
Community reading of Frederick Douglass' 4th of July Speech
Monday, July 4th, 2022, at 10 a.m., at Historic Stagville, 5828 Old Oxford Highway, Durham, listen to, or participate in, a community reading of Frederick Douglass' powerful abolitionist speech, which he delivered at an Independence Day celebration on July 5th, 1852. This free event will last about one hour, and then you'll be able to tour the original slave dwellings.
Garner
Garner's Independence Day Celebration
Sunday, July 3rd, 2022
5 to 10 p.m.
Lake Benson Park, 921 Buffaloe Road, Garner
Free

Garner's celebration includes a performance by the North Carolina Symphony, activities for kids, food vendors and fireworks.
The official City of Raleigh 4th of July fireworks show will be at Dix Park on Monday, July 4th, 2022. Gates open at 6 p.m. and the fireworks show will take place at 9:30 p.m. Before the fireworks, enjoy music from the DJ stage and field games like Cornhole and Giant Connect 4. No vehicle traffic will be allowed in Dix Park, but there will be free parking at NCSU Centennial Campus and Downtown Raleigh parking decks, with free shuttles from Centennial Campus and Moore Square.
The Brier Creek Star Spangled Block Party and Fireworks Show will take place Monday, July 4th, starting at 8 p.m. Enjoy entertainment from a DJ, face painting, a 360 photo booth, and giveaways, while supplies last. Then find your spot in Brier Creek Commons around 9 p.m. for the fireworks show, which will be synchronized to a soundtrack on Kix 102.9. 8131 Brier Creek Parkway, Raleigh.
The Independence Day Celebration at the North Carolina State Capitol, 1 E. Endenton Street, Raleigh, takes place on Monday, July 4th, 2022, from 11 a.m. to 3 p.m. It includes a reading from the Declaration of Independence, wreath laying at the George Washington monument by the Sons of the American Revolution, self-guided tours of the Capitol Building and patriotic music by Raleigh Concert Band. Kids will have the chance to dress up as a Revolutionary era citizen and even pie King George III.
Joel Lane Museum House, at 160 South Saint Mary's Street, Raleigh, is holding a free Independence Day Open House on Monday, July 4th, 2022, from 11 a.m. to 4 p.m. Watch re-enactors, listen to music, and enjoy arts and crafts and activities. The bottom floor of the historic house will be open to walk through, with docents in each room. Free lemonade and ice cream will be available as long as supplies last. This is a free event.
The Raleigh Market, at the N.C. State Fairgrounds, at 4285 Trinity Road, Raleigh, is hosting a Patriotic Pet Parade on Saturday, July 2nd, 2022, at 11 a.m. It's free to enter, and prizes will be awarded. Follow the above link to register.
Rolesville
Rolesville is celebrating the 4th of July with fireworks on Monday, July 4th, 2022, starting at 5 p.m., at Redford Place Park. The celebration includes live music by Chairmen of the Board, inflatables, yard games, family crafts, food trucks, beer and wine, and fireworks.
Smithfield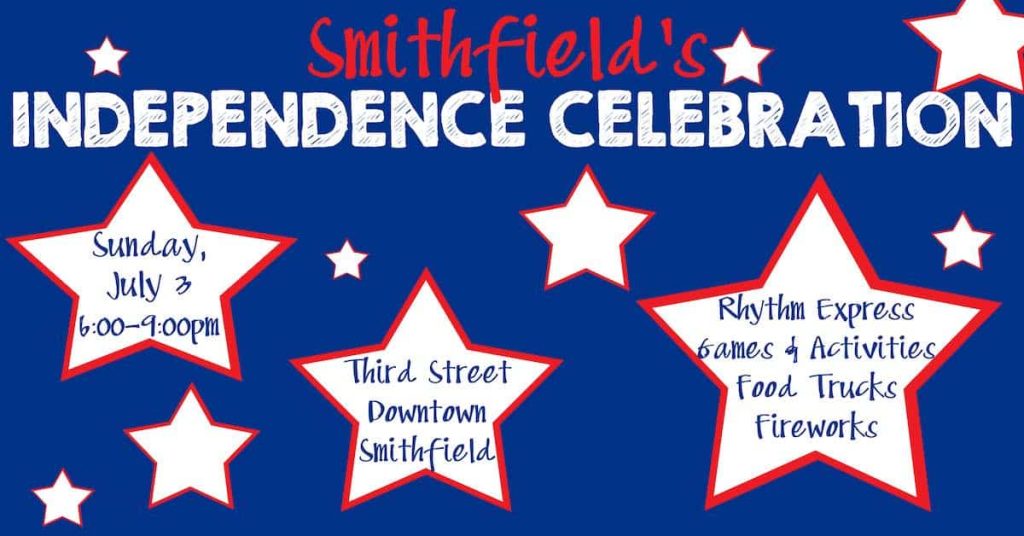 The Town of Smithfield's Independence Day celebration takes place on Sunday, July 3rd, 2022, from 6 to 9 p.m., on Third Street in Downtown Smithfield. The event includes live music by Rhythm Express, games, activities, food trucks, and fireworks.
Upcoming Events in the Triangle
Check out our
full events calendar
, where you can enter any date, or look at the events for the next few days here:
Monday, December 5, 2022
Tuesday, December 6, 2022
Wednesday, December 7, 2022