There's nothing better on a warm evening than listening to music outdoors. Here's a list of summer concert series for 2023 in the Triangle. You'll find live music in Raleigh, Durham, Cary, Chapel Hill, Pittsboro, Carrboro, Hillsborough, Wake Forest, and more.
Maybe "summer" stretches a little bit into spring and autumn too. Most of these concert series are family friendly. At many you can purchase food from food trucks.
Most of these concerts are free, but we've also included some that are low-cost.
Read about some of our favorite outdoor concert series, and then scroll down for a day by day list of every outdoor concert on Triangle on the Cheap's calendar for the next 90 days. You can jump right to the day by day list if you'd like, and see what's going on today!
This list includes outdoor concerts at festivals, breweries, and markets as well. Make sure to follow each link for details.
Learn about outdoor movies throughout the Triangle!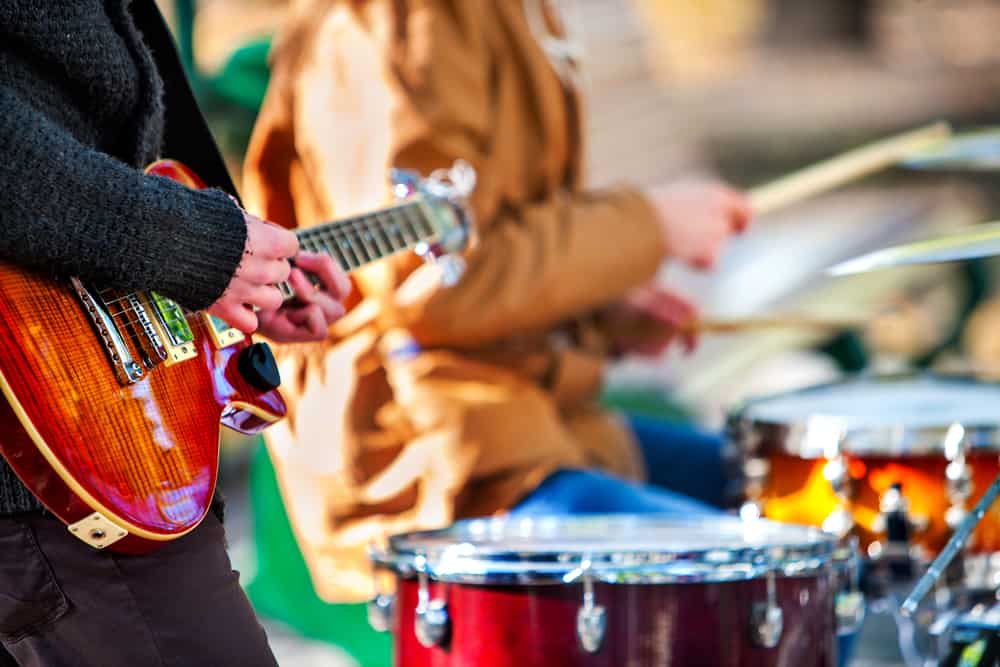 Outdoor Concert Series in the Triangle
Read on to learn about some of the outdoor concert series in Raleigh, Durham, Chapel Hill, Wake Forest and beyond.
Chapel Hill, Carrboro, and Hillsborough
Freight Train Blues
---
Fridays on the Front Porch
Fridays on the Front Porch
Fridays from April 7th to October 27th, 2023
5 to 8 p.m.
Carolina Inn, 211 Pittsboro Street, Chapel Hill
Free
Each week there will be one band and two food trucks.
---
Durham
---
Raleigh
---
---
---
Cary and Apex
---
---
---
---
---
Park After Dark
Park After Dark
Check back soon.
Cary's old library site, 310 South Academy Street, Cary
Free
There will be some food and drink vendors at each event.
Other Spots in Western Wake County
Summer at the Springs
Summer at the Springs
First Friday of the month from June to October, 2023, except July
6 to 9 p.m.
Holly Springs Cultural Center, 300 W. Ballentine St., Holly Springs
Free
---
---
---
Wake Forest
---
---
Eastern Wake County
Chatham County
---
---
MOSAIC
Beach Music Series at MOSAIC
Five Fridays in May and June, 2023
6 to 8 p.m.
MOSAIC event lawn, 367 Freedom Parkway, Pittsboro
Free
Elsewhere
---
---
Vollis Simpson Whirligig Park
Gig in the Park
Every other Thursday from April 20 to June 15, 2023
Vollis Simpson Whirligig Park, 301 Goldsboro Street S, Wilson, NC
Free
---
Day by Day List of Outdoor Concerts
Monday, October 2, 2023
Tuesday, October 3, 2023
Wednesday, October 4, 2023
Thursday, October 5, 2023
Friday, October 6, 2023
Saturday, October 7, 2023
Sunday, October 8, 2023
Monday, October 9, 2023
Tuesday, October 10, 2023
Wednesday, October 11, 2023
Thursday, October 12, 2023
Friday, October 13, 2023
Monday, October 16, 2023
Tuesday, October 17, 2023
Thursday, October 19, 2023
Friday, October 20, 2023
Monday, October 23, 2023
Tuesday, October 24, 2023
Thursday, October 26, 2023
Friday, October 27, 2023
Saturday, October 28, 2023
Tuesday, October 31, 2023
Thursday, November 2, 2023
Friday, November 3, 2023
Saturday, November 4, 2023
Sunday, November 5, 2023
Tuesday, November 7, 2023
Friday, November 10, 2023
Tuesday, November 14, 2023
Friday, November 17, 2023
Sunday, November 19, 2023
Tuesday, November 21, 2023
Tuesday, November 28, 2023