There's nothing better on a warm evening than listening to music outdoors. Here's a big list of free summer concert series for 2019 in the Triangle–Chapel Hill, Raleigh, Durham and beyond.
Maybe "summer" stretches a little bit into spring and autumn too. Most of these concert series are family friendly. At many you can purchase food from food trucks.
Know of more that should be on this list? Email me at jody@triangleonthecheap.com and let me know! Make sure to follow each link to get all the details. We've included the band schedule if available.
NOTE: We have updated all the concert series that have information for 2019. All the ones from last year that we don't have information on yet are marked as TBD.This is a growing list.
So far all of these concert series are free, but if they're not that will be noted. Tips and CD purchases are always appreciated by the bands.
Scroll down for a day by day list of every outdoor concert on Triangle on the Cheap's calendar for the next 90 days!
Apex Outdoor Concert Series
Apex Music in the Park
TBD
They take place at two locations:
Nature Park Amphitheatre, 2600 Evans Road, Apex
Apex Historic Depot, 220 N. Salem Street, Apex
Carrboro Outdoor Concert Series
Freight Train Blues Music Series
TBD
Carrboro Town Commons (Farmer's Market), 301 Main Street, Carrboro
This 4-part blues series highlights blues and roots music, celebrates the life and legacy of Piedmont blues legend, Elizabeth 'Libba' Cotten, born in 1893 in Carrboro.
Jazz (and more) Brunch at Weaver Street Market Carrboro
Sundays from May 19 to September 29, 2019
Weaver Street Market, 101 E. Weaver Street, Carrboro
11 a.m. to 1 p.m.
After Hours at Weaver Street Market Carrboro
Thursdays from May 23 to June 27, 2019
6 p.m. to 8 p.m.
Cary Outdoor Concert Series
Starlight Concert Series
TBD
Usually 7 p.m.
Page-Walker Arts & History Center Garden, 119 Ambassador Loop, Cary
Park After Dark
Four Wednesdays: June 12, July 10, August 14, September 11, 2019
7 p.m. to 9 p.m.
Downtown Park, 319 South Academy Street, Cary
Cary Live
Four Saturdays: June 29, July 20, September 21, October 12, 2019
7 p.m. to 9 p.m.
Downtown Park, 319 Academy Street, Cary
Bands, Bites and Boats at Bond Park
April 5, May 3, June 7, July 5, August 2, September 6, October 4, 2019
Start time varies. Follow above link for schedule details.
Bond Park Boathouse, Fred G. Bond Metro Park, 801 High House Rd, Cary
Enjoy the music from a boat or on land. Each event also includes a food truck and local brewery.
Sertoma Music Series
TBD
7 p.m.
Sertoma Amphitheatre in Bond Park, 801 High House Road, Cary
Wind Down Wednesdays at Waverly Place
TBD
6 p.m. to 9 p.m.
Waverly Place, 575 New Waverly Place, Cary
Chapel Hill Outdoor Concert Series
Meadowmont Music Series
First Friday of month, May through September, 2019, plus Saturday, May 18 and Saturday, September 14
Meadowmont Village, 300 Meadowmont Village Circle, Chapel Hill
Meadowmont Gazebo, 101 Old Barn Lane, Chapel Hill
Follow above link to see which location each concert is at.
Live Music on the Village Green
TBD
Market Street at Southern Village, 600 Market Street in Chapel Hill
After Hour Fridays
TBD
Market Street at Southern Village, 600 Market Street, Chapel Hill
Wine Down Wednesday at La Vita Dolce
Wednesdays April 10 to October 16, 2019
5 p.m. to 8 p.m.
La Vita Dolce at Southern Village, 610 Market St, Chapel Hill
Live music, free treats for the kids, food sampling
Music on the Porch
Thursdays. So far, concerts are announced for March 28, April 11, April 25, 2019
5:30 p.m.
Love House and Hutchins Forum, on Thursdays. 410 East Franklin Street in Chapel Hill
UNC's Center for the Study of the American South presents this free concert series as part of their commitment to strong research and scholarship on the history, contemporary experience, diverse cultures, and global context of the South.
Fridays on the Front Porch
TBD
Carolina Inn, 211 Pittboro Street, Chapel Hill
Each week there will be one band and two food trucks.
Chatham County Outdoor Concert Series
Bynum Front Porch Fridays
TBD
Bynum Front Porch, 950 Bynum Road in Pittsboro
Live Music at The Roost Beer Garden
TBD
The Roost Beer Garden, 270 Market Street, Fearrington Village, Pittsboro
Durham Outdoor Concert Series
PLAYlist Concert Series
Every other Friday June 14 to September 20, 2019
7 p.m. to 8 p.m.
Durham Central Park, 501 Foster Street

Music on Main
TBD
6 p.m. to 9 p.m.
The Streets at Southpoint, 6910 Fayetteville Road, Durham
Rock the Park Movie and Concert Series
TBD
Various Durham parks
Once a month, a concert takes place at a Durham park, and once a month, there's a movie. Follow above link to see the schedule.
American Tobacco Music on the Lawn
318 Blakwell Street, Durham
TBD
Brightleaf Summer Concert Series
May 17, May 24, June 7, June 21, July 5, July 19, August 2, August 16, August 30, September 6, 2019
Brightleaf Square, 905 West Main Street Durham
Fuquay-Varina Outdoor Concert Series
FM2FQ Concert Series
April 11, April 25, May 9
6:30 p.m. to 9:30 p.m.
Centennial Square, 102 North Main Street, Fuquay-Varina
Hillsborough Outdoor Concert Series
Last Friday Concert Series
The last Friday of month from April to September, 2019
6:30 p.m. to 9:30 p.m.
Part of the Last Friday Art Walk in Hillsborough
Holly Springs Outdoor Concert Series
Summer at the Springs
TBD
Holly Springs Cultural Center, 300 W. Ballentine St., Holly Springs
Morrisville Outdoor Concert Series
Live in the District
Thursdays, April 25 to June 13, 2019
6:30 p.m. to 9 p.m.
In front of Stone Theatre — Park West 14, Village Market Place, Morrisville
Acoustic Nights in the District
Fridays and Saturdays from June 14 to October 19, 2019
In front of Stone Theatre — Park West 14, Village Market Place, Morrisville
6 p.m. to 9 p.m.
Raleigh Outdoor Concert Series

Midtown Beach Music Series
TBD
North Hills Common, 4158 Main at North Hills Street, Raleigh
Midtown Bluegrass Series: Sunday Ramble in the Park
TBD
3 p.m.
Midtown Park, 4011 Cardinal N Hills S, Raleigh
Two concerts presented by PineCone. Follow above link for band lineup.
LIVE @ Lake Raleigh
April 11, April 25, May 9, May 23, 2019
6 p.m.
Lake Raleigh, Main Campus Drive & Campus Shores Drive, Raleigh
NC State is presenting this new free, family-friendly concert series. Bring a picnic or buy dinner from one of the food trucks. BYOB.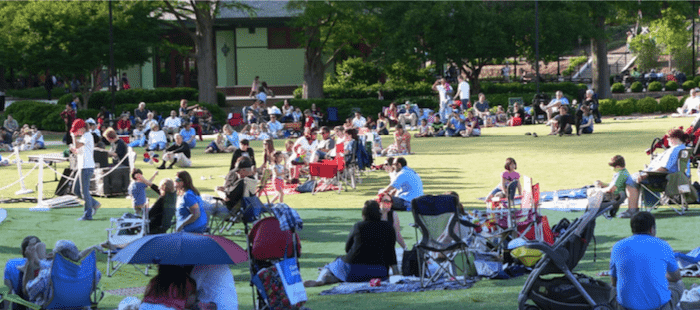 Summer Concert Series in Raleigh Parks
TBD
Sundays 6 p.m. to 8 p.m. in Fred Fletcher Park
Tuesdays and a Wednesday 7 p.m. to 9 p.m. in Pullen Park
Saxapahaw
Saturdays in Saxapahaw
TBD
5 p.m. to 8 p.m.
1735 Saxapahaw Bethlehem Church Road, Saxapahaw
The farmers' market is open from 5 p.m. to 8 p.m. and the music goes on from 6 p.m. to 8 p.m. The Haw River Festival kicks ooff the series on May 5th from 4 p.m. to 8 p.m.
Wake Forest Outdoor Concert Series

Friday Night on White
2nd Friday of month, April through September, 2019
6 p.m.
South White Street, Wake Forest
Six Sundays in Spring
Every Sunday from April 28 to June 2, 2019
5 p.m.
E. Carroll Joyner Park Amphitheater at 701 Harris Rd., Wake Forest
Music at Midday
TBD
Centennial Plaza, the gateway to the Wake Forest Town Hall, 301 S. Brooks Street, Wake Forest
Dessert trucks will be on site
Day by Day List of Outdoor Concerts
Thursday, March 28, 2019
Friday, April 5, 2019
Sunday, April 7, 2019
Wednesday, April 10, 2019
Thursday, April 11, 2019
Friday, April 12, 2019
Wednesday, April 17, 2019
Wednesday, April 24, 2019
Thursday, April 25, 2019
Friday, April 26, 2019
Sunday, April 28, 2019
Wednesday, May 1, 2019
Thursday, May 2, 2019
Friday, May 3, 2019
Sunday, May 5, 2019
Wednesday, May 8, 2019
Thursday, May 9, 2019
Friday, May 10, 2019
Sunday, May 12, 2019
Wednesday, May 15, 2019
Thursday, May 16, 2019
Friday, May 17, 2019
Saturday, May 18, 2019
Sunday, May 19, 2019
Wednesday, May 22, 2019
Thursday, May 23, 2019
Friday, May 24, 2019
Sunday, May 26, 2019
Wednesday, May 29, 2019
Thursday, May 30, 2019
Friday, May 31, 2019
Sunday, June 2, 2019
Wednesday, June 5, 2019
Thursday, June 6, 2019
Friday, June 7, 2019
Sunday, June 9, 2019
Monday, June 10, 2019
Wednesday, June 12, 2019
Thursday, June 13, 2019
Friday, June 14, 2019
Saturday, June 15, 2019
Sunday, June 16, 2019
Wednesday, June 19, 2019
Thursday, June 20, 2019