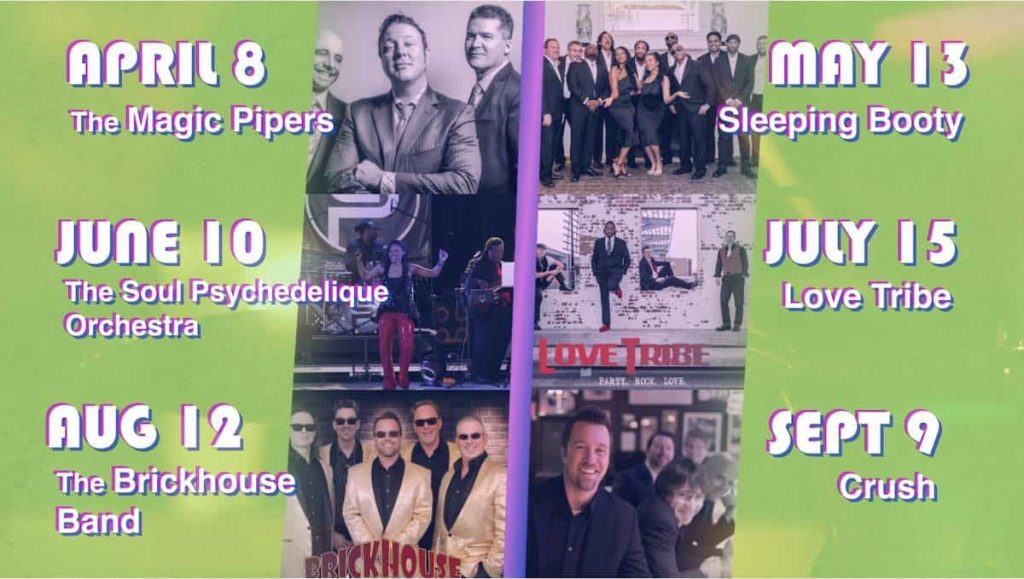 The Town of Wake Forest and Downtown Wake Forest, Inc. are bringing back Friday Night on White in 2022.
The very popular event takes place from 6 p.m. to 9 p.m. on White Street in Wake Forest, and features live music and beer for purchase.
Love outdoor music? Check out our huge day by day list of outdoor music around the Triangle! Most of the shows are free.
Friday Night on White Schedule for 2022
April 8th: Magic Pipers Band
May 13th: Sleeping Booty Band
June 10th: The Soul Psychedelique Orchestra
July 15th: Love Tribe
August 12th: The Brickhouse Band
September 9th: Crush
Make sure to visit some of the restaurants in downtown Wake Forest, or enjoy dinner from one of the food trucks that will be on site.
Adult beverages will be available for purchase. You'll need to pick up a wristband for age identification at the entry tents starting at 5 p.m.
Free parking is available along several side streets and parking lots in downtown Wake Forest, including Southeastern Baptist Theological Seminary. When you're parking in any lot, make sure that it's truly a public lot. Look for a clearly marked sign indicating that it's open for Friday Night on White parking.
You can bring a lawn chair or a blanket. Please put them in the street (which will be closed to traffic) and not on the sidewalk. Sidewalks are for pedestrians. No coolers or outside alcoholic beverages are allowed.
Double-Check Before You Head Out!
We make every effort to make sure that everything on Triangle on the Cheap is 100% accurate.
However, sometimes things change without notice, and it's also possible that we can make a mistake. 
Please verify all deals and events with the venue or organizer before you go.
         You might also be interested in:
More Outdoor Music in the Triangle
Learn all about outdoor music in the Triangle, including a description of the concert series, and a 90-day calendar, or take a quick look at some of the upcoming outdoor concerts here:
Tuesday, December 6, 2022
Thursday, December 8, 2022
Saturday, December 10, 2022
Sunday, December 11, 2022
Tuesday, December 13, 2022
Friday, December 16, 2022