The last Friday of every month, rain or shine, Downtown Hillsborough showcases its art scene with the Last Fridays Art Walk from 6 p.m. to 9 p.m. Explore art galleries, artist studios, fine jewelers, boutique shops and award winning restaurants. The activity takes place mostly on and around Churton Street, between West Margaret Lane and West Queen Street. You can find a map and information on each participating venue on Hillsborough Arts Council's website.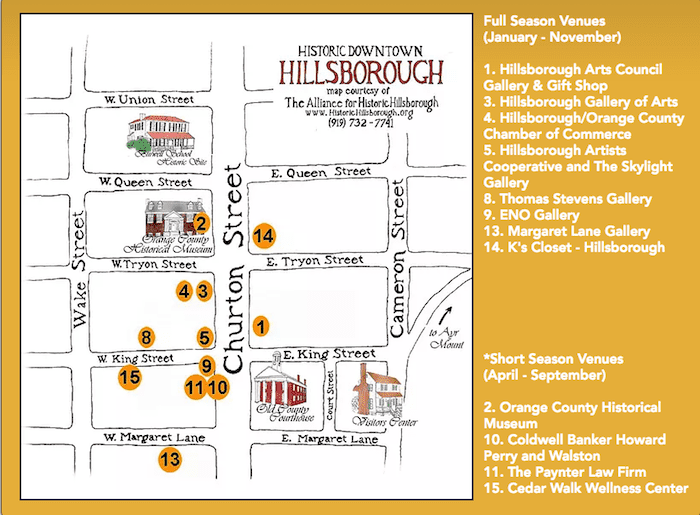 April through September there will be a free concert series from 6:30 p.m. to 9:30 p.m. on the Old Orange County Courthouse lawn (106 E. King St.)
Here is some of what's going on February 22:
Hillsborough Arts Council Gallery & Gift Shop
102 North Churton Street
(919) 643-2500
Committed to providing a unique shopping experience in downtown Historic Hillsborough, the Gallery offers a venue for emerging and mid-career artists to exhibit and sell their work. In addition, HAC's Gift Shop offers a beautiful and varied selection of well-priced gift items: wood, pottery, glass, fiber, note cards, jewelry, metalwork, birdhouses, calendars, art prints, linens and hand-painted silk scarves.
Presents two shows by Cedar Ridge High School International Baccalaureate Senior Art students Miranda Brown, Joanna Cannone, Cameron Koehler and Colin Boyette.
Hillsborough/Orange County Chamber of Commerce
200 North Churton Street
(919) 732-8156
Presents Triangle Visual Artists on the Move.
Hillsborough Gallery of Arts
121 North Churton Street
(919) 732-5001
Founded in 2006, the gallery is owned and operated by 22 local artists, featuring painting, sculpture, photography, glass art, jewelry, wood, pottery and fiber and textile arts.
Presents "Other Dimensions" a group show where each of the 22 member artists have created original work in a medium that is new to them.
Hillsborough Artists Cooperative and The Skylight Gallery
102 West King Street
(919) 619-8129
The Hillsborough Artists Cooperative, founded in 1992, is upstairs over Antonia's Restaurant. Studio artists are Jayne Bomberg and Tom Guthrie (The Studio of Collective Effervescence), Jennifer E. Miller, Andrea DeGette, Jacquelin Liggins, Roberta Wallace, and Nan Kuney.
Presents "Textures of Nature & Resistance" featuring photography by local artists and artwork by studio artists Jayne Bomberg, Tom Guthrie, Jennifer E. Miller, Andrea DeGette, Jacquelin Liggins, Roberta Wallace and Nan Kuney.
King Street Bar
114 West King Street
Located just off Churton Street in Historic Hillsborough NC King Street Bar has a warm inviting atmosphere with great cocktails and friendly staff.
Presents the paintings of Marcela Slade.
Thomas Stevens Gallery
126 West King Street
(919) 360-2249
Open for Last Fridays, special events and receptions, serendipity, and by appointment.
​Thomas Stevens Gallery presents a variety of works by artist, bricoleur, and mayor Tom Stevens, including colorful landscapes of the Hillsborough area.
Presents "Stickwork Homage (Part 2)" featuring new works by Thomas Stevens that celebrate the bygone "A Sight to Behold" stickwork sculpture on Hillsborough's Riverwalk.
ENO Gallery
100 South Churton Street
(919) 883-1415
Contemporary Fine Art in the Heart of Historic Hillsborough.Presents winter group exhibition by gallery artists.
Margaret Lane Gallery
121 West Margaret Lane
(919) 296-8938
Features local artists working in a variety of media. Oils, acrylics, photography, mixed media, collage, watercolors, colored pencils, stained glass, paper mache', polymer clay, jewelry, fibers, and other media. Free children's art corner so they can create while you browse. Presents "Horse of a Different Color" featuring the acrylic paintings of Chrystal Hardt.

More art events in the Triangle
Friday, March 22, 2019
Saturday, March 23, 2019
Sunday, March 24, 2019
Wednesday, March 27, 2019
Thursday, March 28, 2019
Friday, March 29, 2019
Saturday, March 30, 2019
Sunday, March 31, 2019
Wednesday, April 3, 2019
Thursday, April 4, 2019
Friday, April 5, 2019
Saturday, April 6, 2019
Sunday, April 7, 2019
Monday, April 8, 2019
Wednesday, April 10, 2019
Thursday, April 11, 2019
Friday, April 12, 2019
Saturday, April 13, 2019
Monday, April 15, 2019
Wednesday, April 17, 2019
Thursday, April 18, 2019
Friday, April 19, 2019
Saturday, April 20, 2019