NC State's very popular free, family-friendly, outdoor concert series, LIVE @ Lake Raleigh, is returning in April and May of 2023.
It takes place at Lake Raleigh, Main Campus Drive & Campus Shores Drive.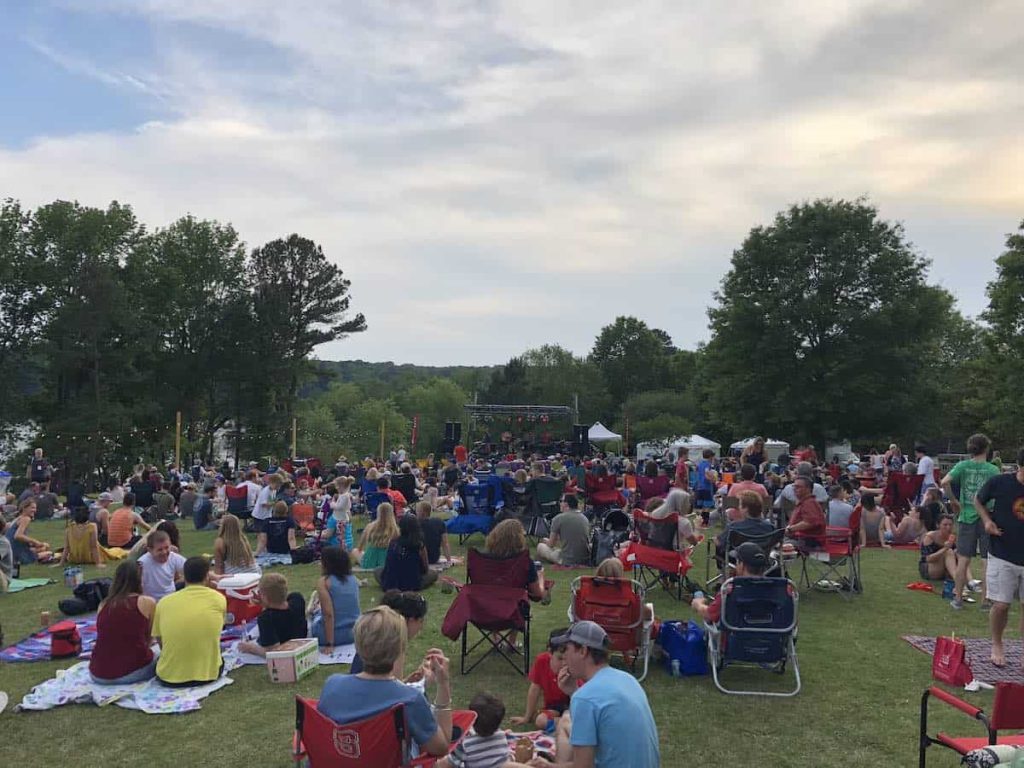 Love outdoor music? Check out our huge day by day list of outdoor music around the Triangle! Most of the shows are free.
Gates will open at 5 p.m., and food trucks will be on site at that time. The concerts start at 6 p.m.
LIVE @ Lake Raleigh Schedule
Thursday, April 6th, 2023
Orquesta GarDel
High-energy rhythms from Latin America
Thursday, April 20th, 2023
Hank, Pattie & the Current
Bluegrass, infused with classical and Motown sounds
Thursday, May 4th, 2023
Laurelyn Dossett
Singer/songwriter with Grammy-winning songs that reflect the rich stories of the Piedmont
Thursday, May 18th, 2023
Caique Vidal & Batuque
Afro-Brazilian beats
Map and Parking for LIVE @ Lake Raleigh
All of Centennial Campus offers free parking after 5 p.m. There's street and lot parking throughout Centennial. Consult the map, below, on parking lots and decks near the concert.
Food and Drink
Food trucks will be on site. They'll be announced on the Live @ Lake Raleigh website.
In addition, you're welcome to bring your own food, but no grills or open flames. You can also bring your own beer and wine but no glass, and no liquor or spirits.
Local breweries will be selling beer on site as well.
Accessibility
There is a place to drop off patrons near the front gate. The event is an open field with a slight slope. There are no sidewalks, but the grass is not thick and wheelchairs are able to roll through the grass.
More Outdoor Music in the Triangle
Learn all about outdoor music in the Triangle, including a description of the concert series, and a 90-day calendar, or take a quick look at some of the upcoming outdoor concerts here:
Wednesday, March 22, 2023
Thursday, March 23, 2023
Friday, March 24, 2023
Saturday, March 25, 2023
Sunday, March 26, 2023
Tuesday, March 28, 2023
Wednesday, March 29, 2023
Thursday, March 30, 2023
Friday, March 31, 2023
Saturday, April 1, 2023
Sunday, April 2, 2023
Tuesday, April 4, 2023
Wednesday, April 5, 2023
Thursday, April 6, 2023
Friday, April 7, 2023
Saturday, April 8, 2023
Sunday, April 9, 2023
Tuesday, April 11, 2023
Wednesday, April 12, 2023
Thursday, April 13, 2023
Friday, April 14, 2023
Saturday, April 15, 2023
Tuesday, April 18, 2023
Wednesday, April 19, 2023
Thursday, April 20, 2023
Friday, April 21, 2023
Saturday, April 22, 2023
Sunday, April 23, 2023
Wednesday, April 26, 2023
Thursday, April 27, 2023
Friday, April 28, 2023
Saturday, April 29, 2023
Sunday, April 30, 2023
Wednesday, May 3, 2023
Thursday, May 4, 2023
Friday, May 5, 2023
Saturday, May 6, 2023
Sunday, May 7, 2023
Wednesday, May 10, 2023
Thursday, May 11, 2023
Friday, May 12, 2023
Saturday, May 13, 2023
Sunday, May 14, 2023
Wednesday, May 17, 2023
Thursday, May 18, 2023
Friday, May 19, 2023
Saturday, May 20, 2023