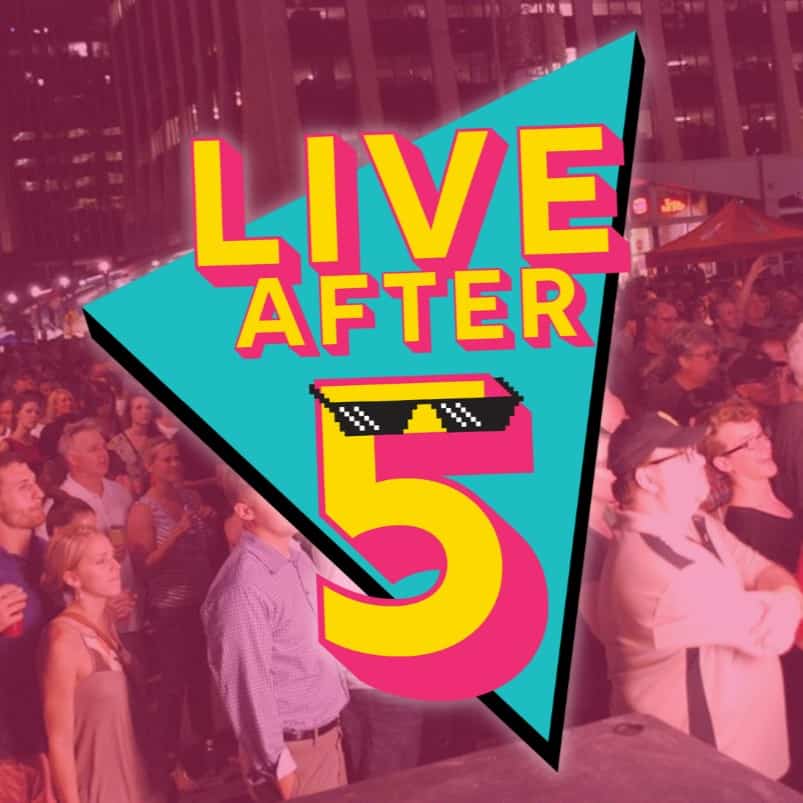 Downtown Raleigh Alliance is bringing Live After 5 back! It's 20+ years since the concert series first debuted.
It will take place at City Plaza, 443 Fayetteville Street, Raleigh, the third Wednesday of the month from April to July in 2023 from 5 to 8 p.m.
Travel back in time to the 80s and 90s! This music block party will feature nostalgic musical acts, vintage clothing vendors and more.
Check out our huge day-by-day list of outdoor concerts in Raleigh, Durham, Chapel Hill, and the rest of the Triangle.
More Outdoor Music in the Triangle
Learn all about outdoor music in the Triangle, including a description of the concert series, and a 90-day calendar, or take a quick look at some of the upcoming outdoor concerts here:
Friday, June 9, 2023
Saturday, June 10, 2023
Sunday, June 11, 2023
Wednesday, June 14, 2023
Thursday, June 15, 2023
Friday, June 16, 2023
Saturday, June 17, 2023
Sunday, June 18, 2023
Monday, June 19, 2023
Tuesday, June 20, 2023
Wednesday, June 21, 2023
Thursday, June 22, 2023
Friday, June 23, 2023
Saturday, June 24, 2023
Sunday, June 25, 2023
Wednesday, June 28, 2023
Friday, June 30, 2023
Saturday, July 1, 2023
Sunday, July 2, 2023
Tuesday, July 4, 2023
Wednesday, July 5, 2023
Thursday, July 6, 2023
Friday, July 7, 2023
Saturday, July 8, 2023
Sunday, July 9, 2023
Wednesday, July 12, 2023
Thursday, July 13, 2023
Friday, July 14, 2023
Saturday, July 15, 2023
Sunday, July 16, 2023
Wednesday, July 19, 2023
Friday, July 21, 2023
Saturday, July 22, 2023
Sunday, July 23, 2023
Wednesday, July 26, 2023
Thursday, July 27, 2023
Friday, July 28, 2023
Saturday, July 29, 2023
Sunday, July 30, 2023
Wednesday, August 2, 2023
Thursday, August 3, 2023
Friday, August 4, 2023
Saturday, August 5, 2023
Sunday, August 6, 2023