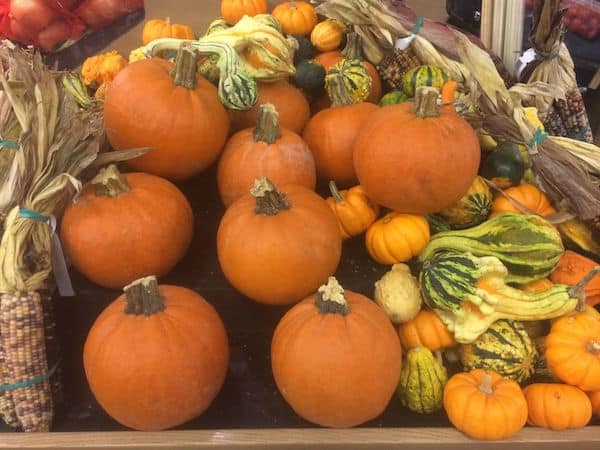 Raleigh, Durham, Chapel Hill and surrounding areas, here's a big (and growing) list of fall festivals, Halloween festivals, Halloween movies, trick-or-treat events and more, for 2017. Most of these are free. Some have a nominal charge and some free festivals charge for activities. This list will go from Labor Day Weekend through the middle of November.
Do you know of others? Let me know and I'll get them on the list. Coming soon is also a list of haunted trails, corn mazes and other ongoing activities throughout the fall. Triangle on the Cheap has a lot of ideas for free and cheap things to do, so make sure to subscribe by email. Your email address will never be shared, sold, or spammed. We're also on Facebook and Twitter. Tell your friends! And follow each link below for the necessary details.
Tar Heel Downtown Celebration
September 1
140 West Franklin Street
Celebrate the beginning of the UNC Tar Heel's football season with kids' games, live music, autographs, concessions, inflatables and more.
Free
Bull City Rumble
September 2
Social Games and Brews, 1007 W Main St, Durham
Vintage motorcycle and scooter rally. Live music, more.
Free
African American Cultural Festival of Raleigh and Wake County
September 2-3
Fayetteville Street, from Martin Street to City Plaza in downtown Raleigh
An annual Labor Day Weekend celebration of African American culture as expressed through art, music, dance, food and community.
Free
Raleigh Greek Fest
September 8-10
Jim Graham Building, NC State Fairgrounds, 1025 Blue Ridge Road, Raleigh
This festival includes traditional dance performances, cooking demos, vendors and more.
Free
SPARKcon
September 14-17
Raleigh
SPARKcon is an interdisciplinary creativity, art & design festival produced by the non-profit creativity incubator, Visual Art Exchange, in Raleigh NC. SPARKcon happens each September in Downtown Raleigh. The annual event includes a huge number of events encompassing creative themes such as art, music, film, fashion, geek, circus and more. Many of the events are free.
Many events are free
NC Style Oktobrüefest at Brüeprint Brewing Company
September 15
Brüeprint Brewing Company, 1229 Perry Rd Ste 101, Apex
German-style food for purchase, live music, more.
Free
Hillsborough Hog Day
September 15-16
River Park, 144 East Margaret Lane, Hillsborough
This festival brings the community together to eat BBQ, listen to live music and shop for hand-crafted gifts. It's Orange County's longest running festival.
Free
BugFest
September 16
North Carolina Museum of Natural Sciences, 11 West Jones Street, Raleigh
Each year more than 35,000 (human) visitors come to BugFest to enjoy over 100 exhibits, crafts, games and activities. The 2017 featured arthropod is the dragonfly.
Free
Centerfest Arts Festival
September 16-17
Downtown Durham
45+ juried visual artists will showcase and sell their original, handcrafted work in Clay, Drawing, Fibers, Glass, Painting, Photography, Printmaking, Wood, Jewelry, Mixed Media, and Sculpture. 65+ performing acts will entertain on 6 stages.
Free but $5 donation is appreciated.
International Food and Music Festival
September 16
J. Ashley Wall Towne Square, W. Third St. & W. Cypress St., Wendell
Purchase international foods from many cultures and enjoy live music and dance performances. There will also be kids' activities.
Free
12th Annual Fall Harvest Celebration at Historic Yates Mill County Park
September 16
Historic Yates Mill County Park, 4620 Lake Wheeler Rd, Raleigh
Children's scavenger hunt, music, dancing, storytelling, food vendors, antique vehicles more.
Free. Tours of the mill are $3-$5.
Rolesville BBQ & Band Festival
September 16
Rolesville Community School Park, 121 Redford Pl Dr, Rolesville
Local chefs will be preparing chicken, barbecue, and ribs, and competing for top honors. Live music from local bands and kids' activities.
Free
6th Annual Durham Oktoberfest
September 16
Motorco Music Hall, 723 Rigsbee Avenue, Durham
Little German Band and Dancers, pretzels, schnitzel, brats, beer
Free
Caniac Carnival
September 17
PNC Arena, 1400 Edwards Mill Rd., Raleigh
Celebrate the beginning of the Carolina Hurricanes season with a Hurricanes scrimmage, autographs, kids' zone, live music and more.
Free
Oktoberfest Party at Raleigh Brewing Company
September 22
Raleigh Brewing Company, 3709 Neil Street, Raleigh
Live German music and dancing. Costume contest, more
Free
Capital City Bikefest
September 22-24
Various locations in Raleigh
Free three-day family-friendly motorcycle rally in downtown Raleigh. It includes live music, stunt shows, a car show, tattoofest and much more.
Free
Octoberfest at Bull City Burgers & Brewery
September 23
Live music, dancing, German food, kids' area
Free
East Meets West Festival
September 23
Town Hall Drive in Morrisville
Celebrate the town's diversity with food, culture and music from around the world.
Free
Feis in the Forest – An Irish Music Festival
September 23
South Taylor Street in Wake Forest
Live music and dancing. Gaelic sports demonstrations, kids' area, more.
Free
Critter Carnival
September 23
Southern Community Park, 100 Sumac Road, Chapel Hill
Meet animals, including adoptable dogs. Also, live music, children's parade, arts and crafts vendors, more.
Free
Durham Latino Festiva and Soccer Challenge
September 23
Rock Quarry Park, 701 Stadium Drive, Durham
Soccer tournament, kids' zone, Duke Men's Soccer meet and greet, food trucks, more
Free
National Alpaca Day at Perry Farm
September 23
Perry Farm, 2428 Walker Road, Hillsborough
Meet and feed alpacas. Shop for fleece products, enjoy live music.
Free
Gizmo's Oktoberfest Party
September 23
Gizmo Brew Fest, 5907 Triangle Drive, Raleigh
Live music, food trucks
Free
Fall Festival in Holly Springs
September 24
Sunrise United Methodist Church, 5420 Sunset Lake Road, Holly Springs
Live music, free food, fire pit, fire truck, bouncy house, face painting, games, more
Free
La Fiesta del Pueblo
September 24
Fayetteville Street and City Plaza, Raleigh
A day-long celebration of Latinx food, music, art and culture.
Free
Wide Open Bluegrass StreetFest
September 29-30
Fayetteville Street, Raleigh
Wide Open Bluegrass' main event is ticketed, in Red Hat Amphitheater. StreetFest is free and takes place on seven stages on Fayetteville Street.
Free
35th Annual Storytelling Festival
September 30
Historic Oak View County Park, 4028 Carya Drive, Raleigh
Nationally celebrated storytellers and a musical artist will perform.
Free
Festifall Arts Festival
October 1
Franklin Street, Chapel Hill
Music, dance, performance art, as well as works for sale by artists and artisans.
Free
Durham's Monarch Festival
October 14
Sandy Creek Park, 3510 Sandy Creek Dr, Durham
Butterfly themed crafts, yard games, butterfly parade, more
Free
Creepy Crabtree Celebration
October 21
Lake Crabtree County Park, 1400 Aviation Parkway, Morrisville
Scary scavenger hunts, creepy crafts and gruesome games. Wear a costume if you like
Free
Halloween Double Feature
October 21
Dix Park, 2105 Umstead Drive, Raleigh
Hocus Pocus and Shawn of the Dead. Food trucks will be on site
Free
Halloween Spooktacular with Paperhand Puppet Intervention
October 22
Northgate Mall, 1058 West Club Boulevard, Durham
Costume contest, performance by Paperhand Puppet Intervention, food trucks.
Free
Zombiepalooza
October 27
The Cary Theater, 122 East Chatham Street, Cary
Free zombie film festival, featuring films made by community members, plus "Dawn of the Dead." Come in costume. Follow above link to learn how you can submit your own zombie film to be screened at the festival.
Free
Pumpkin Flotilla
October 27
Bond Park Boathouse, 801 High House Road, Cary
Carved pumpkins will set sail at twilight.
Free
Duke Homestead's Halloween Phantasmagoria
October 27
Duke Homestead, 2828 Duke Homestead Road, Durham
Explore historical concepts of Spiritualism, awe, and wonder from the 19th century as you wander the property.
$10 in advance. $15 at the at the door. (plus tax)
Cary Town Band Presents Spooky Music
October 27
Cary Arts Center
Free
Herbert's Haunted House
October 27 and 28
Herbert C. Young Community Center, 101 Wilkinson Ave, Cary
The Cary Teen Council will take you on a spooky walk through their house of horrors. Navigate through the building to experience all of the thrills that Cary's teens have dreamed-up.
$2
Costume Dance Party
October 28
Cary Arts Center
Age 3-10, with caregiver. Dress up in your favorite costume creation for our Costume Dance Party! Party includes light refreshments, an art activity, dancing and costume awards.
$1
Hillsborough Spirit Tours
October 27 and 28
Hillsborough Visitors Center, 150 E. King Street
Alliance for Historic Hillsborough's annual Haunted Tour through the historic district
$12. Age 11 and under are free.
Haunted Mordecai Festival
October 28
Mordecai Historic Park, 1 Mimosa Street, Raleigh
Music, games, crafts, costume costume. Paranormal investigation group the Ghost Guild will be on site to reveal their findings from the Mordecai House and answer your questions.
Free
Cary's Great Pumpkin Carve
October 28
Cary Downtown Park
Stop by the Pumpkin Patch to pick out the perfect pumpkin to carve at one of the carving stations or bring your own. Pumpkins will be lit for display and judged in a variety of categories. Stay for family friendly Halloween specials shown outdoors, including "It's the Great Pumpkin, Charlie Brown"! Pumpkins are for sale at low cost; all other activities are free.
Free
Ghost Walk in Downtown Cary
October 28
Page Walker Arts & History Center, 119 Ambassador Loop, Cary
Spooky stories and ghostly legends sure to send chills up your spine are dramatized by Cary Players.
$15
Halloween Mall Crawl
October 28
Cary Towne Center, 1105 Walnut St, Cary
Dress in your best Halloween costume and join us for an afternoon of trick-or-treating, storytelling, and a magic show.
Free
Haunted Mordecai Lantern Tour
October 28
Mordecai Historic Park, 1 Mimosa Street, Raleigh
This spooky tour of what some people consider the most haunted place in Raleigh is offered just one night a year. Reservations are recommended. Tours leave every 15 minutes from 5 p.m. to 7:30 p.m.
$5
Barktoberfest
October 29
Durham Central Park, 501 Foster Street, Durham
Trick dog show, dog costume contest, photo booth, more
Free. Charge for some activities.