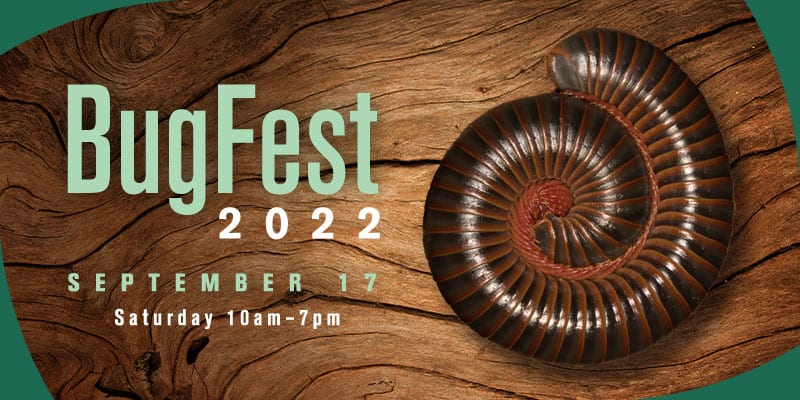 BugFest, one of North Carolina Museum of Natural Sciences' most popular festivals, is returning to Downtown Raleigh on Saturday, September 17th, 2022, from 10 a.m. to 7 p.m.
The festival will include both indoor and outdoor activities. Indoor activities will be located in the Nature Exploration Center (NEC) and Nature Research Center (NRC). Outdoor activities will be located along Jones Street, Edenton Street, and in the Bicentennial Plaza.
Fall is looking great around the Triangle, whether you're looking for something spooky or totally kid-friendly! Check out our HUGE list of fall festivals, as well as our list of pumpkin patches, haunted trails and corn mazes! We have also put together a big list of Halloween events and Trick or Treat events!
The largest bug-centered event of its kind in the country, BugFest educates and engages the public in science and the natural world. Participate in more than 100 exhibits, crafts, games and activities as you interact with entomologists and other scientists while learning about the fascinating world of arthropods.
This year, BugFest spotlights the myriapods, the group that includes millipedes and centipedes. How many legs do they really have? One species of millipede has 1,306!
Eat a bug at Cafe Insecta
Marvel at Sandy Feat's sand sculpture
Bludgeon your friend (safely!) in Stag Beetle Battles
Pick a winner at the Roachingham 500 Cockroach Races
Admire Doodlebugs Chalk Art
Exhibits and Activities at BugFest
Battling Beetles
NC Museum of Natural Sciences
Delve into the violent world of large scarab beetles. Learn how males duke it out to win the favor of a female. Test your beetle ID skills at the beetle spinner game!
Arthropod Olympics
NC Museum of Natural Sciences
Become an Arthropod Olympian! Participate in three events: Dung Ball Races, Ant Races and Bee Races and win a medal and all the glory a bug deserves.
Festive Bugs! Mixed Media Painting Demo
Stacy Lewis Studio
Join wildlife artist Stacy Lewis for a demonstration of her layered mixed-media techniques as she creates some festive bug paintings.
Creating Chemistry to Protect Food, Health, Home and the Environment
BASF Corporation
BASF showcases several of the broad themes for which they create chemistry – protection of crops, health and home – and their Living Acres initiative that encourages growers to provide habitat for pollinators like Monarch butterflies. Stop by for bug games and to see butterflies up close!
BASF is the presenting sponsor of BugFest 2022.
Worms Eat My Garbage
Wake County Government, Solid Waste Management Division
No matter how cool Spider-Man looks, earthworms are the real superhero. There is no other living organism in soil as crucial to the survival of the human race. Stop by our booth and learn why earthworms are worthy of our utmost admiration and respect.
Free Child IDs – Safety Cards
MassMutual NC
MassMutual North Carolina works with community members to ensure the safety of our children. This free program will provide your family with a CHILD ID card featuring a photo, fingerprints and other vital information. We will have them ready for you to take right away (each card takes about 3-5 minutes). A parent/guardian must be present.
Stag Beetle Battles
NC Museum of Natural Sciences
Jump into a stag beetle costume and enter the arena: The battle begins! See if you can triumph over your friend and win the day.
Accessibility and Information
NC Museum of Natural Sciences
BugFest for everyone! The tent is where you'll find courtesy manual wheelchairs, noise cancelling headphones, sighted guides, maps, event information and more.
Myriapods And Organic Farming
Oberweis Dairy
Oberweis Dairy will exhibit the role myriapods play in organic farming and organic milk production. Free samples of milk and juices will be available.
Face Painting and Body Art
Paint Savvy Events and Productions
Children and adults can become who or what they want at this year's BugFest. Make your day memorable with a unique and beautiful face painting design! (Fee.)
Doodlebugs Chalk Art
Paul Dumlao
Come see local artist Paul Dumlao create colorful, large-scale chalk renditions of beetles from around the world. Kids can take part and create their own chalk bug designs!
Café Insecta
NC Museum of Natural Sciences
Plaza T-Shirt Sales
NC Museum of Natural Sciences
Check out the 2022 BugFest T-shirt featuring our theme arthropod! A small number of zip hoodies will be available, as well as reusable bags and vintage shirts.
Roachingham 500 Cockroach Races
NC Museum of Natural Sciences
Watch Madagascar hissing cockroaches race each other! We'll do a few rounds of Buggy Bingo in between Roach Races.
Children's Books
Usborne Books & More
Fun but still educational, Usborne has all sorts of bug and nature books for kids from birth on up. They also have fiction and activity book options.
Caterpillarology
NC Museum of Natural Sciences
Check out a huge variety of native North Carolina caterpillars from small, spine-covered stingers to large silk moth caterpillars. Learn which plants these hungry larvae love to eat, what they'll turn into when they transform into adults, and much more!
Extension Master Gardener: Garden Help
Extension Master Gardener Volunteers of Wake County
Master Gardener volunteers will answer questions about home gardening: maintaining healthy gardens, what's bugging your plants, vegetable gardening, lawns and other questions you have about your landscape.
Car Bugs
VW Folks
A showing of vehicles that have been referred to as "bugs" and some related cars. These are not planned as a pristine show of cars that do not get of their garage, but daily drivers, projects and cars that are just fun to look at and reminisce over. Yes, in most cases you can touch these cars!
Bug Bounce and Super Slide Inflatables
NC Museum of Natural Sciences
From hop to jump, kids will delight in bouncing like a cricket and whooshing like a dragonfly in the fabulous inflatables!
What Is a Bug?
NC Museum of Natural Sciences
Know your arthropods! Arthropods range from insects to crustaceans to arachnids and more. Come learn the differences and the similarities and meet some live critters on your entomological quest.
Who Else Eats Your Food? Welcome to the World of Agricultural Pests
AgBiome
Explore the world of agricultural pests with AgBiome.
Scorpions and Their Kin
The Santa Fe Reptile and Bug Museum
Did you know there are many other arachnids besides spiders? Come learn about the OTHER arachnids including scorpions, vinegaroons, whipspiders and more!
Tarantulas and Other Spiders
The Santa Fe Reptile and Bug Museum
Come face to face with live giant tarantulas from around the world as well as spiders you might meet in your own backyard.
Cool Crustaceans
NC Museum of Natural Sciences
Explore the diversity of crustaceans, from our backyards to the bottom of the sea!
Heroic Horseshoe Crabs
NC Museum of Natural Sciences
It's a crab! It's a spider! It's neither … it's a horseshoe crab! Come learn about this ancient animal and how they are modern heroes in the biomedical field.
Ambassador Invertebrates
BeWild, Inc.
We'll feature some of our ambassador invertebrates, including tarantulas, scorpions, vinegaroons, beetles, cockroaches, isopods and more! Learn about these unique creatures and see them up close.
Funky Bug Antenna Crowns
NC Museum of Natural Sciences
Honor our buggy friends by dressing up like one! Make your very own Funky Bug Antenna Crown and proudly display your passion for arthropods!
Quiet Room
NC Museum of Natural Sciences
The quiet room is a place to escape the busyness and energy of the event. Come enjoy quiet play and take a break!
The quiet room is sponsored by the Carolina Hurricanes Foundation.
Carolina Butterfly Society
Touch a future butterfly in its caterpillar form. Maybe you will be the lucky one to see the butterfly emerge from its chrysalis!
There's a Bug in My Soup
NC Museum of Natural Sciences
You are what you eat … so you might be a bug! Learn about the all the bugs that are allowed in everyday food products!
Creeping Crawlies (Centipedes and Millipedes)
NC Museum of Natural Sciences
Information on myriapods (centipedes and millipedes) will be featured.
Bed Bugs
NC Museum of Natural Sciences
Enter if you dare — the world of bed bugs! Learn how these parasites have made humans their hosts.
Insect Macrophotography and Electronics
Entomopixel LLC
Learn how macrophotography and electronics contribute to the study and appreciation of Arthropods.
Sandy Feat
Navigate to the Plaza to see the one, the only, the AMAZING Sandy Feat Sand Sculpture! This year's fabulous creation will feature BugFest's 2022 theme, MYRIAPODS! Watch as the sculptors etch away the sand to reveal the snazzy scene, create your own masterpiece at the base and ask questions of the sculptors.
Natural Math
Hands-on modeling, minds-on math! From toddlers to teens and those young at heart — come and make your own math creations that will make you smile.
Lifecycle of a Caterpillar- A Moving Experience
Holly Springs School Of Dance
A creative movement dance experience for children of all ages. Join us as we explore the lifecycle of a caterpillar! Bring your wings or borrow some of ours!
Plants4kids Enters the Bug World
North Carolina State University
Plants provide us with food, clothes, medicine, clean air and building materials. But here come different bugs, some of them plant friends and some of them plant foes. Plants4kids is an NC State research group that studies how plants grow and develop. Come and join us to learn about plants and how they interface with the bug world!
Conserving North Carolina's Rarest Plants (including some that eat bugs!)
Friends of Plant Conservation
The Friends of Plant Conservation in partnership with the North Carolina Plant Conservation Program are working to conserve native plant species across the state. They'll share the important work they're doing to protect natural habitats for both plants and all the creatures (like myriapods!) that live in these special places.
Plants that Eat Bugs
Cure Nursery
Cure Nursery will bring several species of carnivorous plants that grow in North Carolina. They will also bring other native garden-worthy plants. All will be for available for sale.
Framed Insects and Jarred Butterfly Wings!
The Artsy Arthropod
The Artsy Arthropod is the project of a former entomologist. Insects from around the world are carefully preserved and beautifully displayed in custom-made, locally sourced, museum-quality frames!
Colors in Arthropods
Shaw University
This exhibit will show off coloration in arthropods, including camouflage and other defensive colors. Live arthropods, plus photos demonstrating the hidden ultraviolet patterns of butterflies.
Marvelous Millipedes
Museum of Life and Science
Learn about the nutrient cycle and the important role millipedes play in our environment!
Unwelcome Houseguests
NCSU Entomology and Plant Pathology
Get up close with the bugs that bug us! Cockroaches and bed bugs are insects that have developed close associations with humans and our homes.
If you have would like to see these insects that have become worldwide pests in human dwellings, come visit this exhibit and learn more about their biology and management.
Girl Scouts in Nature
Girl Scouts- NC Coastal Pines
The Girl Scouts will present an exhibit of how we find myriapods in nature, and will talk about women in this field that have made a difference.
Franklin County Beekeeper's Association
Beekeeping club made up of hobbyists and sideline beekeepers.
Beekeeping and Honey Bee Education
5 County Beekeepers Association (5CBA)
The 5 County Beekeepers Association (5CBA) is a volunteer club that promotes beekeeping and honey bee education. They are a chapter of the North Carolina State Beekeepers Association.
Beekeeping for Beginners
Wake County Beekeepers Association (WCBA)
WCBA will provide basic information about honey bees and beekeeping.
NC State Arthropod Zoo
NC State Entomology Graduate Student Association
NC State Entomology graduate students will show off live insects and pinned specimens and have cool bug merchandise available for sale.
Flight of the Hawkmoth
Hedrick lab, UNC Biology
Visitors will get to help feed hawkmoths by reaching into the hawkmoth flight cage through sleeved openings and holding a small artificial flower filled with honey water out for the moths to drink from. Visitors will also be able to touch moth pupae and view high-speed video of flying moths.
Protecting American Agriculture
USDA-APHIS
The USDA-APHIS protects US fruits, vegetables, crops and environment from invasive insects. There will be lots of insect boxes for show, tattoos and hand stamps for kids.
Wonderful World of Orthoptera
NC Entomological Society
Leap into the world of Orthoptera and meet some amazing critters! Fly with the grasshoppers, dig with the mole crickets and sing with the katydids!
Meet the Bug Vet
Avian and Exotic Animal Care
Avian and Exotic Animal Care is North Carolina's first 100% exotic animal hospital. Our veterinarians treat all kinds of non-traditional pets, including invertebrates! We have seen and treated pet spiders, tarantulas, insects, hermit crabs, snails and many others.
NC Pollinator Conservation Alliance
Come learn about North Carolina's native bees and other beneficial insects that are crucial to a healthy ecosystem. They will also have some fun games for the kids!
Bug Breath
CleanAIRE NC
Learn about how clean air keeps our pollinators happy! Join us and get your hands a little dirty growing an environment to support them.
Native Bees Build it Better
North Carolina Museum of Natural Sciences
This exhibit is dedicated to native bees, including their habits, benefits, identification and differentiation from honey bees and wasps.
Accessibility
Accessibility and Information
NC Museum of Natural Sciences
BugFest for everyone! The tent is where you'll find courtesy manual wheelchairs, noise cancelling headphones, sighted guides, maps, event information and more.
Quiet Room
NC Museum of Natural Sciences
The quiet room is a place to escape the busyness and energy of the event. Come enjoy quiet play and take a break!
The quiet room is sponsored by the Carolina Hurricanes Foundation.
For more accessibility needs, including sighted guides, ASL interpreters, accessible restrooms, and more, please visit the accessibility page.
More Festivals
Saturday, February 4, 2023
Sunday, February 12, 2023
Friday, February 17, 2023
Saturday, February 18, 2023
Tuesday, February 21, 2023
Saturday, February 25, 2023
Saturday, March 11, 2023
Saturday, March 18, 2023
Thursday, March 23, 2023
Saturday, March 25, 2023
Sunday, March 26, 2023