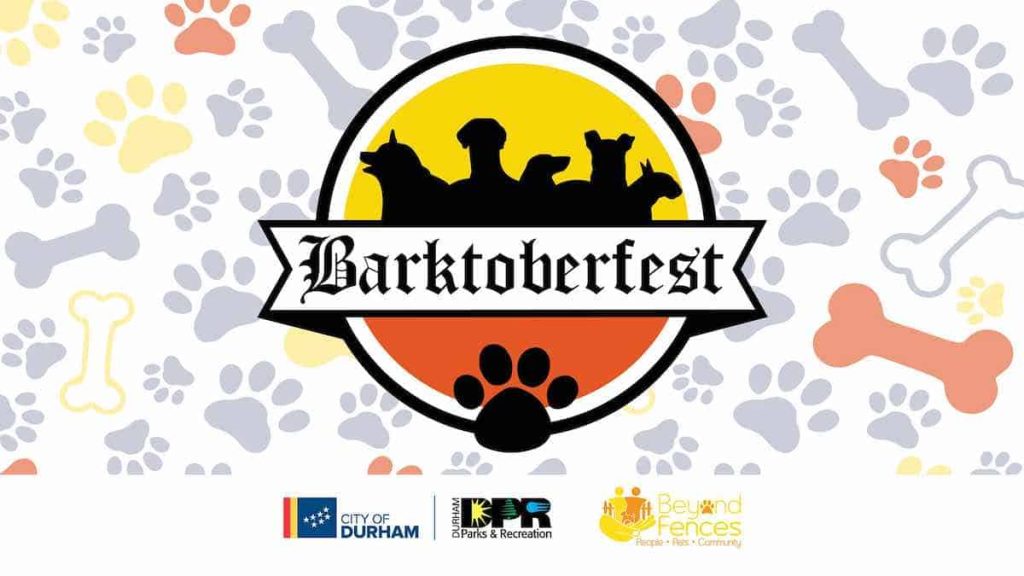 Barktoberfest is a free event in Durham Central Park, 501 Foster Street, Durham, on Saturday, October 28, 2023, from 3:30 p.m. to 6:30 p.m.
It's being presented by Durham Parks and Recreation and Beyond Fences.
Fall is looking great around the Triangle, whether you're looking for something spooky or totally kid-friendly! Check out our HUGE list of fall festivals, as well as our list of pumpkin patches, haunted trails and corn mazes! We have also put together a big list of Halloween events and Trick or Treat events!
Features of Barktoberfest
Costume Contest
Dress up your dog for a chance for prizes.
Music Performance
3:30 to 4:30 p.m.: Mighty Messengers of Soul
Photo Booth
A photographer will be taking pictures, for purchase.
Canine Food Drive
Please bring dog food donations.
Pet Market
Browse and shop for pet-related items from many local businesses.
Animal Adoption
Learn about local animal adoption and foster organizations.
Beer and Food
Check back soon for details
Vendors
Shop from local vendors.
More Festivals
Check out a list of fall festivals and Halloween events in the Triangle, or take a quick look at upcoming festivals:
Sunday, September 24, 2023
Friday, September 29, 2023
Saturday, September 30, 2023
Sunday, October 1, 2023
Friday, October 6, 2023
Saturday, October 7, 2023
Sunday, October 8, 2023
Thursday, October 12, 2023
Friday, October 13, 2023
Saturday, October 14, 2023
Sunday, October 15, 2023
Monday, October 16, 2023
Tuesday, October 17, 2023
Wednesday, October 18, 2023
Thursday, October 19, 2023
Friday, October 20, 2023
Saturday, October 21, 2023
Sunday, October 22, 2023
Friday, October 27, 2023
Saturday, October 28, 2023
Sunday, October 29, 2023
Friday, November 3, 2023
Saturday, November 4, 2023
Sunday, November 5, 2023
Saturday, November 18, 2023