Where are the best Christmas lights in Raleigh, Durham, Chapel Hill and the rest of the Triangle? Read on! We have a huge list!
Some of these displays are professional operations, but many of them, often synchronized to Christmas music, are put on by regular people, at their own expense, and it takes an incredible amount of time and creativity. So visit and let them know you appreciate it. If the attraction is free, donations are generally appreciated.
We've separated out the free and ticketed attractions, so if you're just interested in the free ones, just keep scrolling!
We've put together a map with all the lights! Keep scrolling or jump directly to the map.
If you want to submit a display for the map please fill out this form. The map can include any great display that anyone finds, but in order to have the display listed on this post, we need permission from the homeowner. If you are a homeowner who would like to be included on this page, just email jody@triangleonthecheap.com. If you maintain a website or Facebook page for the display, please let us know.
If a radio station is listed, tune your car radio to that station to listen to the coordinated music.
Please be considerate of these folks' neighbors.
Important: If a website or Facebook page is listed, make sure to visit and check out any changes in the hours, start dates, and any additional information that you need to know. When the plans are changed, for weather or other reasons, we are usually not notified here.
Some families show videos and pictures of their works in progress as well.
Have you subscribed to Triangle on the Cheap yet? You'll receive one email a day and be in the know.
Do you know of a light display that should be included in the list? Please send information to jody@triangleonthecheap.com. I'll need to see a website or Facebook page so that I know the homeowner wants the information shared.
One more thing: before you fuel up, check out this list and map of the cheapest gas in the Triangle!
You might also be interested in:
Ticketed Christmas Light Displays in the Triangle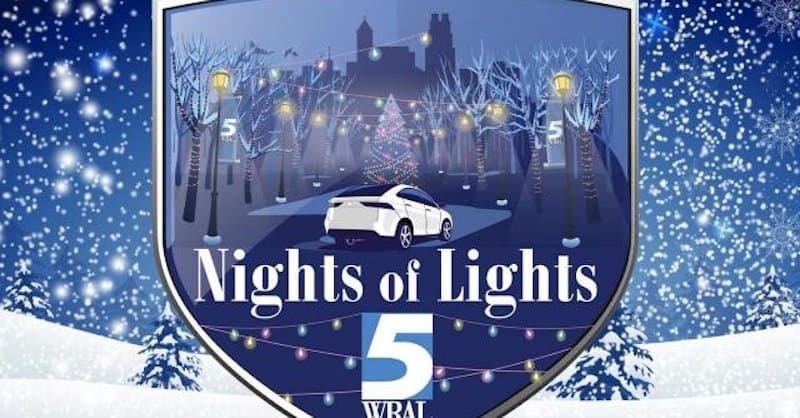 Nights of Lights
Dix Park, 75 Hunt Drive, Raleigh
Dates and times: Opens November 25th. Most nights through December 24th, 2022. Bike nights are November 30th and December 7th. 5K Fun Run/Walk is November 19th.
6 p.m. to 9:30 p.m.
$20 per car. $30 per car Christmas week.
Save $5 for Thursdays and Sundays if you purchase before November 1st.
Bike Night: $10
This is the third year for this drive-through light show at Dix Park. The 1.3 mile route will wind through the park, with illuminated trees, festive light displays and local art installations, all with the towering oaks, rolling hills and open fields of Dix Park as the backdrop.
2022 update: Confirmed
Magic of Lights
Coastal Credit Union Music Park at Walnut Creek
3801 Rock Quarry Road, Raleigh
November 18th to December 20th, 2022
5 p.m. to 10 p.m.
$15 per car if purchased by November 1st; Full price is $20 per car.
Magic of Lights is presented in 20 venues across the country, and entertains 5 million people annually. This is the first time it's been in Raleigh. Weave through a spectacular one-mile holiday light display, which uses LED technology and digital animations. Features include the Blizzard Tunnel, the 12 Days of Christmas, Winter Wonderland and The Night Before Christmas.
2022 update: Confirmed
Lights on the Neuse
1620 Loop Road, Clayton, NC
Dates from November 25th to December 24th, 2022. Check website (link above) for specific dates and times.
$10 per person for ages 3 and up. 2 and under are free.
You can buy a timed ticket, or purchase a ticket at the gate, if available. The ticket will include the hayride around the farm and a picture with Santa. Please bring your own camera. The wagon ride is about 20 minutes. Stop by the concessions stand for hot chocolate, cider or coffee. Decorate a cookie in the sugar barn.
2022 Update: Confirmed
Festival of Lights at Hill Ridge Farms
703 Tarboro Road, Youngsville, NC 27596
Thursday, November 24th (Thanksgiving) through January 1st, 2023, with the exception of November 28th to December 1st.
5:30 to 10 p.m.
$20 for your vehicle if you pay in cash. $23 if you pay with a debit/credit card.
This drive-thru attraction is a mile long and features over a million lights. Tickets are not sold in advance.
2022 update: Confirmed.
Winter Lights at Cathis Farm
5444 Falcon Road, Lillington, NC
Fridays and Saturdays from November 25th to December 24th, 2022, as well as Wednesday, December 21st, Thursday, December 22nd, and Monday, December 26th
6 to 10 p.m.
$15
Walk-through light display, pictures with Santa and the Grinch, bonfire, snowfall area, kids' activities, more
2022 update: Confirmed
Naylor Family Farms
6016 US 401 N, Fuquay-Varina, NC 27526
November 25 – 27th, December 2nd – 4th, December 9th – 11th, December 16th -23rd, 2022
4 to 9 p.m.
$15 per person (ages 3 and up)
Tickets include a hayride through the lighted winter wonderland, pictures with Santa under the giant 30-foot Christmas tree, the petting zoo, giant tube slides, corn crib, giant swings and much more.
2022 update: Confirmed
Denton Farm Park Country Christmas Train
4259 Handy Road, Denton, NC 27239
November 25-27, December 2-4, December 8-11, December 16-23, December 26-27, 2022
Adults: $20
Children ages 5-11: $6
Children 4 and under: Free
Groups of 15 or more take $3 off each ticket.
Children's Night- Nov. 27th: All children under 12 will get in for free.
First Responder Night – Dec 4th! If you are a first responder you will get in free when you show your badge/ID. (first responder: firefighters, law enforcement officers, paramedics, and emergency medical technician [EMT].)
Military Night- Dec. 11th: You must provide an ID to receive the discount.
Teacher Night- Dec. 18: You must provide your School ID to get in for free. State and Private school badge
Ride the Christmas Train through the farm. See Christmas lights and watch a movie about Christmas. There will be a live nativity scene, elves, and more. Visit the church, the service station, the Gingerbread House, the doll museum and more. Meet Santa.
2022 update: Confirmed
Christmas Lights on the Farm
11875 NC Hwy 222 W, Middlesex, NC
November 25th to December 23rd (follow above link for exact dates)
Age 4 and older: $10; Under 4: free
Tickets include a hayride to the Field of Lights, bonfires, pictures with Santa, and a visit to Santa's workshop. Candy, hot chocolate, s'mores and more are for sale.
2022 update: Confirmed
Highlanders Farm
5784 NC-22, Carthage, NC
November 24th to December 28th, 2022
Tuesday to Saturday
Cars up to 6 people: $20; Vans: $30
Wind through the fields and enjoy the lights! The ice cream shop will be open, serving homemade ice cream, cider and hot chocolate.
2022 update: Confirmed
Free Christmas Light Displays in the Triangle
These attractions are totally free to visit, but in some cases donations are accepted, usually for a charity. Please pay special care to be considerate of neighbors. And before you head out, follow the links, which usually go to a Facebook page, to make sure that the display is taking place, since weather and technical difficulties, or life in general, might interfere with the plans.
Some of these light displays are synchronized to music, and some are static.
Raleigh Area
The Nelsons' Christmas Lights
3909 Falmouth Drive, Raleigh, NC 27604
Will start November 26th, 2022
Thursday to Saturday: 6 to 10 p.m.
Sunday: 6 to 9 p.m.
Check Facebook page (link above) for changes to the schedule.
Free
This display has music, inflatables, moving parts, and lights, with a Candyland theme.
2022 update: Confirmed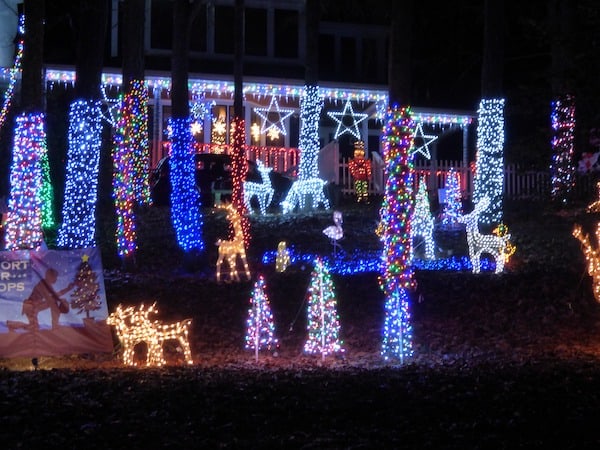 Goldman Family Lights
6331 Deerview Drive, Raleigh
Starts some time the weekend before Thanksgiving.
Check Facebook page (above) for the schedule, and for updates, especially due to weather.
Listen to WGFL 90.9 to hear music synchronized to the lights.
2022 update: Confirmed
Olde Time Christmas on Valley Drive
1401 Valley Drive, Raleigh
Starts on Thanksgiving
4 p.m. (or dusk) until 9 p.m. (later on weekends and as we get closer to Christmas)
45-minute light show. Check Facebook page (above) for updates.
2022 update: Confirmed.

Edward's Battle Haunted House
9401 S Mere Ct, Raleigh, NC 27615
December 1st to 31st, 2022
At night time drive by and see the lights. During the day, stop by and play Candyland. Every year since Edward was diagnosed with cancer, he's created a haunted house in the front yard, and now has created a holiday display as well. He's raising money for Make a Wish Eastern NC branch.
2022 update: Confirmed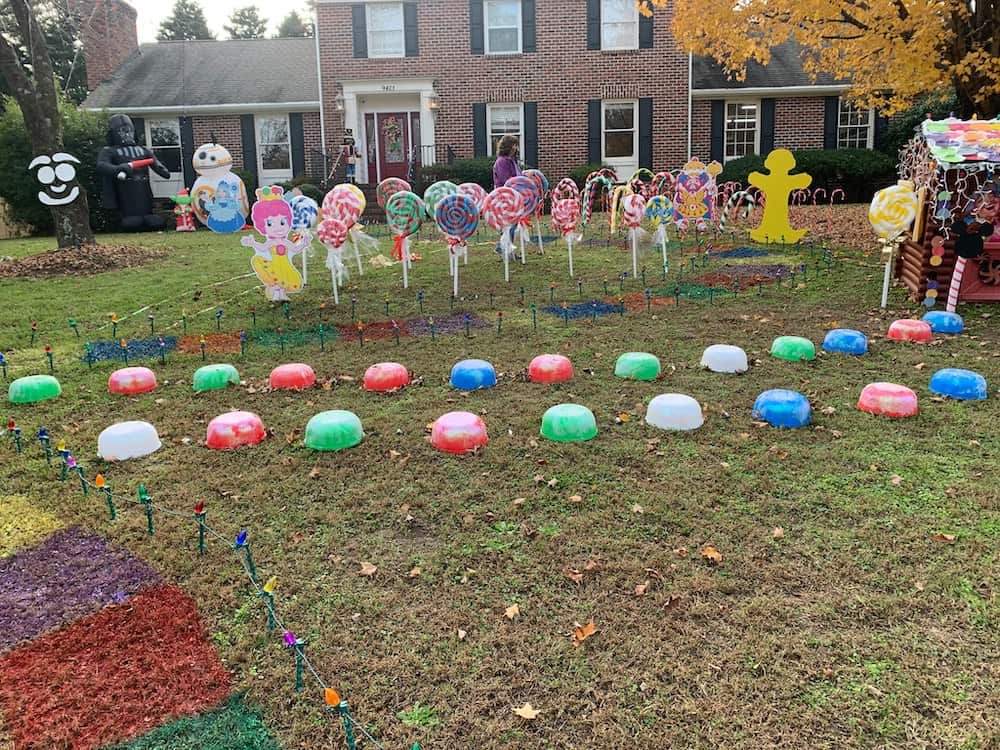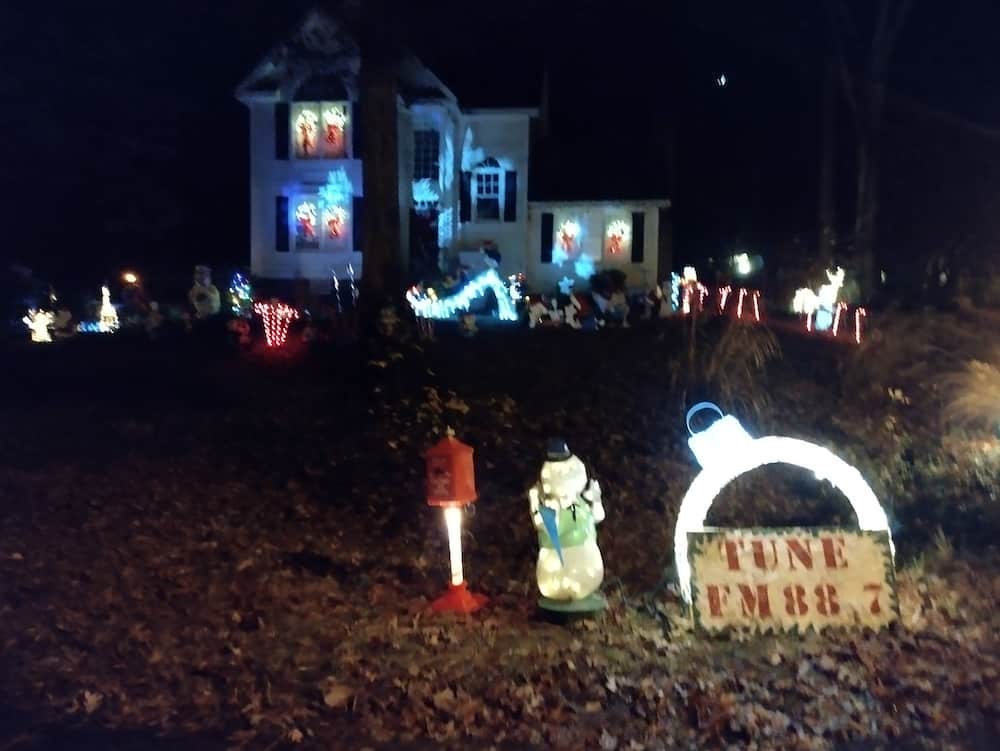 Torockio Christmas Light Extravaganza
8908 New Windsor Place, Raleigh
Will start December 3rd, 2022
Sunday to Thursday: 4 to 10 p.m.
Friday and Saturday: 4 to 11 p.m.
Until midnight on Christmas Eve and Day, and New Year's Eve and Day
Light show synchronized to Christmas songs. Check Facebook page (above) for updates.)
2022 update: Confirmed
AnChaNew Lights
1004 Quail Oaks Circle, Raleigh
November 26, 2022, to January 1st, 2023
Sunday to Thursday: 6 to 9:30 p.m.
Friday and Saturday: 6 to 10 p.m.
Enjoy this very merry synchronized light show! When you arrive, please park out front, cut out your headlights, and turn your radios to 90.3 FM. For your safety, please keep parking lights on. During the show we ask you to be kind to our lovely neighbors by not blocking driveways, not littering, and minding your volume. As you exit, please continue down the road and use the cul-de-sac to turn around, avoiding using any driveways. This will helps us all sit back, relax, and enjoy the show! Check Facebook page (link above) for changes.
2022 update: Confirmed
Lights on the Meadow NO DISPLAY THIS YEAR
9301 Hay Meadow Court, Raleigh
Check back soon
Look at the sign at the beginning of the display to see what radio station to tune to. Please stay in your car and turn around at the end of the cul-de-sac. This display has over 40 inflatables.
2022 update: No display this year. Hopefully in 2023!
Woodstone Lights
8921 Woodstone Drive, Raleigh
Sunday to Thursday: 5:30 to 10 p.m.
Friday and Saturday, 5:30 to 11 p.m.
Holidays on Hemby
1001 Hemby Ridge Lane, Morrisville
Check Facebook page for schedule
The display contains thousands of lights, 82 inflatables (81 at night and 1 during the day), 4 wire frame displays, a walking path open from 5-10 nightly and an outdoor G Scale train layout. Trains don't run every night, but schedule will be posted in advance.
2022 update: Confirmed

Ambrose Lights
3401 Cartway Lanes, Raleigh, NC
November 24th, 2022, to January 1st, 2023
Around 6 to 11 p.m.
2022 update: Confirmed
Turner Farms Subdivision
5401 Rockholly Court, Garner, NC 27529
November 27th, 2022, to January 7th, 2023
5 to 11 p.m. unless it's raining
2022 update: Confirmed
Stonehenge Neighborhood
The Stonehenge neighborhood in North Raleigh is known or its over-the-top Christmas decorations throughout. Stonehenge is just south of the Northern Wake Expressway. Creedmoor Road goes through the neighborhood.
2022 update: Confirmed.
North Raleigh Lynn/Lead Mine area
1205 Nikole Court, Raleigh
November 21st to December 31st, 2022
5 to 10:30 p.m.
2022 update: Confirmed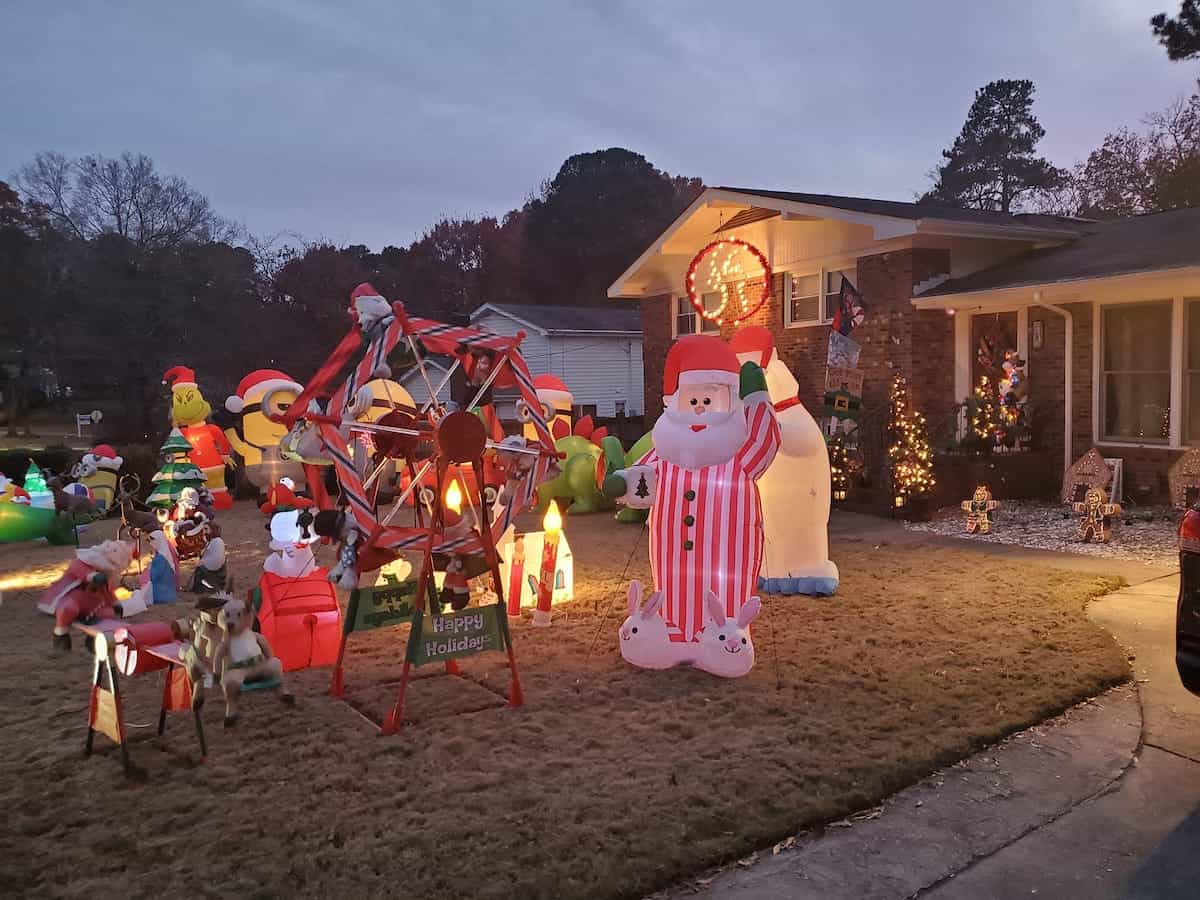 4705 Pamlico Drive, Raleigh
The display will be put up around Thanksgiving and will get taken down a day or two after Christmas
The time is usually around 5 to 10 p.m.
2022 Update: Confirmed
Christmas Plugged at Rose of Sharon Baptist Church
4109 Guess Road, Durham, NC 27712
November 25th, 2022, to January 8th, 2023
Dusk into midnight
Free
9 Christmas songs synchronized with almost 40,000 LED lights on the exterior of the church building.
2022 update: Confirmed
P&C Holiday Lights
38 Bennett Ridge Road, Chapel Hill, NC
December 4th to 25th, 2022
5:30 to 9 p.m.
Christmas lights set to music. You can view the show outside or from your car, by tuning to 101.3. On Fridays and Saturdays, Santa will be outside from 6 to 7 p.m., and he'll be handing out candy canes and waving. There's even one song that triggers a snow shower. Check Facebook page for any changes. Collecting donations for the animals at the Carolina Animal Rescue & Adoption Center. Accepting cat and dog food, including puppy and kitten food, cat litter, bleach, laundry detergent, garbage bags, old blankets, collars, leashes and cash.
2022 update: Confirmed.
Mangum Family Christmas Lights
7510 Guess Road, Hillsborough, NC 27278
Tune in to 90.3 FM to hear synchronized music. Check Facebook page (above) to see if there are any changes due to weather, and to see the dates/times.
2022 update: Confirmed
Wake Forest
Piper Lights
5725 Fixit Shop Road, Wake Forest, NC
Friday, November 25th, 2022, through January 1st, 2023
Sunday to Thursday: 5:30 to 9 p.m.; Friday and Saturday: 5:30 to 10 p.m.
Admission is free but donations are accepted, to help with light repairs and the electricity bill.
Drive through 7 acres of Christmas lights!
2022 update: Confirmed
Houston Family Lights
9021 New Century Road, Wake Forest, NC 27587
December 5th, 2022, to January 8th, 2023
6 to 10 p.m.
Light display is synchronized with music. Make sure to check the Facebook page for any changes in schedule.
2022 update: Confirmed
Lights on Cedar
206 W Cedar Avenue, Wake Forest
Starts November 25th, 2022, and runs through New Year's Eve
5 to 10 p.m.
Santa will be there for FREE photos Friday to Sunday from December 2nd to December 23rd, from 6 to 8 p.m. Check for updates on Facebook page (link above)
2022 Update: Confirmed
Eastern Wake County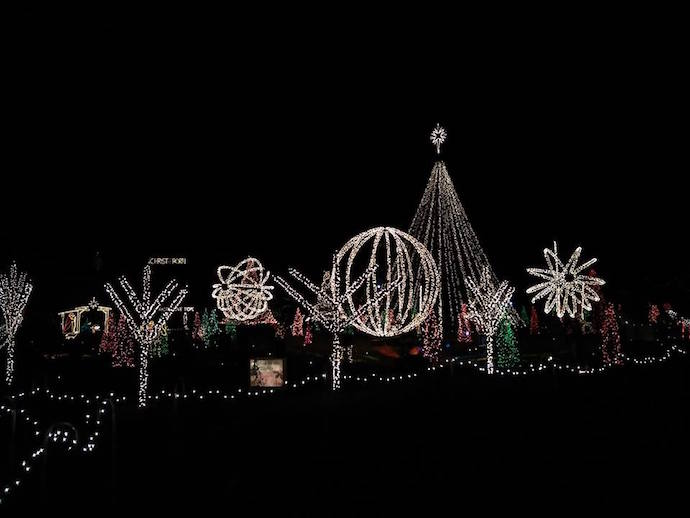 Lake Myra Christmas
AKA Downtown Wendell Light Show
10 S. Cypress St, Wendell, NC 27591
November 23rd to December 31st, 2022, 5:30 to 10 p.m.
Admission is free, but donations are accepted
One of the biggest and most popular light shows in the Triangle! Bring a lawn chair and watch the show, or walk on the walkway through the lights! Santa will be there from 7 to 9 p.m. December 3rd, 10th, and 17th.
2022 update: Confirmed
Castle Combe Drive Lights
605 Castle Combe Drive, Rolesville, NC 27571
Opening date: November 25th, 2022
6 to 11 p.m.
Light show synchronized to music
2022 update: Confirmed
InflataBoyds
Knightdale Station
306 Banner Blue Court, Knightdale
12 to 10 p.m. daily.
Collecting donations for the family of Mary Marshall, a victim in the October mass shooting in Raleigh.
2022 update: Confirmed
Bradshaw's Holiday Light Display
1712 Horton Road, Knightdale, NC
November 24th, 2022, through January 1st, 2023
6 to 9 p.m. on weekdays and 6 to 10 p.m. on weekends
Stay in your vehicle to enjoy all the lights. Follow the Enter and Exit signs around the driveway. The entry point is closest to the tree line and the exit is by the house. Check Facebook page (link above) for any schedule changes due to weather.
2022 update: Confirmed
Cary and Apex

MG's Vision & Lights on Holt Road
1012 Holt Road, Apex, but please line up at 6112 Old Jenks Road
Please check the above link for the schedule, as there are many days when the display is closed to the public.
This is a huge, elaborate, drive-through light display. The organizer is very active in helping to bring Ukrainian families to safety, so make sure to check the page to see how you can help. Frequent flyer mile donations are a big part of the effort!
2022 Update: Confirmed
Rogers Family Lights
700 Bay Bouquet Lane, Apex
Starting December 1st, 2022
Sunday to Thursday: 5:30 to 9:30 p.m.
Friday and Saturday: 5:30 to 10:30 p.m.
This light show is synchronized to music. The show is in memory of their son, Caden who passed away from SMA. Donate to help find a cure for SMA at curesma.com.
2022 update: Confirmed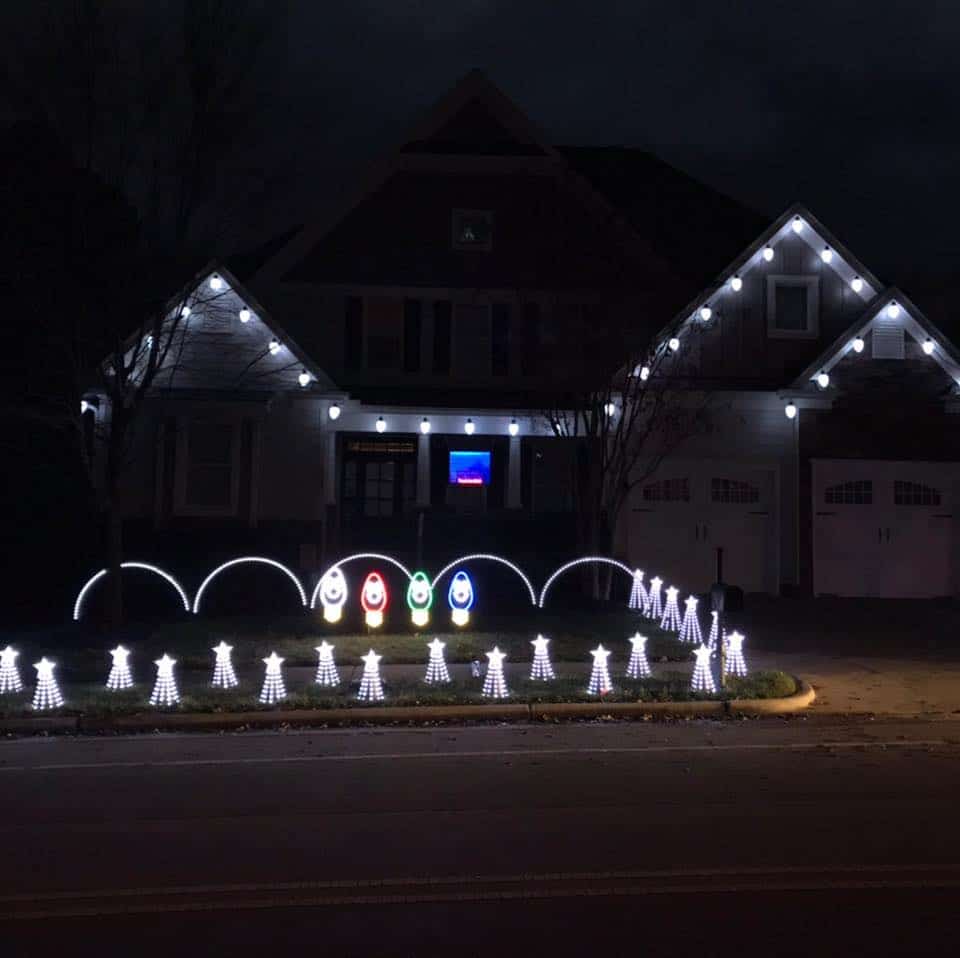 Gebhardt Family Lights
1033 Horton's Creek Road, Cary
Starts November 25th, 2022
5:30 to 10:30 p.m. on weeknights and 5:30 to 11 p.m. on Fridays and Saturdays
Light show synchronized to music.
2022 update: Confirmed
Lights on Waverly
416 Waverly Hills Drive, Cary, NC 27519
Check schedule on Facebook page.
Light show synchronized to music. Tune to 91.7FM
2022 update: Confirmed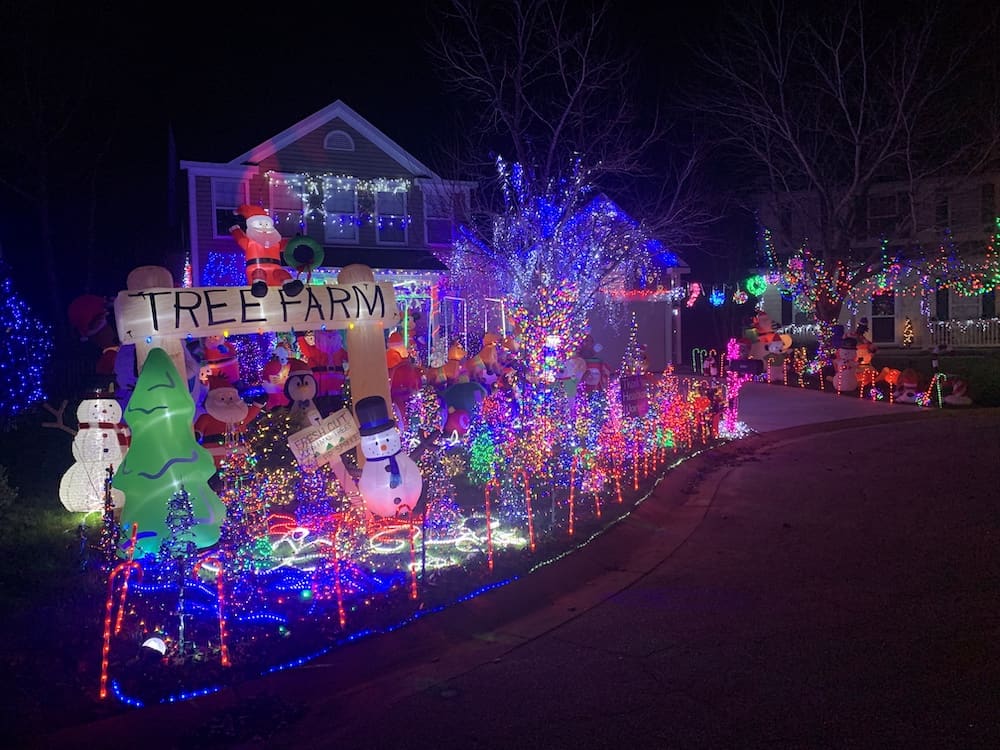 Sawyer's Mill
4908 Sugargrove Court, Apex, NC 27539
2022 update: Check back soon
Fuquay-Varina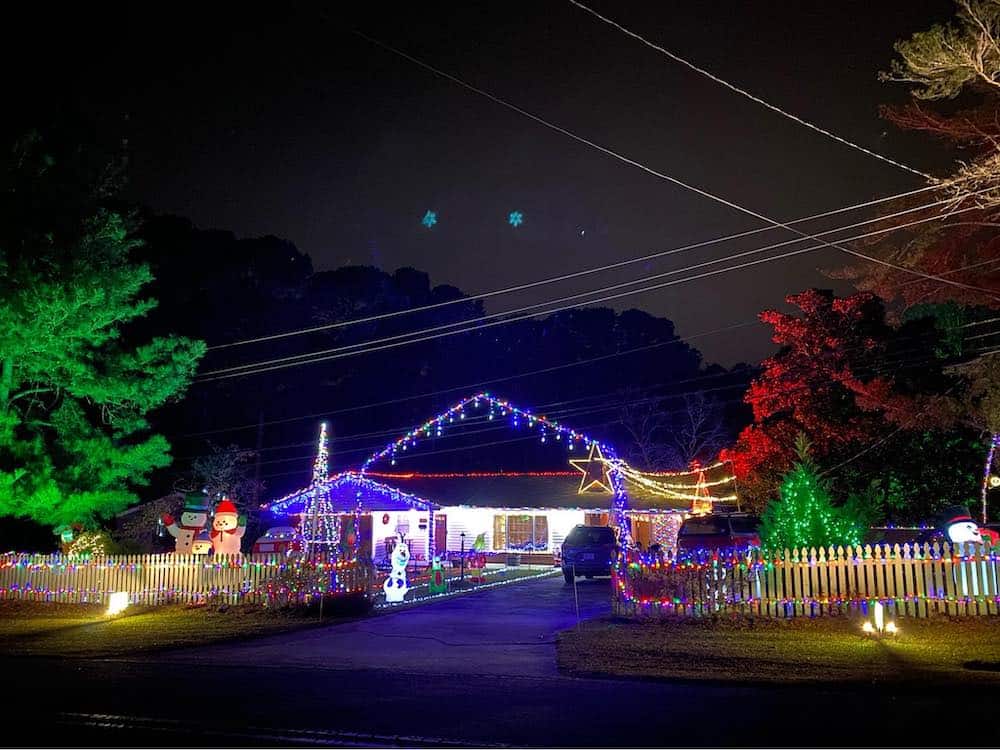 Holland Road Lights
409 Holland Road, Fuquay Varina, NC 27526
Starts Friday, November 26th, 2022, to January 2nd, 2023
Dusk to 10:30 p.m.
This musical light show includes 20-25 thousand lights. On New Year's Eve they change things up and do a dance party light show that goes on until just after midnight! Tune into FM 90.9 to listen.
2022 update: Confirmed
Johnston County
4546 Godwin Lake Rd, Benson, NC 27504
November 18th to December 31st, 2022
Sunday to Thursday: 5 to 10 p.m.
Friday and Saturday: 5 to 11 p.m.
Free admission.
30 acres of lights, including a 37-foot tall display. Train rides ($3 per person), old-fashioned candy store, Santa every night (through December 24th — free to visit, fee TBA to take a picture), carousel ($2 per person), concessions. There is no charge to see the lights. All of the lights are visible from the road or parking lot. However the train takes you through the main field of lights and gets you much closer. Any age can ride.
2022 update: Confirmed
Pittman Christmas Village
216 Longview Drive, Smithfield, NC
Walk-thru Christmas Village!
2022 update: check back soon
Google Map of Christmas Lights