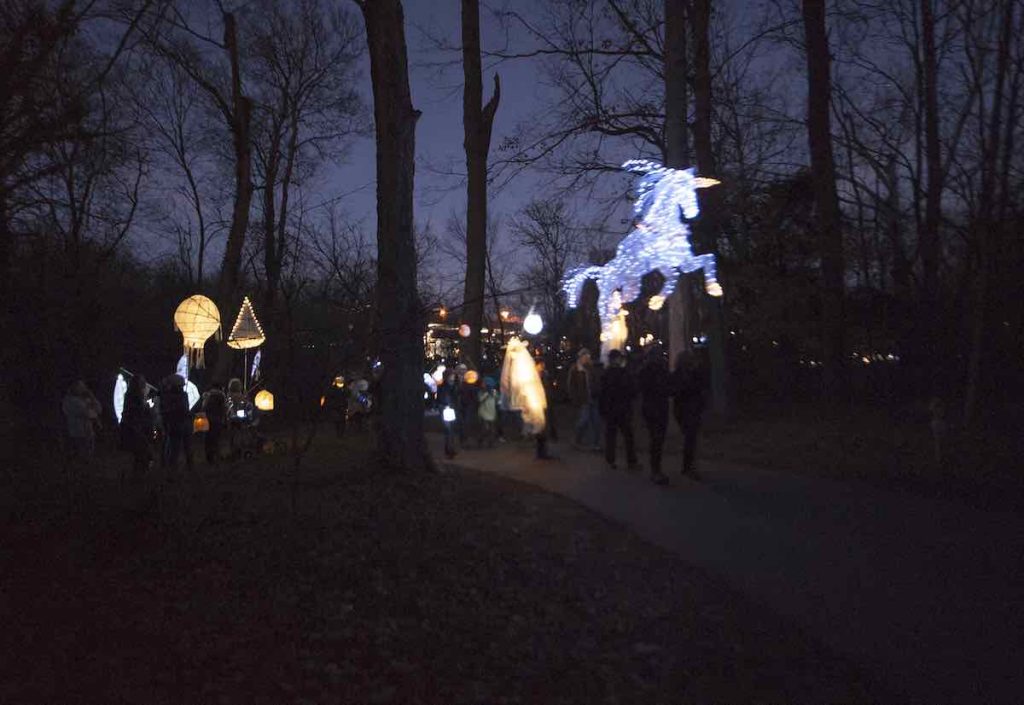 The Solstice Lantern Walk is an annual event that will take place on the Riverwalk in Hillsborough on Wednesday, December 21st, 2022, starting at 4:30 p.m.
The event marks the beginning of the winter season, and the longest night of the year.
We are putting together a huge list of holiday events in the Triangle, including parades, festivals, markets, Santa visits, and more. Check out our growing day by day list of holiday events in the Triangle!
The walk starts at Eno River Farmers Market Pavilion, and then proceeds along the River Walk, back to downtown Hillsborough.
It's free to participate but registration is required. A $5 donation is suggested. Register here.
This is a non-denominational winter-themed event. Participants bring handmade lanterns, lit with LEDs (no flames) and in winter or star colors. No red or green LEDs. Bells and chimes are welcome.
This year's Solstice Lantern Walk will feature more local artists, live music, hot drinks, warm food, and more to be enjoyed before and after the walk at the first Solstice Market! The market will be taking place fro 4:30 to 7:30 p.m.
At the end of the walk participants will join together for a special, end-of-walk celebration with music, gingerbread houses, hot drinks, warm food and more downtown fun. Check back soon for details.
This year, Hillsborough Arts Council is partnering with North Carolina Museum of Art for Lantern kits. They'll be on sale at both locations at both locations in early November. All kit proceeds benefit from both locations benefit Hillsborough Arts Council.
Learn all about creating the lanterns on hillsboroughartscouncil.org/solstice. There's also an advanced lantern making workshop on December 17th for $15.
More Holiday Events in the Triangle
Check out our big list of holiday events in the Triangle, or look at a few of them here:
Monday, December 5, 2022
Tuesday, December 6, 2022
Wednesday, December 7, 2022
Thursday, December 8, 2022
Friday, December 9, 2022
Saturday, December 10, 2022
Sunday, December 11, 2022
Monday, December 12, 2022
Tuesday, December 13, 2022
Wednesday, December 14, 2022
Thursday, December 15, 2022
Friday, December 16, 2022
Saturday, December 17, 2022
Sunday, December 18, 2022
Monday, December 19, 2022