We've put together a list of Christmas trains throughout North Carolina.
For attractions outside of the Triangle, we've indicated the number of miles it is from Raleigh. Please adjust the distance from your own starting point.
We are putting together a huge list of holiday events in the Triangle, including parades, festivals, markets, Santa visits, and more. Check out our growing day by day list of holiday events in the Triangle!
Caveat: Not all of these train rides are cheap. Some of these are pretty pricey. But we're including them anyway, because they are so popular.
Also, please note that some of these rides are on actual, full-size trains, and some are on smaller models.
Please make sure to follow the links below for the official information and to buy tickets.
And at the end of this post, there's be a day-by-day list of holiday events in the Triangle
Santa's Reindeer Roundup Express at New Hope Valley Railway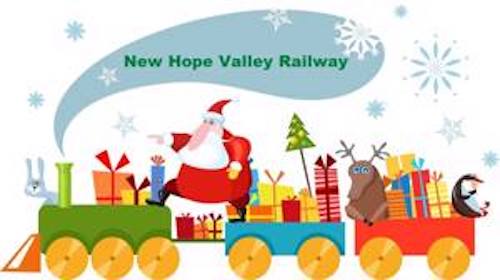 Santa's Reindeer Roundup Express
New Hope Valley Railway
3900 Bonsal Road
New Hill, North Carolina 27562
24 miles from Raleigh
919-396-5833
2022 dates: December 3rd, 4th, 10th, 11th, and 17th
Cost: All ages: $16
Take pictures with Santa in the rail yard, using your own camera. Then go on a 50-minute train ride and search for Santa's missing reindeer. UPDATE: Santa's Reindeer Roundup Express is sold out for 2022 (unless they add more dates.)
Goldsboro's Polar Express
Goldsboro's Polar Express
Herman Park
900 Park Avenue, Goldsboro
53 miles from Raleigh
2022 dates: December 2nd, 3rd, 9th, 10th, 16th, 17th
Cost: $1
Take a train ride with Santa on a 1953 miniature train. The train ride goes 2 to 3 times around the track.
Pullen Park's Holiday Express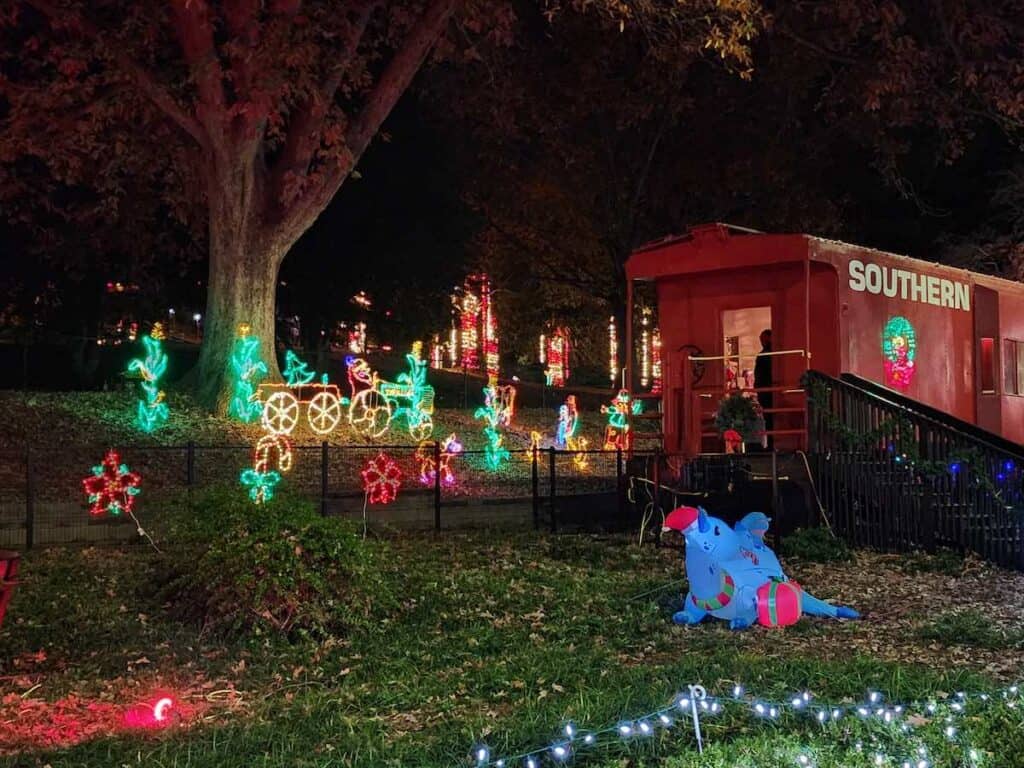 Holiday Express
Pullen Park
520 Ashe Avenue, Raleigh
2022: Sold out
Pullen Park's immensely popular Holiday Express is back, but sold out almost immediately.
Holiday in the Park at Museum of Life + Science
Museum of Life + Science
433 W. Murray Avenue
Durham, NC 27704
919-220-5429
2022 dates: Dates from December 1st to 31st, 2022
Ticket price: $16 for admission only. $19 for admission plus a train ride.
This isn't a Santa Train, but this year the Museum is hosting Holidays in the Park, which includes the option of including a train ride. Museum of Life + Science's Holidays in the Park includes holiday music and light displays, family photo ops, sock-skating, complimentary candy canes, Magic Wings Butterfly House, and an optional ride on the Ellerbe Creek Railway past colorful lights.
Country Christmas Train at Denton Farmpark
Denton Farmpark
4259 Handy Road
Denton, NC 27239
93 miles from Raleigh
336-859-2755
2022 dates: Nov. 25-27; Dec. 2 – 4; 8 – 11; Dec. 16 – 23, 26 – 27, 2022
Ticket prices: $20 for adults; $6 for children 5-11, free for children 4 and under. Santa pictures: 2 for $15, cash only.
Enjoy a train ride, and explore the grist mill, a petting zoo, doll museum, kids' rides, and much more. Santa pictures are available.
The Polar Express Train Ride at North Carolina Transportation Museum

The Polar Express Train Ride
North Carolina Transportation Museum
1 Samuel Spencer Drive, Spencer
123 miles from Raleigh
2022 dates: November 11-12, 18-20, 25-27. December 2-4, 8-11, 13-23
Tickets start at $34 for kids and $40 for adults.
The train ride is set to the sounds of the movie soundtrack as you travel to the "North Pole." Along the way, listen to a reading of Chris Van Allsburg's classic, The Polar Express, and enjoy hot chocolate and cookies. At the North Pole, families will leave the train and watch Santa present the first gift of Christmas. Back at Candy Cane Lane, all passengers who "believe" will receive their own sleigh bell.
Kannapolis Christmas–Winterland Express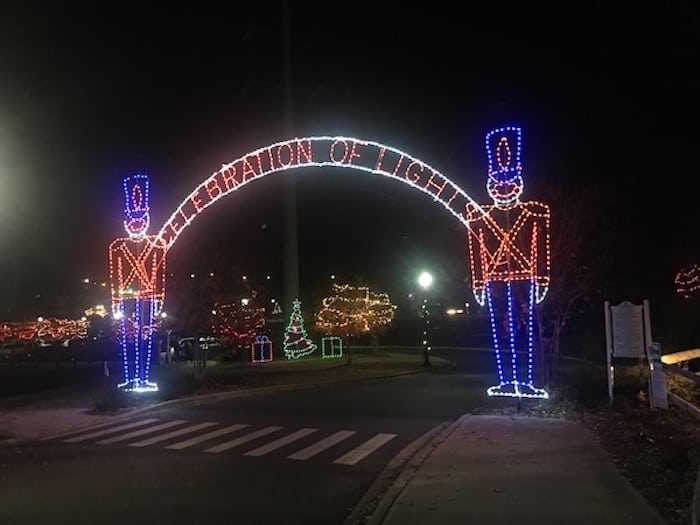 Kannapolis Christmas
Village Park
700 W. C Street
Kannapolis, NC 28081
141 miles from Raleigh
2022 dates: November 19th to December 30th, 2022, with the exception of Thanksgiving Day, Christmas Eve and Christmas Day.
Cost: Free to enter and walk through the light display. $2 to ride the train, but you need to reserve your spot in advance.
It's free to enter the park, where you can see more than 250,000 Christmas lights. A group of animatronic bears will sing Christmas carols, Santa will be available for visits, and families can ride the carousel.

Tweetsie Christmas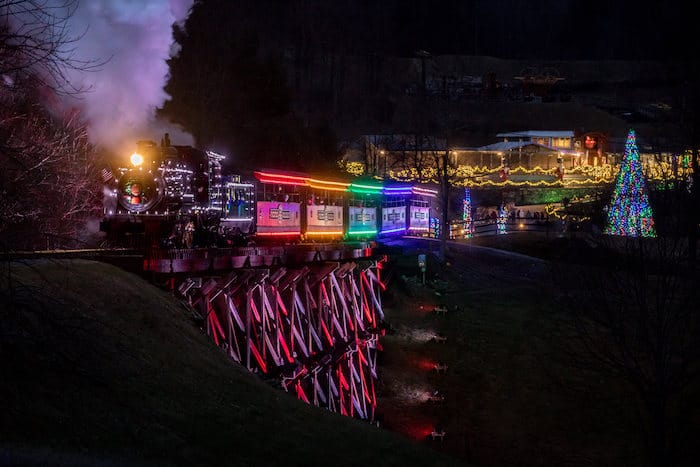 Tweetsie Railroad
300 Tweetsie Railroad Lane
Blowing Rock, NC 28605
192 miles from Raleigh
800-526-5740
2022 Dates: Select evenings November 25th to December 30th.
Cost: $52 for adults and $35 for children. Children ages 2 and younger are admitted for free.
Meet Santa in his own home — made of gingerbread, and filled with candied furnishings.
Take a night-time train ride through the Blue Ridge Mountains. See thousands of Christmas lights along the three-mile track and the open areas of the park.
Enjoy the sounds of Christmas during a 15-minute variety show in the Tweetsie Palace.
Step into a snow globe filled with swirling (synthetic) snow, peek through a Christmas present, see giant nut crackers, toy soldiers, candy canes, toy drums, and more.
Snacks for sale: Roast s'mores over an outdoor fire pit and enjoy freshly baked cookies, warm funnel cakes, and other handmade items from Tweetsie Railroad's famous Fudge Shop.
The Polar Express with Great Smoky Mountains Railroad
Great Smoky Mountains Railroad's Polar Express Train Ride
Bryson City Depot
45 Mitchell Street
Bryson City, NC 28713
309 miles from Raleigh
800-872-4681
2022 dates: Dates from November 10th to December 31st
Cost: Ticket prices start at $43.
Set to the soundtrack of The Polar Express movie, the 1 1/4 hour round trip excursion takes passengers from the Bryson City depot to a visit to the North Pole. Guests will enjoy warm cocoa and a treat while listening to and reading along with the story.At the North Pole, Santa will board the train and greet each child. Santa will give each child a silver sleigh bell.
Selma Santa Train
Selma Santa Train
Selma Train Depot
500 E. Railroad Street
Selma, NC
32 miles from Raleigh
2022: No information available. It was canceled in 2021.
Double-Check Before You Head Out!
We make every effort to make sure that everything on Triangle on the Cheap is 100% accurate.
However, sometimes things change without notice, and it's also possible that we can make a mistake. 
Please verify all deals and events with the venue or organizer before you go.
       You might also be interested in:
More Holiday Events in the Triangle
Check out our big list of holiday events in the Triangle, or look at a few of them here:
Saturday, April 8, 2023