Edward's Battle Haunted House is the project of a Raleigh teen who has battled cancer. Every year since he received his cancer diagnosis he has created a haunted attraction for Halloween.
It's free to enjoy, but donations are accepted for Give Kids the World, a resort in Florida for critically ill children. The project is also raising awareness of childhood cancer.
Fall is looking great around the Triangle, whether you're looking for something spooky or totally kid-friendly! Check out our HUGE list of fall festivals, as well as our list of pumpkin patches, haunted trails and corn mazes! We have also put together a big list of Halloween events and Trick or Treat events!
Note: The pictures in this post are from a previous year.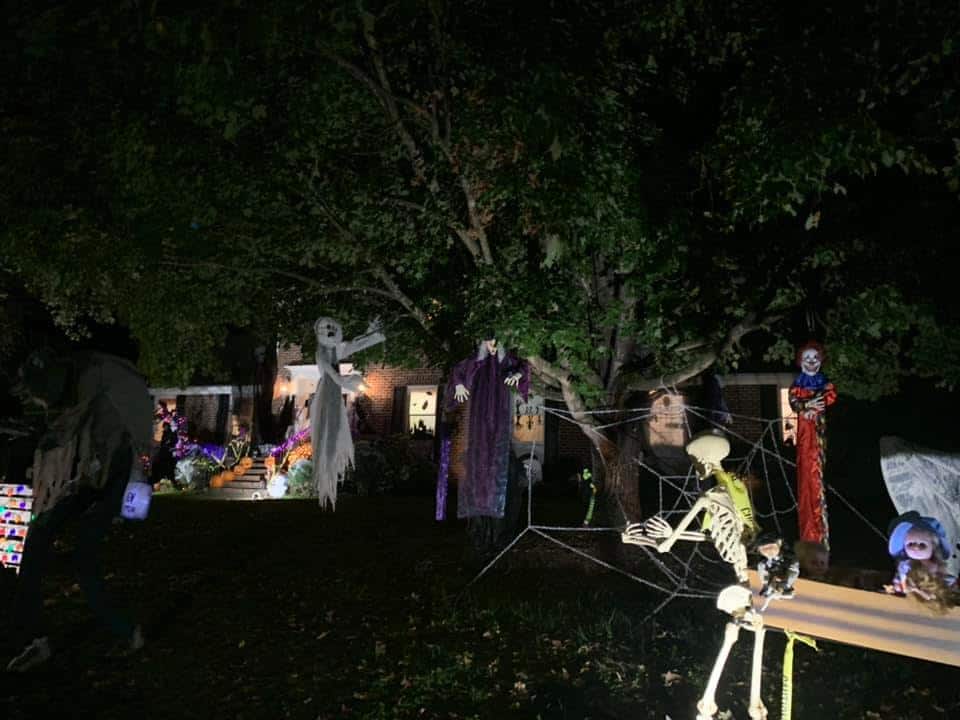 Prior to 2020 it was a walk-through attraction, but in 2020 and, again, in 2021, it was a drive-by attraction. This year — 2022 — it is again a walk-through attraction!
Edward's Battle Haunted House is at 9401 S. Mere Court, Raleigh. It will be up October 22nd, 23rd, 29th, 30th, and 31st, 2022, from 6 p.m. to 9 p.m. Look for updates on Edward's Battle Haunted House Facebook page.
On October 29th, 2022, the event will include a blood drive with The Blood Connections. Check back soon for a link to make an appointment to donate blood.
Again, please give generously if you can. If you can't make it to the haunted yard, but you'd like to donate directly to Give Kids the World, here is the link. Give Kids the World has been important to Edward and other kids and families who are tackling challenges that are much scarier than a haunted house.
Also, come back in the Christmas season, as Edward will present Candy Land Holiday Lights at the same location, with donations going to Make a Wish Eastern NC branch.
More Halloween Events in the Triangle
Check out our big list of Halloween events and ideas in the Triangle, or see a quick list here:
Saturday, October 8, 2022
Sunday, October 9, 2022
Monday, October 10, 2022
Tuesday, October 11, 2022
Wednesday, October 12, 2022
Thursday, October 13, 2022
Friday, October 14, 2022
Saturday, October 15, 2022
Sunday, October 16, 2022
Monday, October 17, 2022
Tuesday, October 18, 2022
Wednesday, October 19, 2022
Thursday, October 20, 2022
Friday, October 21, 2022
Saturday, October 22, 2022
Sunday, October 23, 2022
Monday, October 24, 2022
Tuesday, October 25, 2022
Wednesday, October 26, 2022
Thursday, October 27, 2022
Friday, October 28, 2022
Saturday, October 29, 2022
Sunday, October 30, 2022
Monday, October 31, 2022