You can spend as much as you want on a date, but spending a lot is not required in the Triangle. Here are some ideas for cheap date nights (or days) in Raleigh, Durham, Chapel Hill and surrounding areas. Many of these dates are free. All are $15 or less per person.
Got more ideas for cheap date nights in the Triangle? Email info@triangleonthecheap.com with your idea and maybe we'll add it!
Scroll down to the bottom of this article to see a list of upcoming free events in the Triangle.
Subscribe to Triangle on the Cheap
Visit a Garden
JC Raulston Arboretum
4415 Beryl Road, Raleigh
Free
Explore this nationally acclaimed garden that features one of the largest and most diverse collections in the Southeast.
North Carolina Botanical Garden
100 Old Mason Farm Road, Chapel Hill
Free
This conservation garden features various display gardens and Piedmont nature trails.


Sarah P. Duke Gardens
420 Anderson Street, Durham
Free
This 55-acre botanic garden features four distinct gardens, each with their own focus. There are five miles of walks and pathways throughout the gardens, with many shaded benches. There is also a cafe within the gardens. Guided walking and trolley tours are also available. Learn about visiting Duke Gardens in all four seasons.
The Raleigh Rose Garden
2703 Everett Avenue, Raleigh
Free
The grounds include sixty rose beds with numerous varieties of roses surrounded by an arboretum of evergreen and deciduous trees.
Visit a Museum
Many of the region's museums are free, and many of those that are not free have free days. Learn about free museum days in the Triangle. Here are a few museums that are always free:
North Carolina Museum of History
5 East Edenton Street, Raleigh
Free (charge for some special exhibits)
Explore North Carolina's roots with multimedia exhibits on art, history, and culture.

North Carolina Museum of Natural Sciences
11 W Jones Street, Raleigh
Free (charge for some special exhibits)
This interactive and multi-media museum offers exhibits and information on almost every kind of plant and animal, living or extinct. Their various self-guided tours will make sure you don't miss a thing. Learn about some of the North Carolina Museum of Natural Sciences' offerings for adults.
North Carolina Museum of Art
2110 Blue Ridge Road, Raleigh
Free (charge for some special exhibits)
The permanent collection housed at this museum features works from the Renaissance to the 19th century, including Italian, Egyptian, African, ancient American, and Jewish art.
Ackland Art Museum
101 S Columbia Street, Chapel Hill
Free
The Ackland is University of North Carolina's art museum. It presents 10-12 changing exhibitions a year, with more than half of the gallery space dedicated to special and traveling exhibitions. The permanent exhibit features art from ancient Greece, Africa, Asia, Egypt, and more.
Gregg Museum of Art & Design
1903 Hillsborough Street, Raleigh
Free
North Carolina State's art museum has a permanent collection of more than 35,000 objects, including major holdings in textiles and clothing, ceramics, folk and Native American art, photography, design and decorative arts, and works by self-taught artists. Its rotating schedule of exhibitions highlight diverse artists, media, and techniques in its galleries.
Nasher Museum of Art at Duke University
2001 Campus Drive, Durham
Free
Duke University's art museum is now free the public whenever it's open.

Go on an Art Walk
First Friday Gallery Walk in Raleigh
Downtown Raleigh
First Friday of every month, 6 p.m. to 9 p.m.
Free
2nd Friday ArtWalk in Chapel Hill and Carrboro
Chapel Hill and Carrboro
Second Friday of every month, 6 p.m. to 9 p.m.
Free
Third Friday Durham
Downtown Durham
Third Friday of every month, 6 p.m. to 9 p.m.
Free
Hillsborough Last Fridays ArtWalk
Downtown Hillsborough
Last Friday of every month, from April to November, 6 p.m. to 9 p.m.
Free
See a movie
Outdoor Movies Series
Throughout the Triangle
Dates and times vary
$0 – $5
Grab a lawn chair or blanket and check out one of the many outdoor movie series throughout the Triangle.
Triangle Drive-In
Triangle Town Center, 3721 Sumner Blvd, Raleigh
$12
Generally movies are shown Fridays and Saturday. Seasonal.
The Drive-In at Carraway Village
600 Carraway Crossing, Chapel Hill
$12.90
The Cary Theatre
122 E. Chatham Street, Cary
Tickets for most movies are $5.
See cute animals
Take your date to visit goats at one of these farms in the Triangle. Make sure to click each link to learn about the upcoming events. Prices and details might change.
Old Mill Farm at the Vineyard
8913 Hwy 751, Durham
Fridays at the Farm includes live music and goats
$20/car
Prodigal Farm
4720 Bahama Road, Rougemont
Meet the goats, and enjoy activities like live music, beekeeping demonstrations and much more.
Follow above link for prices.
Historic Oak View County Park
4028 Carya Drive, Raleigh
Free
Visit the herd of Nubian goats. You'll find them grazing in the corral behind the tenant house. They like attention and snacks. Once a year, in May, the park throws a Barnyard Birthday Bash for the goats.
Go on an interesting tour
Self-Guided Factory Tour of Videri Chocolate
327 W Davie Street, Suite 100, Raleigh
Free
Take a walk through the viewing area of this local chocolate factory. It is set up museum-style with viewing windows and informational signs. You can tour anytime, but stop by Monday through Friday from 10 a.m. to 3 p.m. to see them in action. The tour takes about 15 minutes. They also have a chocolate counter, coffee bar and cafe, and an outdoor patio.
Haunted Hillsborough Tour
Downtown Hillsborough
$15
Hillsborough is North Carolina's oldest town, so it's no surprise that it's got a few ghosts. Learn about them on the two-hour Haunted Hillsborough Ghost Tour.
Durham Walking and Bike Tours
Durham Farmers' Market, 501 Foster Street
Free
The first through the fourth Saturdays of every month from April to November Preservation Durham offers a free tour that leaves from Durham Farmers' Market at 10 a.m., weather permitting. The first Saturday: Murals by Bike; second Saturday: Durham's Tobacco History; third Saturday: Durham's Civil Rights History; fourth Saturday: Architecture and the Urban Landscape.
Brewery tours in the Triangle
Various locations
The Triangle has a burgeoning brewery scene and many of the breweries offer tours. They generally cost $10 or under a person (many are free) and include a chance to taste some beer.
Tour the North Carolina State Capitol
1 East Edenton Street, Raleigh
Free
Explore the state capitol and admire the Greek Revival style of architecture on a free self-guided tour.
More Free Walking Tours
We keep a day by day list of free walking tours throughout the Triangle!
Listen to music
You can find 30 days of live music with no cover, or a very low cover, in our Triangle music calendar. If that's not enough, in warm months there are tons of free outdoor concerts, and there are a number of very inexpensive live music venues (see below.)
Outdoor Concert Series
Throughout the Triangle
Dates and times vary
Free
Enjoy jazz, bluegrass, beach music, and more at one of the many outdoor concerts held throughout the Triangle. These concerts aren't only for the summer – look for ones in spring and autumn, too.
Cat's Cradle
300 E Main Street, Carrboro
Dates and times vary
$0 – $25
Catch indie rockers and other artists at this standing room only venue. Many shows have tickets for $10 – $15.
The Kraken
2823 NC Highway 54W, Chapel Hill
$0
There's no cover for shows at this historic roadhouse. (Please tip!)
The Cave
452 W. Franklin Street, Chapel Hill
$0
This is another unpretentious Chapel Hill music spot. Shows are usually on a donation basis, with (generally) a $5 suggested donation.

Bynum Front Porch
950 Bynum Road, Pittsboro
The old Bynum General Store in Chatham County has been transformed into a community gathering spot. They host outdoor concerts in the warm months and indoor music when it's cold. They also present storytelling event. Events are free, but the hat is passed.
Local 506
506 W. Franklin Street, Chapel Hill
Tickets to almost all the shows here are $15 or less. Some are much less.
The Pinhook
117 W. Main Street, Durham
Tickets for most shows are $7 to $10.
Play games
Boxcar Bar + Arcade
330 W Davie Street, Raleigh and 621 Foster Street, Durham
Prices vary
Home to hundreds of arcade-style games, including pinball machines, console games, and classic and modern arcade cabinets. They also offer a full liquor bar with 24 rotating drafts. Check out their daily deals for free game tokens, drink deals, and more.
The Baxter
108 N. Graham Street, Chapel Hill
Prices vary
Enjoy 50 vintage and original arcade games.
Triangle Game Night
Various locations and days
Free
Meet up with other game-lovers in the Triangle to play board games. The organization has a library of more than 265 games, and at each event they bring about 75 to choose from. Each game night is hosted by experienced game night staff.
Coffee and tea in a beautiful place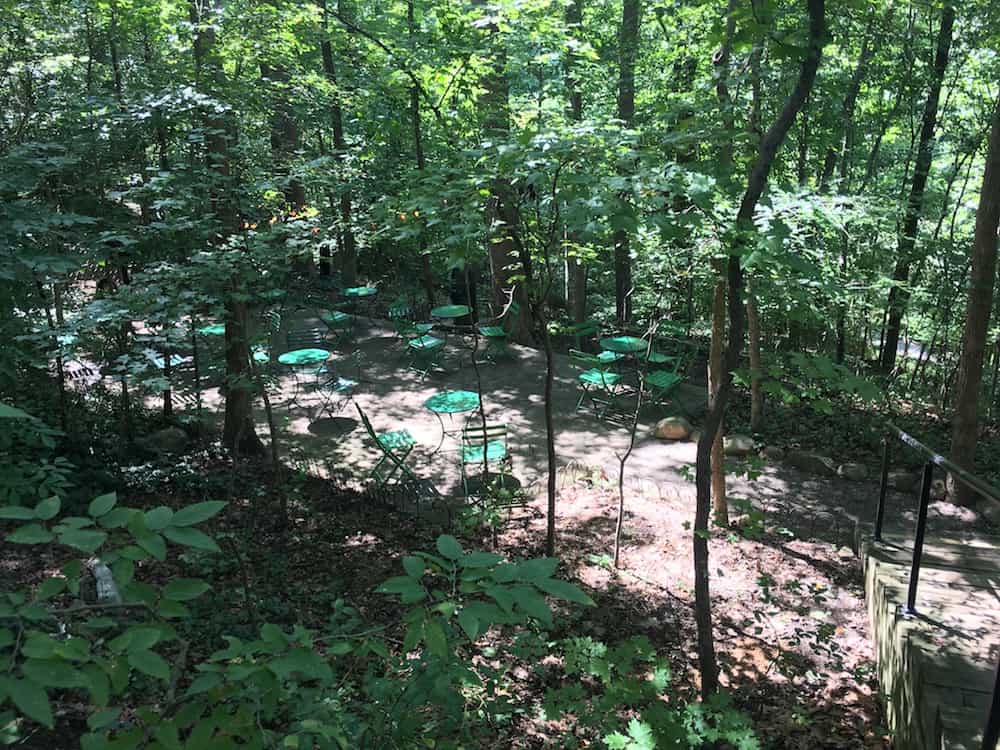 Caffé Driade
1215 E. Franklin Street, Chapel Hill
Caffé Driade is a serene, hidden treasure in Chapel Hill. Choose between several peaceful outside areas, or a cozy interior, to enjoy your tea or coffee. The coffee shop periodically hosts events like guided meditations and live music.
Catch a game
Durham Bulls Baseball Game
Durham Bulls Athletic Park, 409 Blackwell Street, Durham
Various dates April through September
The Durham Bulls, the Triple-A affiliate of the Tampa Bay Rays. Make sure to check out their promotions for each game.
Carolina Mudcats Baseball Game
Five County Stadium, 1501 NC 39 Hwy, Zebulon
Various dates April through September
The Mudcats are a minor league affiliate of the Brewers.
Women's Basketball at UNC and Duke
Yes, you'd be a hero if you got tickets to a UNC vs. Duke men's basketball game, but give women's basketball a try. Tickets are a steal, at just $10 for games at Carolina and as low as $12 (going up from there) for games at Duke. Consider other college sports too besides basketball. You'll find some very affordable options, for both men's and women's sports. Also, check out NCCU sports and NC State sports too. There are plenty of bargains to be had for tickets to sports other than football and men's basketball.
Enjoy a Park
The Triangle is filled with parks, including state, county and city parks. These are just a few of the many options for outdoor recreation.
Hike at Jordan Lake State Recreation Area
280 State Park Road, Apex
Hours vary by month
$7 per car from Memorial Day through Labor Day, and on weekends and holidays in April, May, and September.
Offers nearly 14 miles of hiking trails, most of them short and easy. There are also seven swim beaches throughout the area. Events and guided hikes are also available on some days.
Hike or Boat at William B. Umstead Park
8801 Glenwood Avenue, Raleigh
Hours vary by month
Admission is free, and canoe rentals are $7.
Offers a network of trails that surround three man-made lakes. Picnic grounds are available at both access areas. Canoe and rowboat rentals are available for $5 at Big Lake. Boat rentals are available from April 1 to October 31 through the visitor center, and rental hours are 8:30 a.m. to 3 p.m.
Hike at Eno River State Park
6101 Cole Mill Road, Durham
Hours vary by month and access point
Free
Offers nearly 30 miles of trails that run along the Eno river.
Lake Johnson Park
4603 Avent Ferry Road, Raleigh
Open daily, 7 a.m. to 8 p.m.
Free
Features a seasonal swimming pool, boardwalk, and a section of the Walnut Creek Greenway Trail.
Pullen Park
520 Ashe Ave, Raleigh
10 a.m. to 6 p.m.
The first public park in North Carolina and the 5th oldest operating amusement park in the U.S. features a carousel, train, pedal boats, playground, and more. There is also a cafe, arts center, and aquatic center on the property. Tickets are required for each ride, and are $1.50 each. Each ride except for the pedal boats requires one ticket per person – the pedal boats require four tickets per boat for a half hour rental.
Do almost anything at a brewery
These days breweries are hubs for entertainment all throughout the Triangle. You'll find live music, belly dancing, comedy shows, dog adoption events, art markets and pretty much anything else you can think of. See a list of upcoming free and cheap events at breweries in the Triangle.
Share a laugh
ComedyWorx
3801 Hillsborough Street, Raleigh
Most shows are $15
Subscribe to Triangle on the Cheap
Upcoming free events in the Triangle
Friday, September 22, 2023
Saturday, September 23, 2023
Sunday, September 24, 2023
Monday, September 25, 2023
Tuesday, September 26, 2023
Wednesday, September 27, 2023
Thursday, September 28, 2023
Friday, September 29, 2023
Saturday, September 30, 2023
Sunday, October 1, 2023
Monday, October 2, 2023
Tuesday, October 3, 2023
Wednesday, October 4, 2023
Thursday, October 5, 2023
Friday, October 6, 2023
Saturday, October 7, 2023
Sunday, October 8, 2023
Monday, October 9, 2023
Tuesday, October 10, 2023
Wednesday, October 11, 2023