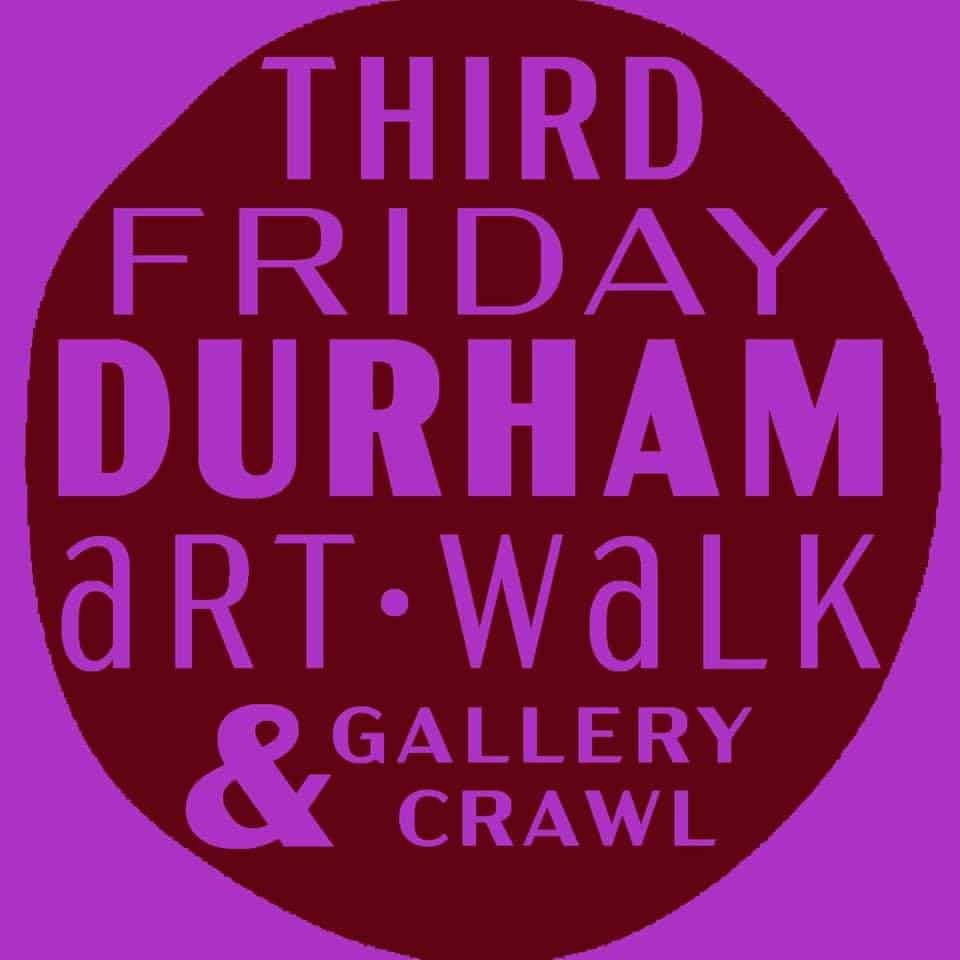 Third Friday Durham is a recurring event during which the Durham art venues host free receptions. It takes place the 3rd Friday of the month.
The next Third Friday Durham is September 15, 2023
This is a great time to check out the new and continuing exhibits. It's also a good time to check out shops and to try out a new restaurant.
Most gallery receptions take place from 6 p.m. to 9 p.m. but visit the 3rd Friday Durham Facebook page, where details will be posted.
You can also find a map and a list of events at thirdfridaydurham.org.
Third Friday Arts Events on September 15
Find details about these events (and updates) for September 15, here.
Surviving the Burn: Black Water Vernacular Closing and Artist Talk with Derrick Beasley
NorthStar Church of the Arts
220 W Geer Street
8 to 10 p.m.
Derrick Beasley's solo exhibition, Surviving the Burn: Black Water vernacular is culminating in an artist talk between him and Monet.
Art of a Scientist (AoS) exhibit
Smith Warehouse Bay 12
114 S Buchanan Blvd
8 to 11:30 p.m.
The fourth edition of this innovative exploration of the interaction between art and science.
The Mix
Durham Station Transportation Center
515 W Pettigrew St
3:30 to 6:30 p.m.
Start your Third Friday off right! GoDurham and DDI present The Mix with music from DJ Piddipat.
Anne Heartt Gregory: 5 Points Gallery Featured Artist – Third Friday Opening Reception
5 Points Gallery
109 E Chapel Hill Street
5 to 9 p.m.
What do monarch butterflies, mandalas, and migrants have in common? In the vision of Durham artist Anne Heartt Gregory, it's MOVEMENT. Her exhibit of new works at 5 Points Gallery includes an assortment of paintings that explore this theme. Join us for our Third Friday Opening Reception September 15, 6-9pm. Meet the artists and view the latest works by our nine Triangle-based artists in a range of mediums including painting, sculpture, fused glass, and mixed media. This exhibit runs September 14-October 14.
DAG Presents: She And All Her Flowers
Durham Art Guild (at Durham Arts Council)
120 Morris St
6 to 8 p.m.
Join the Durham Art Guild to celebrate "She and All Her Flowers" featuring new works by DAG member Colleen Francis Smith and special guest Holly Fischer! Immerse yourself in our newest exhibition that gives fairy garden vibes with a sharpened edge. On display at Truist Gallery August 12-October 10, 2023.
Hello, Durham!
Fullsteam Brewery
726 Rigsbee Ave.
6 to 8 p.m.
Join us every 3rd Friday for Hi, Durham!, a community meet and greet. Find new like-minded neighbors and friends. All are welcome, especially Durham newcomers! Drop in anytime between 6–8pm.
Live Writing at Outer Loop's Monthly Art Mart
Outer Loop Arts
803 Ramseur St STE C
6 to 9 p.m.
This September 15th Outer Loop is hosting the Secret Astronomer who will be set up for on-the-spot writing, anything from acrostic poems to short-form writing using random words given to them by strangers. Matia will also be collecting words from strangers for a short-form writing for an ongoing zine series called Words On Demand. There will also be an additional 5+ artists for the local art market, which is free for all art vendors to set up. Resident artists will have their studios open, with two new artists this month!
"THAI TIME: I'm dreaming for you too" opening reception
Golden Belt Campus
800 Taylor St
6 to 9 p.m.
These images represent part of my ongoing exploration of immigrant familial memory, echoes of legacy and expectation, and how unknown and unspoken generational traumas shape our present sense of Self.
I'm making an attempt at moving forward in my life, through a studied consideration of past and present. It's one uncomfortable and necessary survey out of many, looking to see where you exist in that place between ancestral histories and present day. Perhaps we find more of our substantial truths in the basic questioning. Who? What? Where? Why? When? And How?
Upcoming Events in the Triangle
Check out our
full events calendar
, where you can enter any date, or look at the events for the next few days here:
Monday, October 2, 2023
Tuesday, October 3, 2023
Wednesday, October 4, 2023