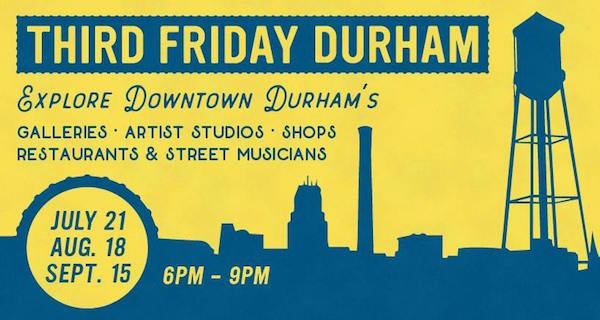 Third Friday Durham is a recurring event during which the Durham art venues host free receptions. This is a great time to check out the new and continuing exhibits. Musicians and other entertainers busk on the sidewalks (moving inside during inclement weather) and many artists open their studios to visitors. It's also a good time to check out shops and to try out a new restaurant.
Some of the buskers to look for Friday, July 21st: Caitlin Washburn Music, Glenn Jones, Robinson Lee Earle, Cliff Bellamy, Bev Gray Gude and Dave Gude, Ashesh Ananda Chatterjee and Johanna Rose Burwell and Stephen Munoz.
Most gallery receptions take place from 6 p.m. to 9 p.m. but visit the Third Friday Facebook page, where the details will be posted. More information on the Third Friday Durham website.
Here are a couple suggested places to check out:
The Visitors Info Center, at 212 West Main Street, is a great place to start on July 21st. You can pick up a map that will show the 3rd Friday venues.
Sexynotsilent at Empower Dance Studio
Empower Dance Studio
109 West Parrish Street, Durham
In case you missed the #Sexynotsilent pop up event last month at Goldenbelt, it's back. The latest exhibition from artist Edith Grey will be on display at Empower Dance Studio through August 16th.
#Sexynotsilent strives to convey the strength, beauty, and struggle of women of color. Over the years, the word "sexy" has been used to objectify women, stripping them of their intellect, accomplishments, and suppressing their struggle. #Sexynotsilent redefines what sexy looks like by highlighting women of color who embrace their struggle against systems, stigma, and mental or physical illness without negating their sexuality.
Go Play Exhibition Opening
Spectre Arts, 1004 Morning Glory Ave, Durham
New Media Artists Dickie Cox and Mike Richison share the floor and walls of Durham-based art space SPECTRE Arts in their two-person, interactive multimedia exhibit Go Play: Mixed Reality, Abstraction, and the Interpersonal. The show consists of works that integrate the emerging technologies of digitally-fabricated sculptural objects, augmented reality, video projection remapping, custom-built electronics, and social interfaces. With their hands-on installations the artists invite you to let your guard down, explore small-scale installation environments, and play together.
Opening of A Cat-Like Whimsy at The Scrap Exchange
The Scrap Exchange, 2050 Chapel Hill Rd, Durham,
A Cat-like Whimsy opens Third Friday Durham, July 21st in the Cameron Gallery. Artist Rio Aubry Taylor is a multidisciplinary cartoonist specializing in abstracted narrative and experimental comics. The evening's festivities include light snacks and drinks, as well as free art making in the Make and Take. This event is free and the public is warmly welcomed.
A Cat-like Whimsy will be on display from Friday, July 21- Saturday August 12.
***
If you can't make it to the Visitor Info Center to pick up a map, click on the map below for a full-size version.
When
August 18, 2017 @ 6:00 pm-9:00 pm