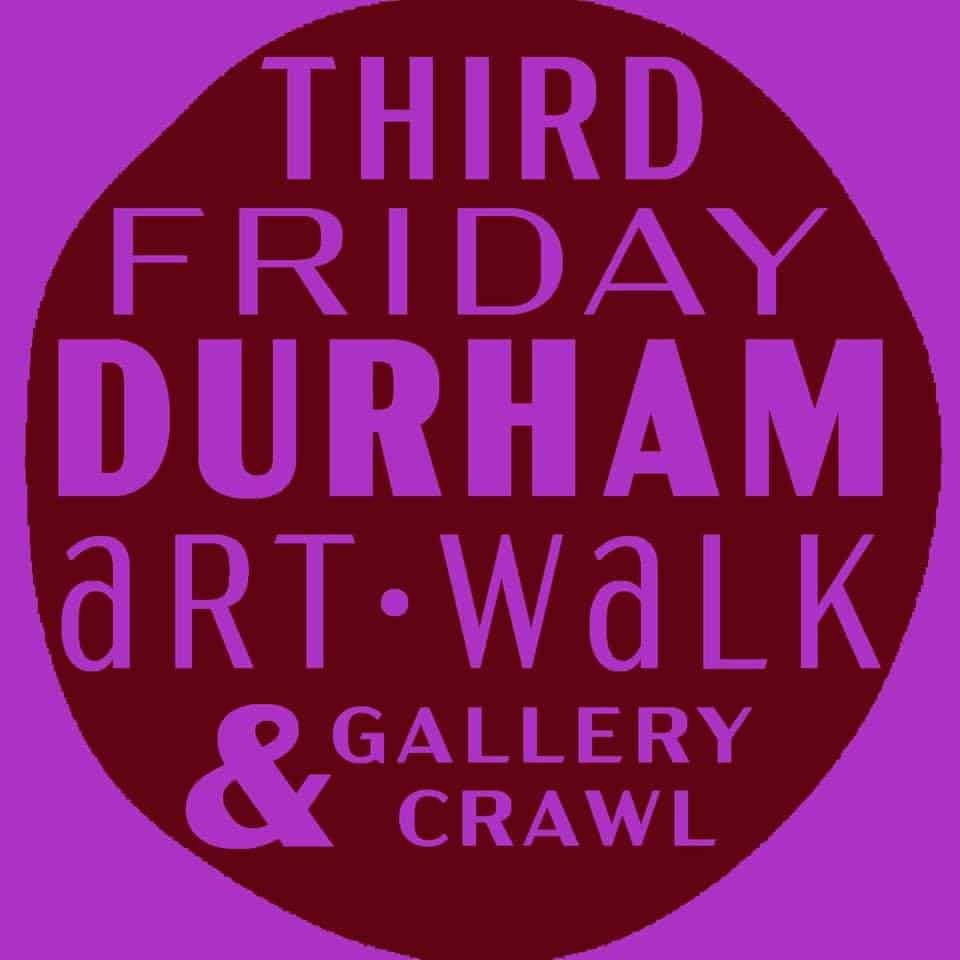 Third Friday Durham is a recurring event during which the Durham art venues host free receptions. It takes place the 3rd Friday of the month.
The next Third Friday Durham is October 21st, 2022.
This is a great time to check out the new and continuing exhibits. It's also a good time to check out shops and to try out a new restaurant.
Most gallery receptions take place from 6 p.m. to 9 p.m. but visit the 3rd Friday Durham Facebook page, where details will be posted.
You can also find a map and a list of events at thirdfridaydurham.org.
Third Friday Arts Events on November 18
The Life and Legacy of Floyd B. McKissick Sr. Exhibit Opening at the Museum of Durham History
Museum of Durham History 500 West Main Street, Durham, NC
5 to 8 p.m.
Free
68th Annual Juried Exhibition Reception
Durham Art Guild (at Durham Arts Council) 120 Morris St., Durham
6 to 8 p.m.
For Colored Girls by Zaire McPhearson
Bright Black 2020 Chapel Hill Road, Suite 24, Durham
6 to 8 p.m.
Reception for Landmarks featuring work by Jason Lord and Linda Cato
Durham Art Guild (at Golden Belt Campus) 800 St. Taylor St., Durham
6 to 9 p.m.
Live Music and Painting with Little Red Birds
Durham Food Hall 530 Foster Street, Suite 1, Durham, NC
6 to 9 p.m.
Emotiona Signage presented by Britt Clark
Liberty Arts 918 Pearl St, Durham
6 to 9 p .m.
King Nobuyoshi Godwin – 5 Points Gallery Featured Artist – Third Friday Reception
5 Points Gallery
6 to 9 p.m.
Paintings by Mark Abercrombie hosted by The Willow and Urban Durham Realty
Urban Durham Realty 401C Foster St., Durham, NC
6 to 9 p.m.
Third Friday: Fantastic Green Things and Crystal Chemist Gifts!
The Artisan Market at 305 305 East Chapel Hill Street, Durham, NC
6 to 9 p.m.
Third Fridays With Diamond By Nature LLC
319 West Main St 319 West Main St, Durham
6 to 10 p.m.
motherworld: a choreopoetic experience
NorthStar Church of the Arts 220 W Geer Street, Durham, NC
7 to 9 p.m.
Upcoming Events in the Triangle
Check out our
full events calendar
, where you can enter any date, or look at the events for the next few days here:
Monday, December 5, 2022
Tuesday, December 6, 2022
Wednesday, December 7, 2022