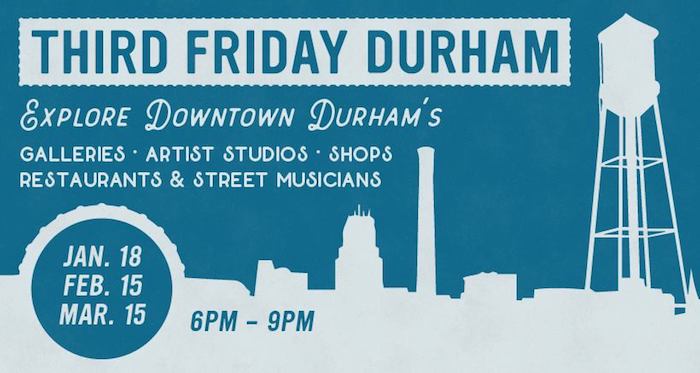 Third Friday Durham is a recurring event during which the Durham art venues host free receptions. This is a great time to check out the new and continuing exhibits. Musicians and other entertainers busk on the sidewalks (moving inside during inclement weather) and many artists open their studios to visitors. It's also a good time to check out shops and to try out a new restaurant.
Most gallery receptions take place from 6 p.m. to 9 p.m. but visit the Downtown Durham Facebook page, where details will be posted.
Buskers for January 18th, 2019:
CaliWood RassaMon (Golden Belt Campus)
Isaiah Hartsell (501 Realty)
Gabriele Pelli (Durham Arts Council)
Leigh L'Abeille (The Parlour)
Kelly Dansby (Pleiades Arts, Inc)
David D'Angelo (Museum of Durham History)
Luke Dingfelder (Golden Belt Campus)
You can pick up a 3rd Friday Durham map at the visitor's center, 212 West Main Street.
More upcoming free things to do
Tuesday, January 22, 2019
Wednesday, January 23, 2019
Thursday, January 24, 2019