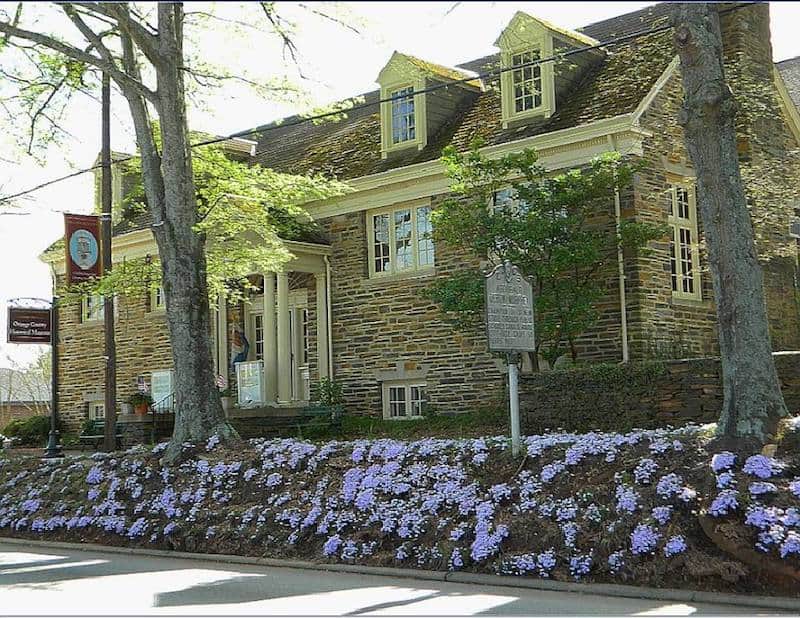 The Orange County Historical Museum, at 201 N. Churton Street, Hillsborough, is operated by the Historical Foundation of Hillsborough and Orange County.
It's open Tuesday through Saturday, 11 am. to 4 p.m., and Sunday from 1 p.m. to 4 p.m
The museum is closed to the public Mondays, Independence Day, Thanksgiving, and for several weeks during the holiday season.
It's free to visit.
The museum has some free events coming up:
Summer Movie Series with Historian Ernest Dollar: Doug Clark
Friday, August 10th, 2018
7 p.m. to 9:30 p.m.
Free
This summer, the Orange County Historical Museum has been showing vintage movies. Historian and Orange County native Ernest Dollar is presenting historical context for each of the historically significant movies.
August 10 – Doug Clark
Doug Clark and His Hot Nuts were a college party staple. Performing at colleges across the United States, the Clark brothers entertained countless with their bawdy rock and roll. This film was the last recorded interview with Doug Clark before his death in 2002 as part of an exhibit at the OCHM. *This film may not be appropriate for children.
For more information, please contact Anna Boyer at info@orangenchistory.org.
Lecture: The CIA/AbEx Connection
Wednesday, September 5th, 2018
6:30 p.m. to 7:30 p.m.
Free
If there is one thing that's true in this world, it's that there sure isn't a lack of conspiracy theories out there. Every day we might hear a new, wacky theory, even in the art world, like how the CIA funneled money into the arts, towards revolutionary painters like Jackson Pollock and Mark Rothko, in order to fight the Cold War. Crazy, right? Except that it isn't a crazy conspiracy theory at all. It's actually a true story of propaganda, secrets, lies, and fine art. The pen is mightier than the sword, the saying goes. Well, it turns out that the same could be said about the paintbrush. Join Jennifer Dasal at the Orange County Historical Museum to hear the full story.