Walking a labyrinth is an ancient practice from many faiths and traditions, with the goal of meditation, contemplation and prayer. It's a practice that you can do right here in the Triangle, if you know where to look. There are labyrinths all over the Triangle, at churches, hospitals, camps and more. We have listed labyrinths in Raleigh, Chapel Hill, Clayton, and Durham.
A labyrinth is a a geometric pattern, similar to a maze, but it differs in that there's just one path. You can't get lost. There are no dead ends. You simply follow the path to the center, pause, and then retrace your steps on the way out. The one path takes twists and turns, but you don't have to make a decision about which way to turn.
Labyrinths are made from many different materials. Some are marked with grass, some are brick, some are stone. Most are outside.
Walking a labyrinth is a quiet activity. If you meet someone going the opposite way on the labyrinth, simply step aside and let the person continue. Respect other people's contemplative space by remaining quiet.
Read on to learn about a few of the labyrinths in the Triangle. Unless otherwise indicated, all of these labyrinths are open to the public. Please do follow the link for each to get more information, and to ask any questions. We encourage you to verify with the organization that visitors are welcome, and that there aren't any planned events taking place when you want to visit.
Looking for more labyrinths? This isn't a complete list of the Triangle's labyrinths. We are just including the ones where we were able to get in touch with the labyrinth's host to verify that it was currently open to the public, or we were able to verify on their website. Use LabyrinthLocator.com to find one near you.
Brumley North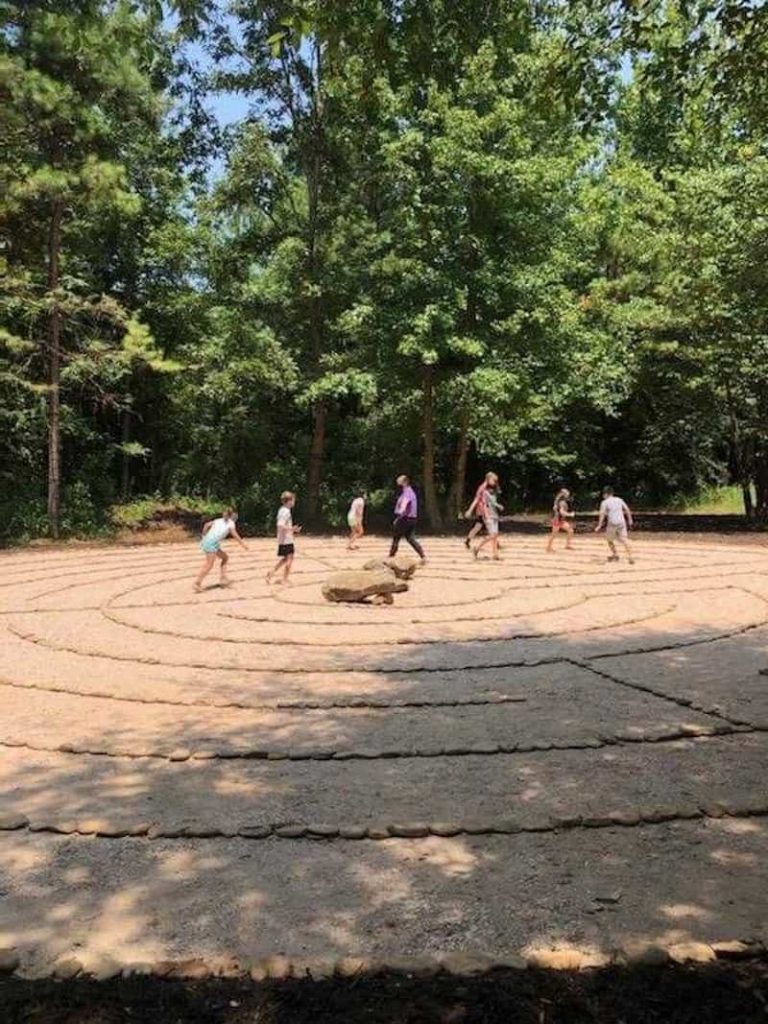 Brumley Nature Preserve – North
3620 Old State Hwy 10
Chapel Hill, NC
The Healing Labyringh at Brumley North is a space for reflection, meditation and restoration. There are now two trails from the parking lot that lead directly past it at the intersection of Stoney Creek and Cemetery Connector trails. It's by the cemetery, about 100 yards into the property.
New Hope Camp and Conference Center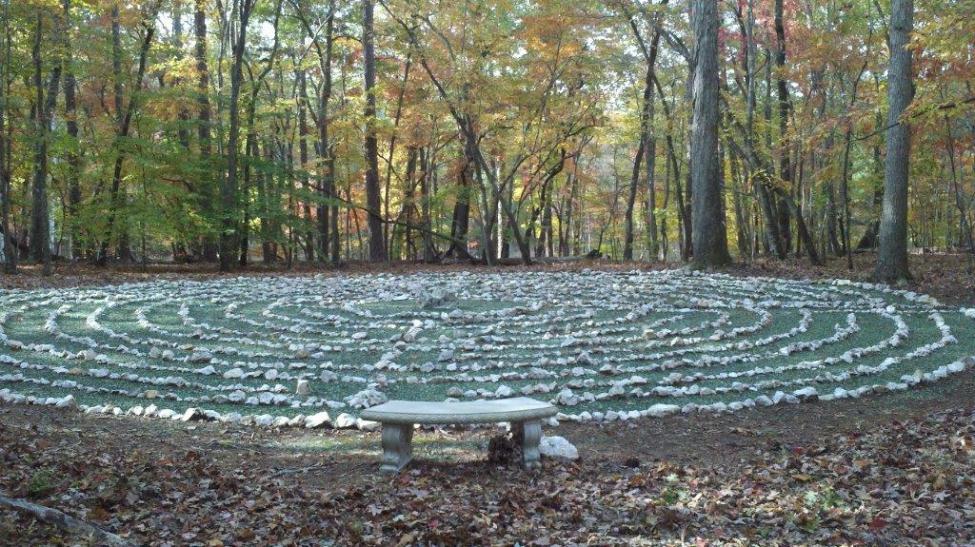 New Hope Camp and Conference Center
4805 NC Hwy 86
Chapel Hill, North Carolina 27514
This labyrinth is set in a forest and overlooks a lake. It's a quiet and meditative place. A summer camp is here from mid-June through mid-August during the day, so please don't come during those times. Please call the office at 919-942-4716 before coming out to make sure that a group hasn't reserved the space.
St. Paul's Episcopal Church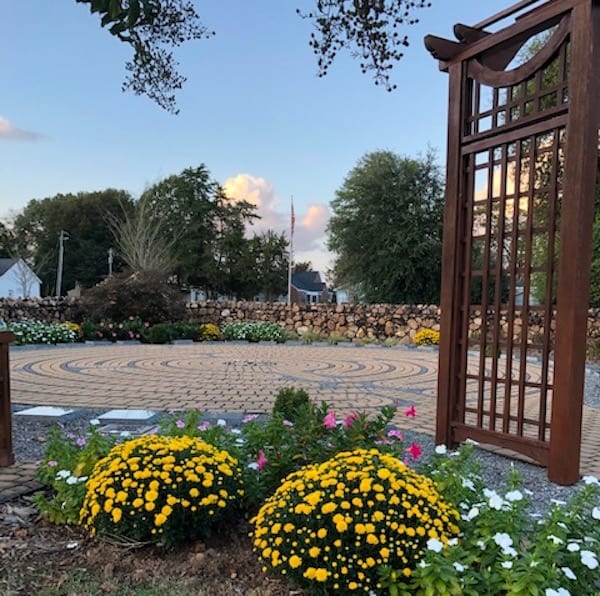 St. Paul's Episcopal Church
218 S. Second Street
Smithfield, North Carolina 27577
This is a 7-circuit St. Paul design labyrinth. The community is open to the greater community. There's no charge to walk the labyrinth, but please treat it with care and respect. There are a Facebook page and Instagram page devoted to the labyrinth.
Millbrook Baptist Church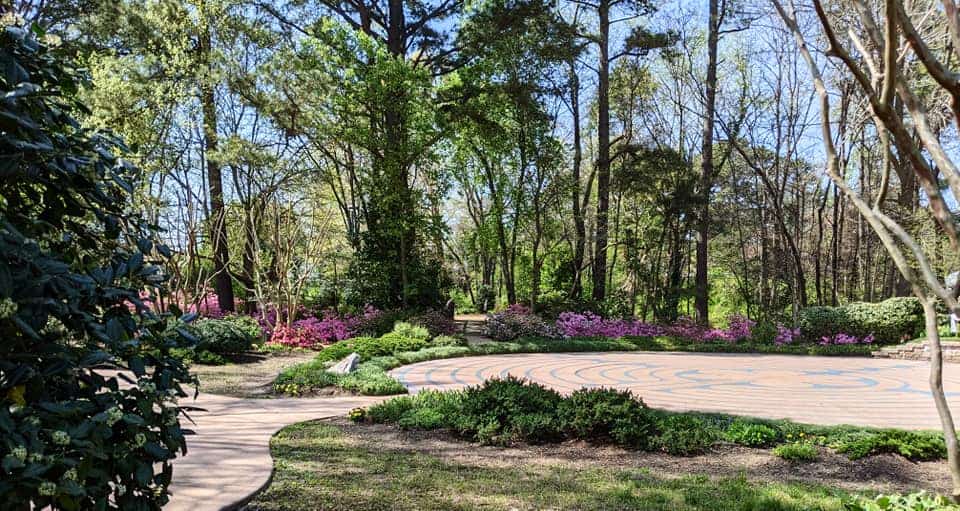 Millbrook Baptist Church
1519 E Millbrook Road
Raleigh, North Carolina 27609
Millbrook's labyrinth is the Chartres design, and it has a single, winding, circuitous path into and out of the center. You can use it with an open heart and mind for prayer and meditation. The labyrinth at Millbrook was established in 2002. It has served as a place of spiritual insight and renewal for numerous people. Individuals and small groups of 3 – 4 may walk MBC's labyrinth at any time. For those who do not wish to walk, benches are provided in the garden area for reflection and meditation. If you would like to bring a larger group, please call the church office at 919-876-1519 to reserve a time, or email labyrinthCom@milbrookbaptistchurch.org. The labyrinth is handicapped accessible.
North Carolina Cancer Hospital
North Carolina Cancer Hospital
101 Manning Drive
Chapel Hill, North Carolina 27599
This brick labyrinth is a place for patients, family and staff when they need a quiet space to rest their minds. It can be accessed from the building by taking the elevator to the basement level and exiting the glass doors by Radiology.
Unity Center of Peace in Chapel Hill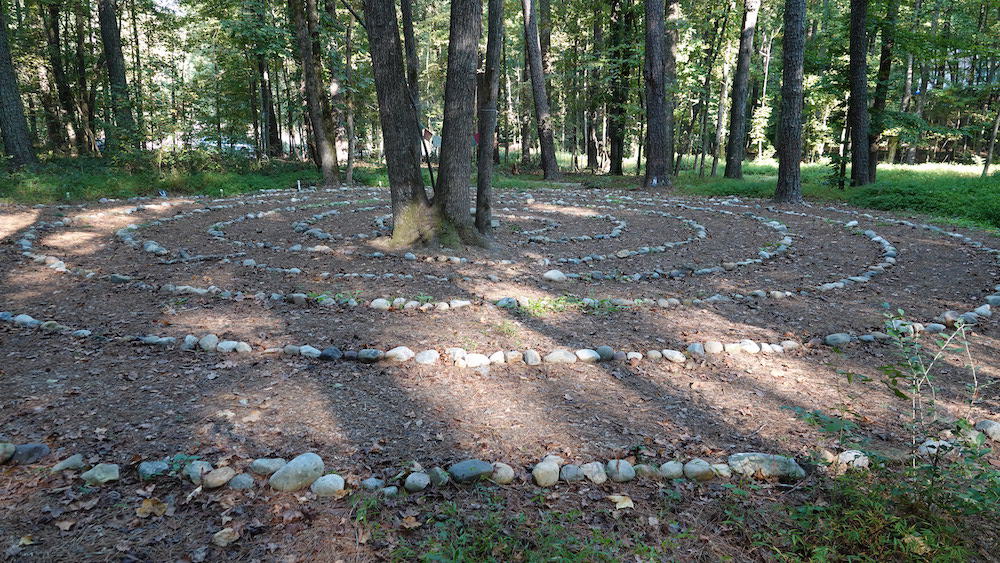 Unity Center of Peace in Chapel Hill
8800 Seawell School Road
Chapel Hill, North Carolina 27516
The Spiral Labyrinth is part of Unity Center of Peace in Chapel Hill's Outdoor Sacred Spaces. The space also includes a Medicine Wheel and the Serenity Trail, a meditation path through the woods that connects the Spiral Labyrinth with the Medicine Wheel. The space is open to the public every day from dawn to dusk.
Trinity Avenue Presbyterian Church
Trinity Avenue Presbyterian Church
927 W. Trinity Avenue
Durham, North Carolina 27701
This labyrinth was created by one of the youth of the church as an Eagle Scout project. It's in the open air area between the main church building and the playground, and is accessible from the parking lot located off of Gregson and Minerva Streets. It's available all the time.

Toad Song Farm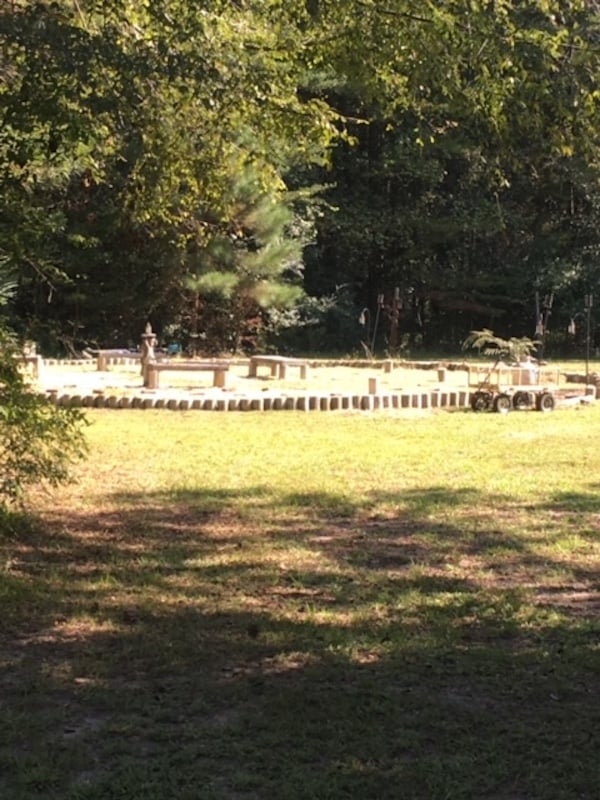 Toad Song Farm
14765-D Buffalo Road
Clayton, North Carolina 27527
Google 14765 Buffalo Road, Clayton, NC to find the driveway. Look for a big, purple mailbox with the sign for Toad Song Farm to point the way to the drive. Drive back into the woods almost a mile to the farm. The labyrinth will be on the right in the meadow adjacent to the green house with cream trim. Email toadsongfarm@earthlink.net before coming out to make sure that it's available. Toad Song Farm is a place where you can commune with nature. Maybe you'd like to help with some weeding at the labyrinth? Email them and ask how you can help!
St. Stephen's Episcopal Church
St. Stephen's Episcopal Church
82 Kimberly Drive
Durham, North Carolina 27707
St. Stephen's labyrinth is a 6-circuit labyrinth in the medieval style. It's located next to the playground behind the pre-school building. It's open to the public during the day. There are benches around the labyrinth.
         You might also be interested in: