Historic Yates Mill County Park, at 6420 Lake Wheeler Road in Raleigh, is a 174-acre wildlife refuge and an environmental research center.
The centerpiece is the Historic Yates Mill, which is the last operable water-powered gristmill in Wake County. The mill is on the National Register of Historic Places and was restored to working order in 2005.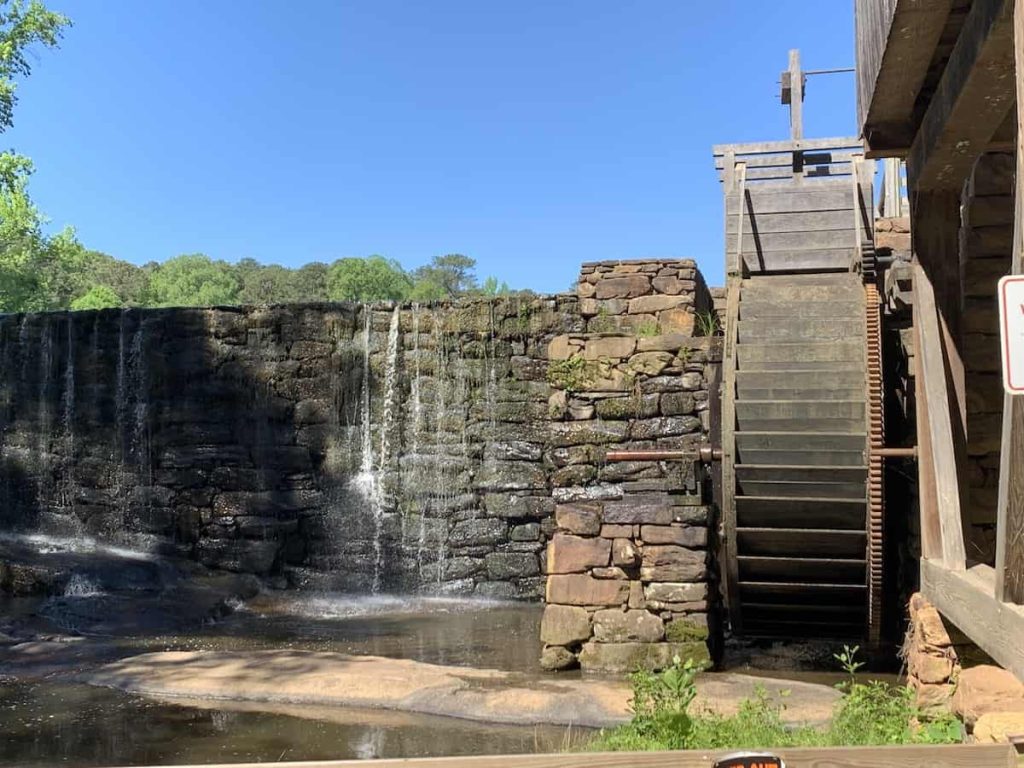 Admission to the park is free. Tours of the historic gristmill are offered on weekends at designated times from March through November, with money raised from these tours supporting the operation of the mill. Visit the park's website for information about guided mill tours. You can also enjoy other programs at the park (click here for details) or you can explore the park on your own. Read on to see what's coming up, as well as to learn more about the park and the mill.
Jump to a list of upcoming events, or keep reading to learn more about the park.
The water-powered gristmill has been operational for more than 200 years. There were once 70 gristmills in Wake County, and this is the only one that is still in operation.
Gristmills are used for grinding corn, wheat and other grains into flour. A stream of water is guided into a waterwheel. This provides the power to rotate large millstones that crush the grain into smaller pieces. You'll find gristmills near a source of running water, like a waterfall, or a dam.
Modern mills, on the other hand, use electricity to spin heavy steel or cast iron rollers.
In rural areas, before there were towns, gristmills were gathering spots for fishing, swimming and picnicking.
Today, you can fish at Historic Yates Mill County Park. There are also walking trails, gardens, a picnic area, and interpretive exhibits and trails.
Upcoming Events at Historic Yates Mill County Park
Please follow the links below to register.
---
---
---
More Kids' Events in the Triangle
Please check out our big list of free and cheap kids' events in the Triangle or look at a quick list here:
Sunday, September 24, 2023
Monday, September 25, 2023
Tuesday, September 26, 2023
Wednesday, September 27, 2023
Thursday, September 28, 2023
Friday, September 29, 2023
Saturday, September 30, 2023
Sunday, October 1, 2023
Tuesday, October 3, 2023
Wednesday, October 4, 2023
Thursday, October 5, 2023
Friday, October 6, 2023
Saturday, October 7, 2023
Sunday, October 8, 2023