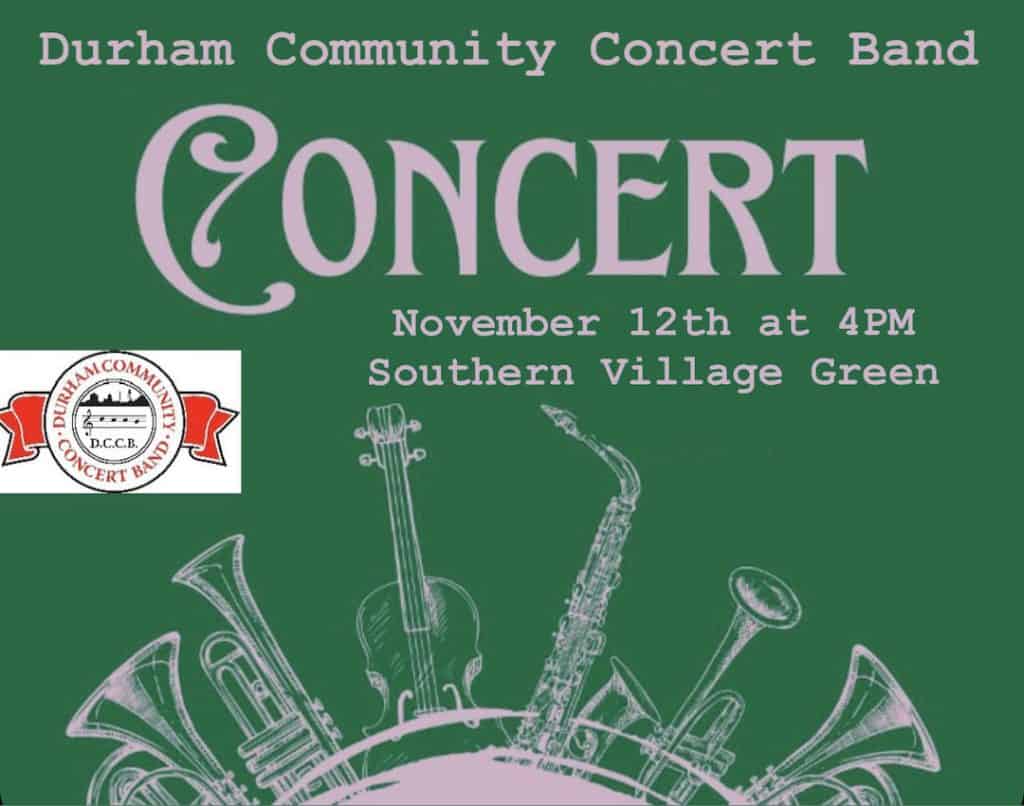 Durham Community Concert Band is performing in a FREE fall concert on Saturday, November 12th, 2022, at 4 p.m., on the Southern Village Green, 620 Market Street, Chapel Hill.
This is an event for the whole family.
The group is one of the largest community bands in North Carolina with over 100 musicians. And with Veterans Day the day before, the concert will include several pieces to honor our veterans.
Some of the selections include:
The Star – Spangled Banner arranged for band by John Philip Sousa
Strike Up the Band by George & Ira Gershwin arranged by Kevin Jensen
Folk Song Suite by Ralph Vaughan Williams
Big Band Signatures arranged by John Higgins
Eighties Flashback arranged by Paul Murtha
Just a Closer Walk with Thee arranged by Don Gillis
Andrew Lloyd Webber: A Symphonic Portrait arranged by Jerry Nowak
Liberty by Rosano Galante
Armed Forces Salute arranged by Bob Lowden
Americans We March by Henry Fillmore
Bring your lawn chairs and blankets
Look for updates on the Facebook event.
Check out a big list of community bands, orchestras and choirs in the Triangle!
Double-Check Before You Head Out!
We make every effort to make sure that everything on Triangle on the Cheap is 100% accurate.
However, sometimes things change without notice, and it's also possible that we can make a mistake. 
Please verify all deals and events with the venue or organizer before you go.
         You might also be interested in:
More Outdoor Music in the Triangle
Learn all about outdoor music in the Triangle, including a description of the concert series, and a 90-day calendar, or take a quick look at some of the upcoming outdoor concerts here:
Sunday, November 27, 2022
Tuesday, November 29, 2022
Thursday, December 1, 2022
Friday, December 2, 2022
Saturday, December 3, 2022
Tuesday, December 6, 2022
Thursday, December 8, 2022
Saturday, December 10, 2022
Sunday, December 11, 2022
Tuesday, December 13, 2022
Friday, December 16, 2022