Dorothea Dix Park, 2105 Umstead Drive, Raleigh, is hosting a number of diverse activities, for both adults and kids. Many of the events are free. Also, all require pre-registration. Read on to learn all about Dorothea Dix Park, and then to see the upcoming events. Follow the links to register.
All of the events and activities are free!
Getting to Dix Park
Dix Park is between Western Boulevard, Lake Wheeler Road, Biggs Drive and Barbour Drive. Umstead Drive goes right though the park.
This map shows the different entrances and areas. There are several entrances on Hunt Drive at Western Boulevard, Umstead Drive at Lake Wheeler Road, and Goode Street at Lake Wheeler Road.
The NC Dept. of Health and Human Services is on the Dix Park campus, so parking is limited during the week. On weekend you can park in any of the parking areas that are striped green.
Dorothea Dix Park's hours are dawn to dusk every day.
Daffodils and Sunflowers at Dorothea Dix Park
In the spring and summer, Dix Park becomes a destination for its big fields of flowers. Please don't pick the flowers!
Daffodils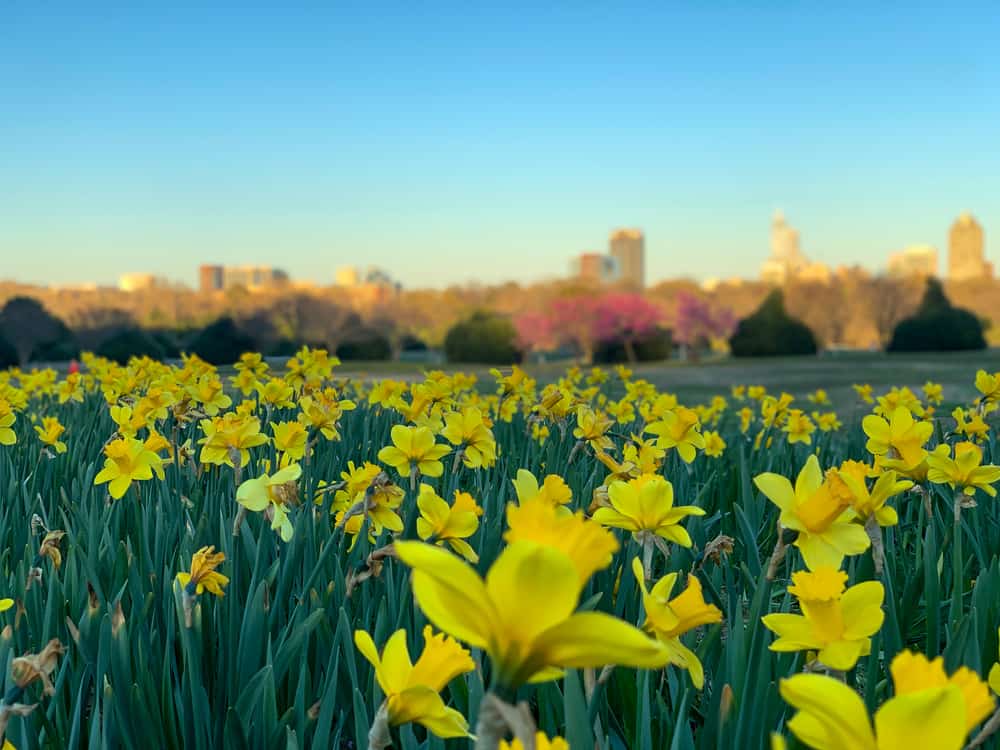 Over 40,000 daffodils are planted every year at Dix Park. The daffodils are planted in Flowers Field, off of Umstead Drive, behind the Flower Cottage. They bloom from February to March. They're great early-spring photo ops. We haven't heard anything about the daffodils for 2023, but we'll update when we do.
Sunflowers
The Dix Sunflower Field is located off Hunt Drive, near the old soccer fields and the historic cemetery. The sunflowers start to bloom in July.
Dog Park at Dorothea Dix Park
The new Dix Park Dog Park has opened. It includes shade structures and a water station, with a separate area for small dogs. The dog park is near the Williams Building.
Special Events at Dorothea Dix Park
Most events require registration.
---
---
Summer Solstice Sunrise Yoga
Wednesday, June 21, 2023
6 to 7 a.m.
Flowers Field
Watch the sun rise over downtown Raleigh on the first day of summer as Carrington Jackson Yoga leads the group through an early morning yoga session. All fitness levels welcome.
---
Raleigh 4th of July Fireworks
Tuesday, July 4, 2023
5 to 9 p.m.
Big Field
Family activity zone, 30 food trucks, music and fireworks!
---
Foodie Friday
July 28 and August 11, 2023
5 to 7 p.m.
Flowers Field
Enjoy food trucks and live music.
---
Treasure Hunt
Saturday, August 12, 2023
2 p.m., 2:30 p.m., 3 p.m., and 3:30 p.m.
Magnolia Room
Explore Dix Park through this fun treasure hunt. The special event is a partnership with Triangle Treasure Hunt. The puzzles and clues are geared toward ages 13+ and groups of 2-4 are recommended.
---
---
Dix Park Inter-Tribal Pow Wow
Saturday, August 26, 2023
11:30 a.m. to 6 p.m.
Big Field
Enjoy a day of competition dancing, and vendors. It showcases the legacy and culture of Indigenous communities living in North Carolina.
Programs and Classes at Dorothea Dix Park
You need to register for each program. Space is limited. Follow the links below. If there is not a link for an event, then please follow this link below to learn about each program, and to register.
---
---
---
---
---
---
---
---
---
Find all upcoming events at dorotheadixpark.org/calendar.
Upcoming Events in the Triangle
Check out our
full events calendar
, where you can enter any date, or look at the events for the next few days here:
Tuesday, May 30, 2023
Wednesday, May 31, 2023
Thursday, June 1, 2023