Dorothea Dix Park, 2105 Umstead Drive, Raleigh, is hosting a growing number of diverse activities, for both adults and kids. Many of the events are free. Also, many require pre-registration. Follow the links to register. The best way to find upcoming events is to search for Dix Park on Eventbrite.
Here are some upcoming free events. Make sure to follow the links for more details, to register, and to see what part of the park the event is taking place in. 

Free Yoga at Dix Park
Every Wednesday through October 10th
6 p.m.
Enjoy the nature and tranquility of Dorothea Dix Park as certified yoga instructor Dana Lindquist leads you through yoga poses to increase strength and flexibility. All fitness levels are welcome!
Bring a yoga mat, if you have one, a towel and a filled water bottle. Water is not available in the park. There are port-a-johns available, but they may be a significant walk from the yoga location.

Although this is a free program, registration is strongly encouraged. In case of inclement weather, the organizer will email all registered participants.
For more information, or to register, follow this link and then select your date.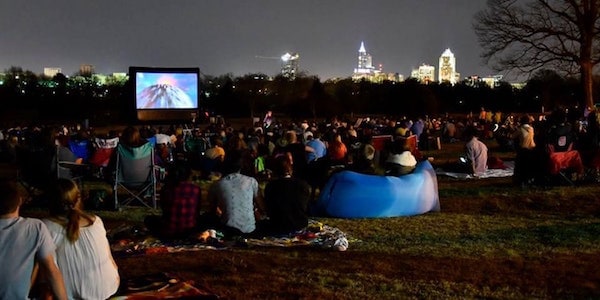 Movie by Moonlight–Jurassic Park
Saturday, August 18th, 2018
7:30 p.m.
The City of Raleigh is pleased to be partnering to continue the successful Movies by Moonlight series at Dorothea Dix Park.
7:30 p.m. – Doors Open
8:30 p.m. – Movie Starts
Jurassic Park is rated PG13.
Ty's All Natural, Taco Grande and Mr. Softee Ice Cream will be joining us at the park.
The movie will be in Flowers Field. The best park entrances to use are Hunt Drive off of Western Boulevard or Blair Drive off of Centennial Parkway. The address of the field is roughly 2105 Umstead Drive for those who use GPS. Look for signs along Umstead Drive.
Follow above link for more information and to register.
Explore Dorothea Dix–Guided Walking Tour
Saturday, August 25th, 2018
5 p.m. to 7 p.m.
Free
Follow above link to register, and for more information.
Explore Dorothea Dix Park – Dinosaurs and Fossils
Wednesday, September 5th, 2018
11 a.m. to 12 p.m.
Free, but register at above link (also, more info at link)
Junior Paleontologists will enjoy seeing and touching real fossils as they wonder and delight in our planet's past. We'll use special tools to break apart "dinosaur eggs" and uncover "ancient" treasures.
Ages 2-6, only. All children must be accompanied by an adult. Please register the child(ren) only. Adults do not need to register.
Please arrive a few minutes before 11. We know that sometimes late arrivals can't be helped, but arriving late can disrupt the attention of the group.
What to Bring
Please wear closed-toe shoes; walking in grass and up and down hills will be necessary.
Please Note: There are no bathrooms in the park and no drinkable water, so please plan to bring a water bottle and come prepared to only have portajohns available.
Registration
You MUST pre-register for this program.

Directions to the Program Location and Parking Instructions
Turn onto Hunt Drive. Turn right onto Umstead Drive. Turn left onto Blair Drive. Turn left onto Barbour Drive. Follow the Big field to the SECOND gravel parking lot on your right.
When
Weekly on Wednesday @ 6:00 pm (June 27, 2018 - October 10, 2018)
When
August 18, 2018 @ 7:30 pm
When
August 25, 2018 @ 5:00 pm-7:00 pm
When
September 5, 2018 @ 11:00 am-12:00 pm