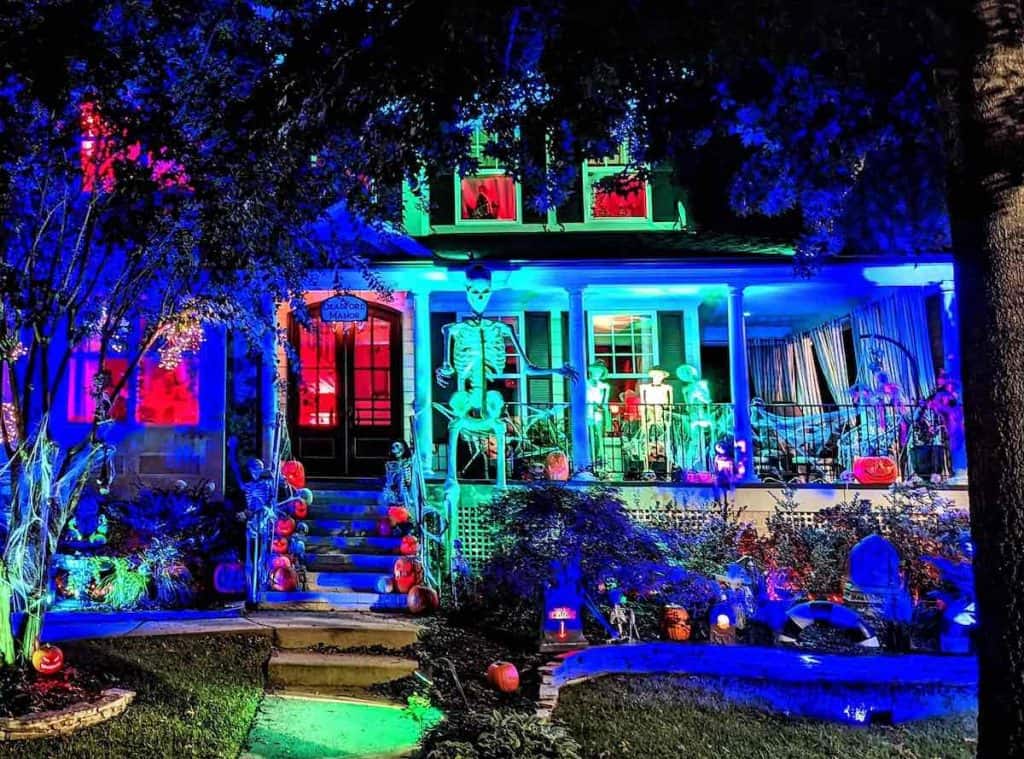 A family in Raleigh is going the extra mile to bring Halloween enjoyment to the neighborhood! Deadford Manor is a singing skeleton show the front yard at 10839 Bedfordtown Drive, Raleigh, NC.
This incredible interactive display features multiple skeletons that sing and tell jokes. The family describes it as a "hobby that turned into an obsession." And lucky for Raleigh it did, because this is an amazing show!
A new addition to the show: a popcorn machine!
Fall is looking great around the Triangle, whether you're looking for something spooky or totally kid-friendly! Check out our HUGE list of fall festivals, as well as our list of pumpkin patches, haunted trails and corn mazes! We have also put together a big list of Halloween events and Trick or Treat events!
It's free to visit, but please be considerate to neighbors, and not block driveways.
Check Deadford Manor's Facebook page for updates, especially for weather. They might do a show Thursday, October 27th, and, if so, it will be announced there.
Can't make it see Deadford Manor in person? Scroll down to see the whole show on YouTube!
More Halloween Events in the Triangle
Check out our big list of Halloween events and ideas in the Triangle, or see a quick list here:
Sunday, October 1, 2023
Wednesday, October 4, 2023
Thursday, October 5, 2023
Friday, October 6, 2023
Saturday, October 7, 2023
Sunday, October 8, 2023
Monday, October 9, 2023
Tuesday, October 10, 2023
Wednesday, October 11, 2023
Thursday, October 12, 2023
Friday, October 13, 2023
Saturday, October 14, 2023
Sunday, October 15, 2023
Monday, October 16, 2023
Tuesday, October 17, 2023
Wednesday, October 18, 2023
Thursday, October 19, 2023
Friday, October 20, 2023
Saturday, October 21, 2023
Sunday, October 22, 2023
Monday, October 23, 2023
Tuesday, October 24, 2023
Wednesday, October 25, 2023
Thursday, October 26, 2023
Friday, October 27, 2023
Saturday, October 28, 2023
Sunday, October 29, 2023
Monday, October 30, 2023
Tuesday, October 31, 2023