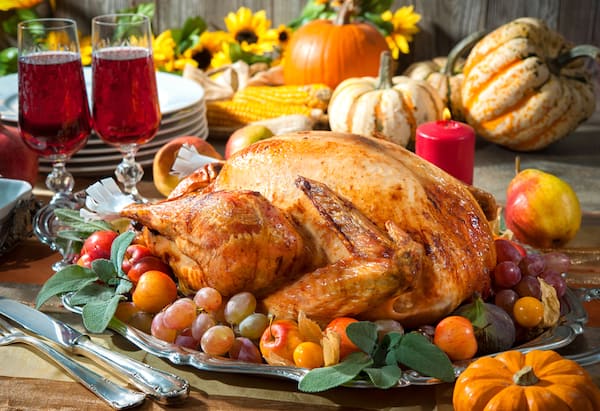 Every year we put together a list of grocery stores, restaurants and catering companies that let you can order your Thanksgiving dinner to go, ahead of time, so that you can enjoy it at home.
We will be adding more information to this list as we receive it! This list will grow a lot. Last year it included Wegman's, Harris Teeter, Weaver Street Market, and many, many more. We expect it will include all these in 2022 as well! Keep checking back!
We are putting together a huge list of holiday events in the Triangle, including parades, festivals, markets, Santa visits, and more. Check out our growing day by day list of holiday events in the Triangle!
These meals definitely save time, and for most of them the price per person isn't too bad. Some arrive hot and some need to be heated up. Make sure to follow the links for full information. Our listings below include just a taste of all the options.
When these deals are announced, you'll want to order quickly, as these deals are subject to selling out. Make sure to follow each link to see the details, including the deadline for ordering for Thanksgiving.
You'll typically get a turkey (or ham), gravy, stuffing, and several sides. You might want to supplement the meal with extra sides.
If you'd rather dine out for Thanksgiving, this list of restaurants in the Triangle serving Thanksgiving dinner will be updated soon. Don't delay in making reservations. Many of these restaurants will also offer takeout or delivery, so you'll have another way of enjoying somebody else's cooking at home.
Note: The prices or offerings for the to-go meals might vary by location.
Check back soon! We just started adding items to the list. There will be many options soon.
Brio Italian Grille
Brio Italian Grille
4325 Glenwood Avenue, Ste 5000, Raleigh, NC
offers Thanksgiving Feast To Go. A Small is $105 and feeds three people. A Large is $192 and feeds six people. You can pick it up cold and heat it up, or hot and ready to serve.
Roasted sliced white turkey meat
Herbed pan gravy
Roasted garlic mashed potatoes
Spicy Italian sausage stuffing
Seasonal vegetables
Cranberry sauce
Fresh baked focaccia bread
Pumpkin pie
Pre-orders must be placed by Tuesday, November 22nd, 2022, at 8 a.m. You can pick the meal up (or have it delivered) cold from Monday, November 11th, through Wednesday, November 23rd, 2022, from 10 a.m. to 8 p.m. Or pick it up (or have it delivered) hot on Wednesday, November 23rd, or Thursday, November 24th, 2022, from 10 a.m. to 8 p.m. The restaurant will also be open on Thanksgiving, serving Thanksgiving dinner. More info.
Sage & Swift
Thanksgiving to-go meals for four people for $225. Various a la carte options are also available.
Free-range turkey with gravy and extra stock for basting (oven-ready or table-ready)
Choice of soup
Cranberry sauce or cranberry orange relish
Choice of pie
4 sides
Milk bread rolls, cornbread, or cheddar biscuits
Pick up at 3710 Shannon Road, Durham. More info.
Weaver Street Market
Weaver Street Market offers complete holiday dinners. You can also craft your meal from their selection of fresh and pre-roasted turkeys, sides and handcrafted pies. A Complete Turkey Dinner for 6-8 people is $159.99.
All orders must be placed by Sunday, November 20th, 2022, at 9 p.m., 48 hours in advance of pickup. All order pickups are Saturday, November 19th, to Saturday, November 26th, 2022, at your selected store. Locations in Carrboro, Hillsbororough, Chapel Hill and Raleigh. More info.
Wegmans
Classic turkey dinner for 10 is $175
Fully cooked 12-14 lb. whole turkey from Plainville Farms (ready to heat and serve)
Herb Bread Stuffing
Whipped Potatoes
Green Bean Casserole with Crispy Onions
Mashed Sweet Potatoes
Homestyle Gravy
Cranberry Orange Relish
There are many other options, including a ham dinner, a hand-carved turkey dinner, and extras and desserts to add on. Please order at least 24 hours in advance. More info.
More Holiday Events in the Triangle
Check out our big list of holiday events in the Triangle, or look at a few of them here:
Friday, December 9, 2022
Saturday, December 10, 2022
Sunday, December 11, 2022
Monday, December 12, 2022
Tuesday, December 13, 2022
Wednesday, December 14, 2022
Thursday, December 15, 2022
Friday, December 16, 2022
Saturday, December 17, 2022
Sunday, December 18, 2022
Monday, December 19, 2022
Tuesday, December 20, 2022
Wednesday, December 21, 2022
Thursday, December 22, 2022
Friday, December 23, 2022