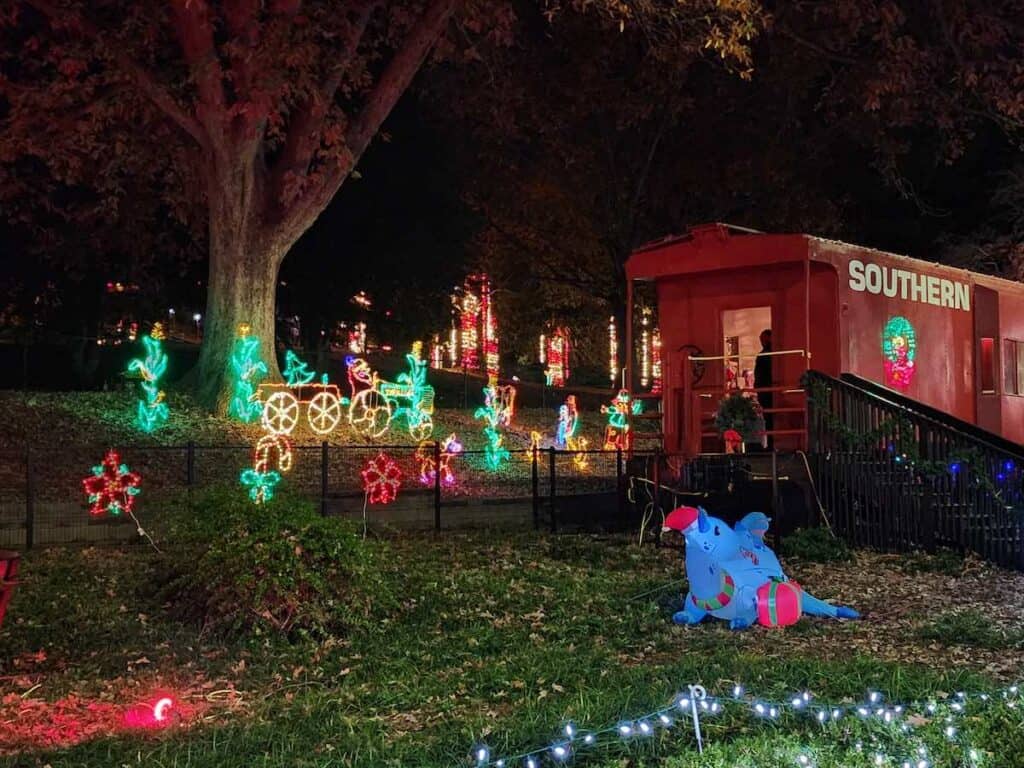 UPDATE: The contest has ended. The winner is Tiffany H. and I've emailed you. If you are Tiffany H. please check your inbox and spam folder. (If there's more than one Tiffany H. who entered, and you're one of them and don't see the email, please email me at jody@triangleonthecheap.com.)

Holiday Express, the popular holiday train in Pullen Park, is back in December, 2022, after being canceled in 2020 and 2021. Tickets went on sale in November and sold out almost immediately, but as a sponsor of Holiday Express, we have 6 tickets to give away to a lucky Triangle on the Cheap reader.
This year's event will take place from December 1st to 11th, and from December 13th to 18th, 2022, from 5 to 9:30 p.m. each night.
We are putting together a huge list of holiday events in the Triangle, including parades, festivals, markets, Santa visits, and more. Check out our growing day by day list of holiday events in the Triangle!
The tickets in this prize package are for any day, not a specific day. However, we are running the contest now, and announcing and contacting the winner on December 7th, 2022, so that means you can use the free tickets December 7th to 11th or December 13th to 18th.
It also means that you don't have a specific time for the train ride, so with these tickets, please see the attendant at the train line and let them know you'd like to ride standby. Standby may have a wait associated with it. The organizers suggest riding after 8 p.m. if possible, to cut back on that wait time.
Babies 12 months old and under do not require a ticket. So you can use the tickets for 6 people over 12 months old and bring some babies too!
Read on enter the contest.
Love Christmas lights? Check out our huge list of the best, most incredible, Christmas light displays in the Triangle.
The activities at Holiday Express include:
Train Ride with Holiday Lights
Blizzard Boogie Dance Party
Arts + Crafts
Inflatables and Carnival Games
Santa Appearance
Letters to Santa
Carousel
Carolers
S'mores
More
For information about the event or specific ticketing questions, call 919-996-6468 or email HolidayExpress@Raleighnc.gov.
Enter Contest for Holiday Express Tickets
To win the 6 tickets, you must be a subscriber to Triangle on the Cheap's newsletter. It's free to subscribe and we think you'll like it. We send out an email newsletter every morning with a list of the free and cheap events coming up. It's the best way to keep track of what's going on in the Triangle and to make your plans. If it's not your thing, you can unsubscribe at any time.
So, if you haven't subscribed yet, please subscribe now, and then scroll down a little bit to leave a comment. Your comment is your entry in the contest. Make sure to use an email address that you monitor, because that's how we'll notify you that you won, and send you the tickets. You should also check your spam folder.
We'll announce the winner and send them the tickets on December 7th, 2022.
Keep scrolling. You have to get past the calendar items and some other stuff to get to the comment section!
When
Daily @ 5:00 pm-9:30 pm (December 1, 2022 - December 11, 2022)
What
Pullen Park's Holiday Express
When
Daily @ 5:00 pm-9:30 pm (December 13, 2022 - December 18, 2022)
What
Pullen Park's Holiday Express