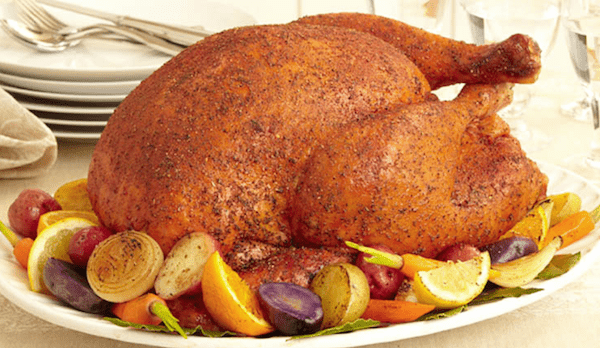 Diners in the Raleigh/Durham/Chapel Hill area can cross a stress-free Christmas dinner off their holiday wish list. A number of restaurants serve a special Christmas Eve or Christmas Day menu. And others are open with their regular menu.
Most restaurants on this list also offer takeout and delivery.
Here are some options at various price points.
Make sure to note if the meal is just on Christmas Eve so you don't show up hungry on Christmas Day at a closed restaurant. For the most part, the restaurants below ARE open on Christmas Day, but if they're not we will note that. Do you know of other restaurants that should be on the list? Email info@triangleonthecheap.com with the scoop, and we'll add it, as time permits.
We've also put together a list of where to order a fully cooked holiday meal in advance. This list includes restaurants, grocery stores and caterers.
You might also be interested in:
Restaurants in the Triangle Open on Christmas
Azitra
8411 Brier Creek Parkway, Raleigh
Bazil Indian Cuisine
6602 Glenwood Avenue, Raleigh
Brio Italian Grille
4325 Glenwood Avenue, Raleigh
CholaNad
310 West Franklin Street, Chapel Hill
Cleveland Draft House
461 Shotwell Rd., Clayton
Closed on Christmas Day but open on Christmas Eve from 11 a.m. to 9 p.m.
Crossroads at the Carolina Inn
211 Pittsboro St., Chapel Hill
Open from 11:30 a.m. to 2 p.m. for Lunch
Open from 3 to 9 p.m. for Bar and Dinner
Dave & Buster's
1105 Walnut Street, Cary
Denny's
Hours vary by location, so be sure to call.
Firebirds Wood Fired Grill
8030 Renaissance Parkway, Durham
Closed on Christmas Day but open on Christmas Eve from 11 a.m. 8:30 p.m.
Goji Bistro
100 Maynard Crossing Ct., Cary
Open for Dinner on Christmas Day from 4:30 to 8 p.m.
Open usual hours for Christmas Eve
Happy China
2505 Durham Chapel Hill Blvd, Durham, NC 27707
Timeout
201 East Franklin Street, Chapel Hill, NC
Timeout is open 24 hours a day.
       You might also be interested in:
Subscribe to Triangle on the Cheap