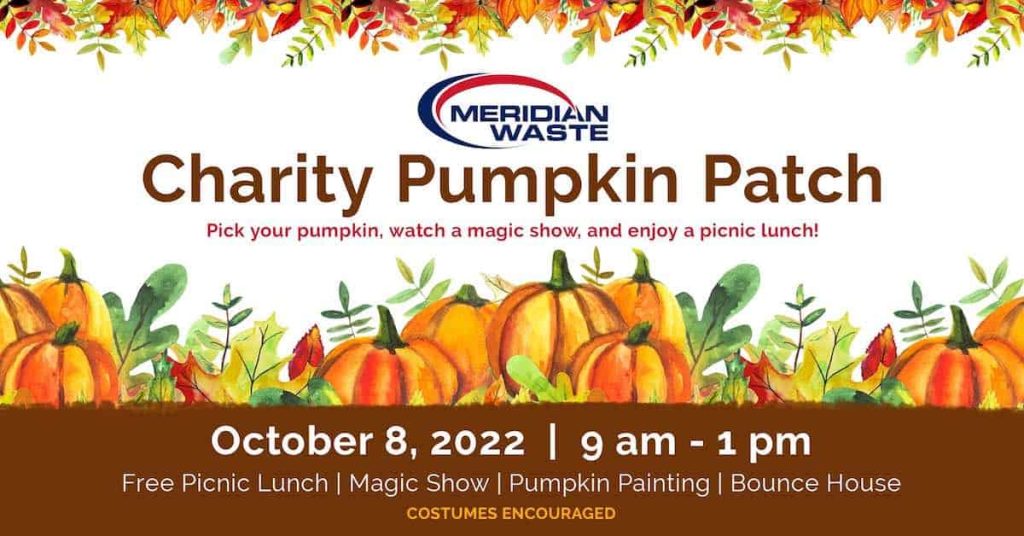 Meridian Waste is dedicated to supporting and giving back to local communities. This fall they are once again hosting a charity pumpkin patch. It will take place Saturday, October 8th, 2022, from 9 a.m. to 1 p.m., at Meridian Waste's Shotwell C&D Landfill, 4724 Smithfield Road, Wendell.
Please RSVP here, to help them with planning.
This is a FREE event.
Pumpkins will be available in three sizes, with suggested donations of $5 for medium, $10 for large, and $15 for extra-large. Meridian Waste is donating 100% of the money raised from the pumpkin donations to local non-profits, and will match the donations, to double the amount given to the local charities.
More Halloween Events in the Triangle
Check out our big list of Halloween events and ideas in the Triangle, or see a quick list here:
Saturday, October 8, 2022
Sunday, October 9, 2022
Monday, October 10, 2022
Tuesday, October 11, 2022
Wednesday, October 12, 2022
Thursday, October 13, 2022
Friday, October 14, 2022
Saturday, October 15, 2022
Sunday, October 16, 2022
Monday, October 17, 2022
Tuesday, October 18, 2022
Wednesday, October 19, 2022
Thursday, October 20, 2022
Friday, October 21, 2022
Saturday, October 22, 2022
Sunday, October 23, 2022
Monday, October 24, 2022
Tuesday, October 25, 2022
Wednesday, October 26, 2022
Thursday, October 27, 2022
Friday, October 28, 2022
Saturday, October 29, 2022
Sunday, October 30, 2022
Monday, October 31, 2022