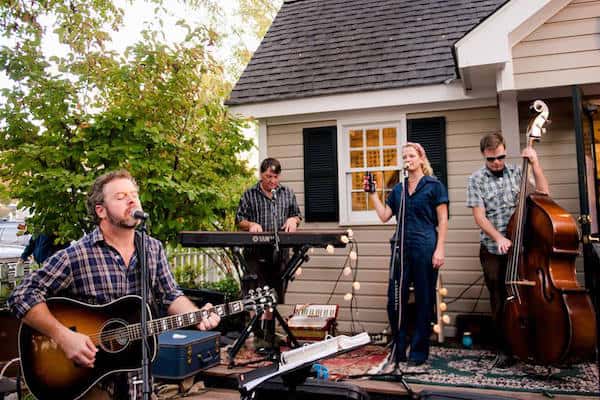 The Roost Beer Garden, 270 Market Street, Fearrington Village, Pittsboro, offers local brews, wine by the glass and wood-fired pizza spring, summer and fall.
They also host live music most Thursdays through Sundays, starting in April.
The times are usually 5 p.m. to 8 p.m. on Thursday, Friday and Saturday, and 3 p.m. to 6 p.m. on Sunday, but it can vary a little bit, so make sure to check the music schedule.
If the weather is bad, the music goes on. It just moves into The Goat Coffee and Wine Shop, 2000 Fearrington Village Center.
About the pizza, though: Each week you'll find three red sauce-based pizzas and three white-sauced based pizzas. A few classics, such as the Mozzarella, Tomato & Basil, will always be on the menu, but the chefs will be switching out ingredients to keep it seasonal and local.
Here's the upcoming music schedule:
Thursday, August 30th, 5 p.m.: Near Blind James & Harmonica Bob
Friday, August 31st, 5 p.m.: The Gleaners
Saturday, September 1st, 5 p.m.: Sheila Fleming
Sunday, September 2nd, 3 p.m.: Brien Barbour
Thursday, September 6th, 5 p.m.: Blumora
Friday, September 7th, 5 p.m.: TBA
Saturday, September 8th, 5 p.m.: Constellation
Sunday, September 9th, 3 p.m. Eric Bannan
Thursday, September 13th, 5 p.m.: Charles Pettee
Friday, September 14th, 5 p.m.: The Boys from Carolina
Saturday, September 15th, 5 p.m.: Bill Baucom
Sunday, September 16th, 3 p.m.: Dmitri Resnik
Thursday, September 20th, 5 p.m.: India Cain & Keith Allen
Friday, September 21st, 5 p.m.: Tommy Edwards
Saturday, September 22nd, 5 p.m.: Pete Pawsey
Sunday, September 23rd, 3 p.m.: Popcorn Blue Band
Wednesday, September 26th, 5 p.m.: John McNeal
Thursday, September 27th, 5 p.m.: Mark Holland
Friday, September 28th, 5 p.m.: Windy City Slim
Saturday, September 29th, 5 p.m.: Ryan Bonner
Learn about more summer concert series in the Triangle.
And here is a day-by-day list of upcoming outdoor concerts:

Friday, April 5, 2019
Wednesday, April 10, 2019
Thursday, April 11, 2019
Friday, April 12, 2019
Wednesday, April 17, 2019
Wednesday, April 24, 2019
Thursday, April 25, 2019
Wednesday, May 1, 2019
Friday, May 3, 2019
Wednesday, May 8, 2019
Thursday, May 9, 2019
Friday, May 10, 2019
Wednesday, May 15, 2019