Lazy Hound Farm, at 207 Davis Road, Zebulon, is a favorite spot for families with everything from sunflowers to pumpkins, as well as a playground, animals and more.
Lazy Hound Farm offers activities for every season. Here's some of what's coming up.
Fall is looking great around the Triangle, whether you're looking for something spooky or totally kid-friendly! Check out our HUGE list of fall festivals, as well as our list of pumpkin patches, haunted trails and corn mazes! We have also put together a big list of Halloween events and Trick or Treat events!
Halloween Bash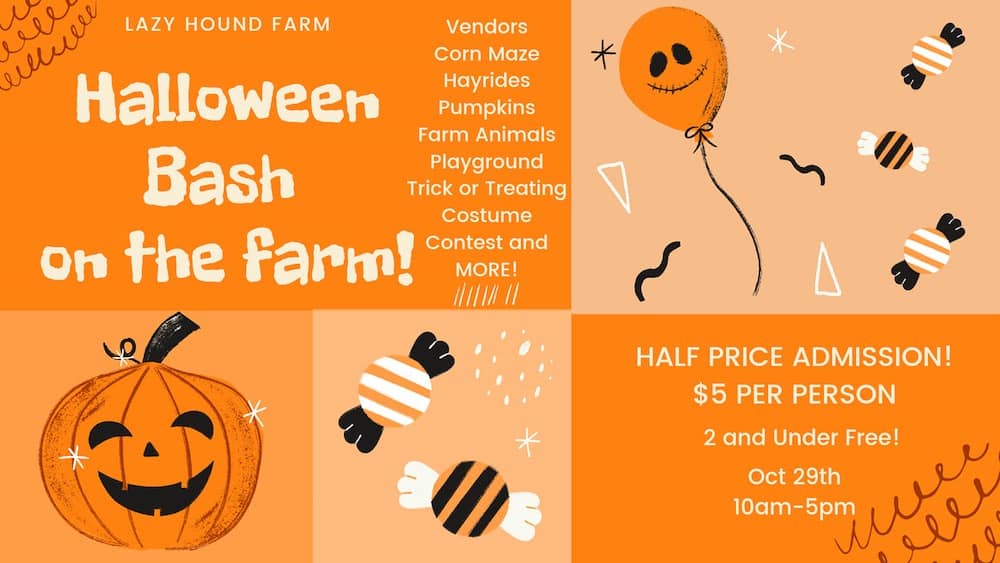 Lazy Hound is holding a Halloween Bash on Saturday, October 29th, 2022, from 10 a.m. to 5 p.m. Tickets are just $5 per person. Ages 2 and under are admitted for free.
Look for updates on Lazy Hound Farm's Facebook page.
More Festivals
Check out a list of fall festivals and Halloween events in the Triangle, or take a quick look at upcoming festivals:
Sunday, September 24, 2023
Friday, September 29, 2023
Saturday, September 30, 2023
Sunday, October 1, 2023
Friday, October 6, 2023
Saturday, October 7, 2023
Sunday, October 8, 2023
Thursday, October 12, 2023
Friday, October 13, 2023
Saturday, October 14, 2023
Sunday, October 15, 2023
Monday, October 16, 2023
Tuesday, October 17, 2023
Wednesday, October 18, 2023
Thursday, October 19, 2023
Friday, October 20, 2023
Saturday, October 21, 2023
Sunday, October 22, 2023
Friday, October 27, 2023
Saturday, October 28, 2023
Sunday, October 29, 2023
Friday, November 3, 2023
Saturday, November 4, 2023
Sunday, November 5, 2023
Saturday, November 18, 2023