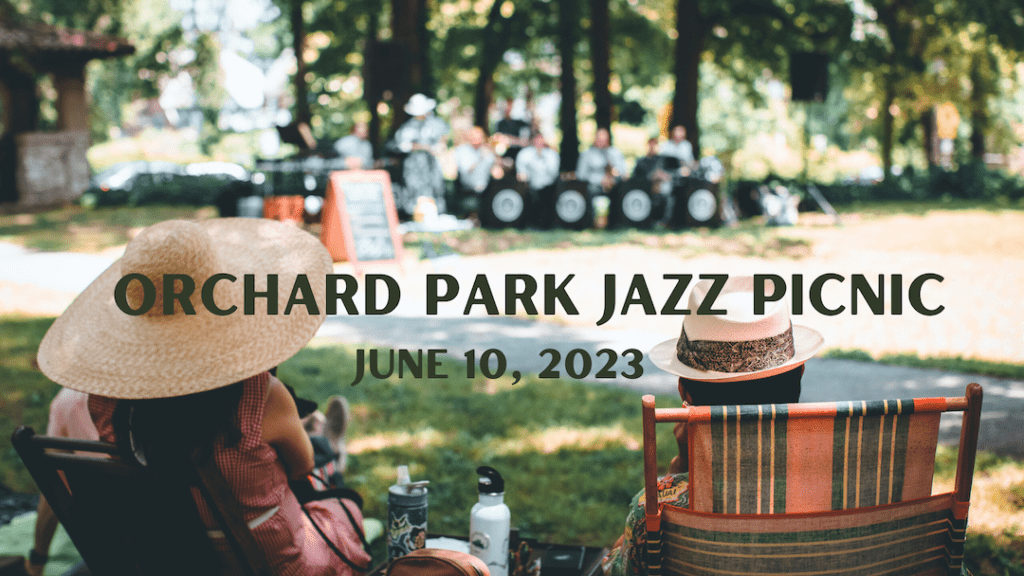 Orchard Park Jazz Picnic is a free event taking place Saturday, June 10, 2023, from 12 to 3 p.m., at Orchard Park, 1000 S Duke Street, Durham, NC.
Enjoy an afternoon of picnicking, dancing and relaxing on the lawn.
Live music will be provided by the event's hosts, the Mint Julep Jazz Band.
Check out our huge day-by-day list of outdoor concerts in Raleigh, Durham, Chapel Hill, and the rest of the Triangle.
Inspired by the Jazz Age Lawn Party in New York and similar events in Boston and Richmond, this began as a socially distanced event in 2021 to great success following a long pandemic winter. Now an annual event, the Orchard Park Jazz Picnic draws jazz fans, vintage enthusiasts, regional swing dancers, and passersby who decide to derail that dog walk and join the fun.
This event is free and open to the public. There will be a virtual and physical tip jar for the band – if you'd like to tip in advance, you can Venmo to @Laura-Windley or PayPal to caab241@hotmail.com.
In the event of inclement weather, all updates will be posted in the Facebook event. If it has to be canceled the event will be rescheduled for a later date.
More Outdoor Music in the Triangle
Learn all about outdoor music in the Triangle, including a description of the concert series, and a 90-day calendar, or take a quick look at some of the upcoming outdoor concerts here:
Friday, June 9, 2023
Saturday, June 10, 2023
Sunday, June 11, 2023
Wednesday, June 14, 2023
Thursday, June 15, 2023
Friday, June 16, 2023
Saturday, June 17, 2023
Sunday, June 18, 2023
Monday, June 19, 2023
Tuesday, June 20, 2023
Wednesday, June 21, 2023
Thursday, June 22, 2023
Friday, June 23, 2023
Saturday, June 24, 2023
Sunday, June 25, 2023
Wednesday, June 28, 2023
Friday, June 30, 2023
Saturday, July 1, 2023
Sunday, July 2, 2023
Tuesday, July 4, 2023
Wednesday, July 5, 2023
Thursday, July 6, 2023
Friday, July 7, 2023
Saturday, July 8, 2023
Sunday, July 9, 2023
Wednesday, July 12, 2023
Thursday, July 13, 2023
Friday, July 14, 2023
Saturday, July 15, 2023
Sunday, July 16, 2023
Wednesday, July 19, 2023
Friday, July 21, 2023
Saturday, July 22, 2023
Sunday, July 23, 2023
Wednesday, July 26, 2023
Thursday, July 27, 2023
Friday, July 28, 2023
Saturday, July 29, 2023
Sunday, July 30, 2023
Wednesday, August 2, 2023
Thursday, August 3, 2023
Friday, August 4, 2023
Saturday, August 5, 2023
Sunday, August 6, 2023