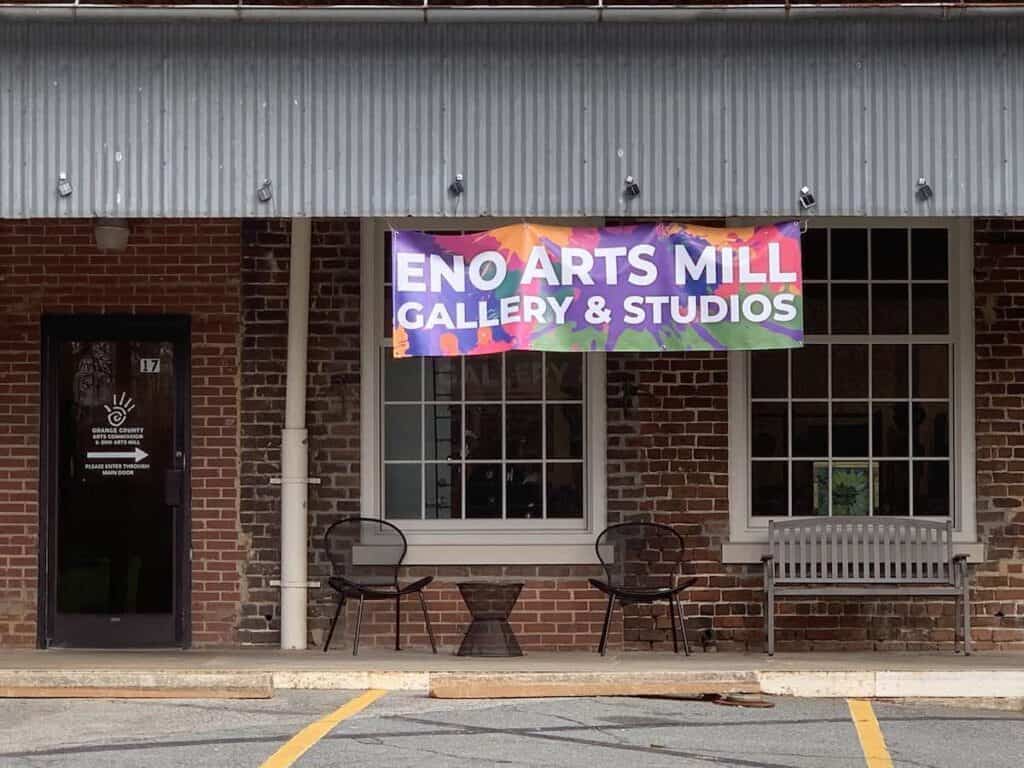 Eno Arts Mill is an arts hub in the historic Eno Mill, at 437 Dimmocks Mill Road, Suite 17, in Hillsborough.
The space includes both artist studios and a gallery, and is managed by the Orange County Arts Commission.
The First Friday of every month, Eno Arts Mill hosts First Fridays to celebrate the new exhibit. The visual art will be combined with poetry, music or other performances.
In the warm months, starting in April, the events take place outside, and there will be a food truck. In winter months, the events take place in the gallery and there is no food truck. Read on to learn about the next First Friday event.
There are also many arts classes offered, including drama, fiber arts, figure drawing and more. Learn about the classes.
Visiting Eno Arts Mill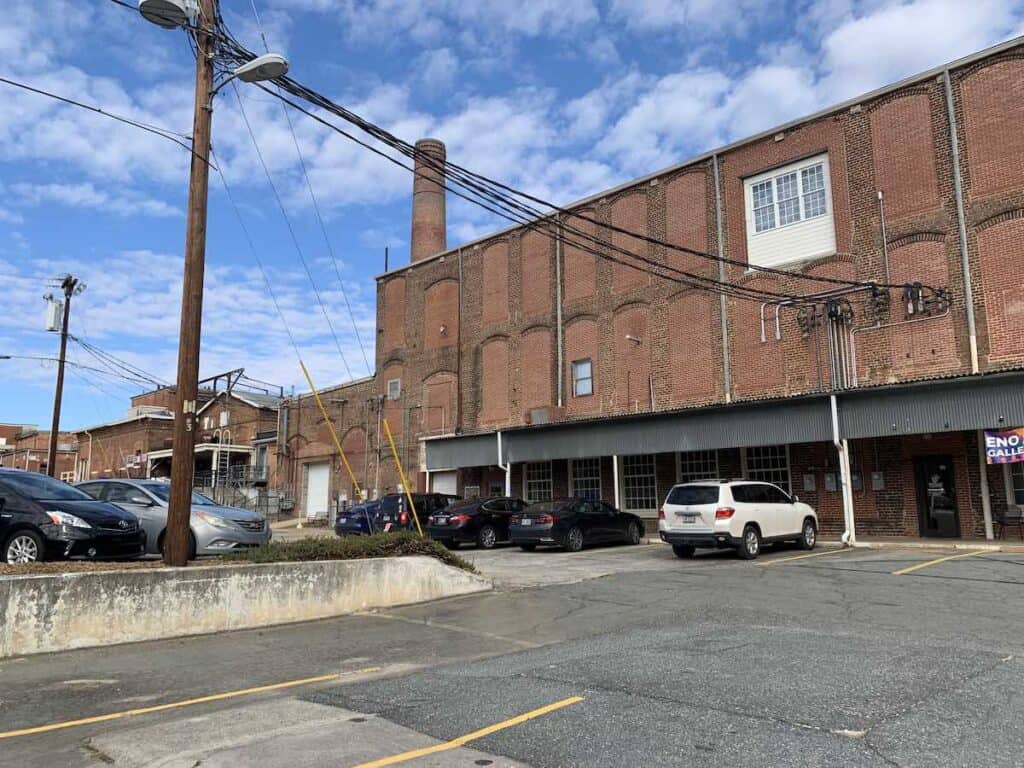 The gallery is open to the public from Tuesday to Saturday, 12 p.m. to 5 p.m. It's free to visit. Park in the Lower Level Parking Lot of Eno Mill, and look for the Eno Arts Mill Sign.
The artist studios are open only during monthly open studio and gallery receptions.
There is plenty of parking, including two handicapped accessible parking spaces directly in front of the ramp.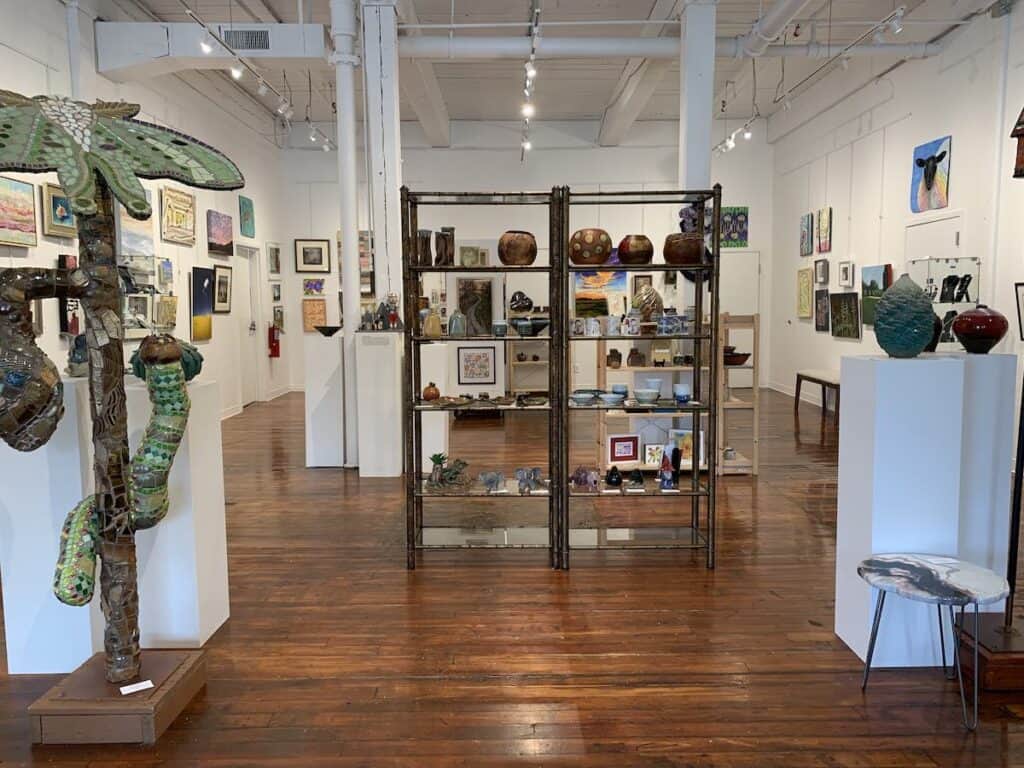 First Friday October 6 Event
On October 6, 2023, from 6 to 9 p.m. Eno Arts Mill's First Friday event will feature 7th Annual Paint It Orange Plein Air Paint-Out and Wet Paint Sale.
For three days, painters will paint Orange County en plein air (outside) for Paint it Orange. More than 100 works of art will be on sale through the end of November. The Paint it Orange Wet Paint Sale is a unique opportunity to purchase original art featuring sites and scenery unique to Orange County ranging from landscapes to landmarks and everything in between! Mediums range from oil to watercolor to pastel. The works are in a wide variety of sizes at all price points.
Make sure to bring a chair and refillable water bottle.
The free event will also include:
Live music with School of Rock House Band
Open artist studios with the Eno Arts Mill Studio Artists
Food from local food trucks Soulful Peartree
Beer from Red Oak, Ponysaurus Brewing, wine, and NA beer selections
Kids activities
More Art Events in the Triangle
Check out a calendar of art events in the Triangle or look at a few of them here:
Monday, October 2, 2023
Tuesday, October 3, 2023
Wednesday, October 4, 2023
Thursday, October 5, 2023
Friday, October 6, 2023
Saturday, October 7, 2023
Sunday, October 8, 2023
Monday, October 9, 2023
Tuesday, October 10, 2023
Wednesday, October 11, 2023
Thursday, October 12, 2023
Friday, October 13, 2023
Saturday, October 14, 2023
Sunday, October 15, 2023
Monday, October 16, 2023
Tuesday, October 17, 2023
Wednesday, October 18, 2023
Thursday, October 19, 2023
Friday, October 20, 2023
Saturday, October 21, 2023
Sunday, October 22, 2023
Monday, October 23, 2023
Tuesday, October 24, 2023
Wednesday, October 25, 2023
Thursday, October 26, 2023
Friday, October 27, 2023
Saturday, October 28, 2023
Sunday, October 29, 2023
Monday, October 30, 2023
Tuesday, October 31, 2023
Wednesday, November 1, 2023
Thursday, November 2, 2023
Friday, November 3, 2023
Saturday, November 4, 2023
Sunday, November 5, 2023
Monday, November 6, 2023
Tuesday, November 7, 2023
Wednesday, November 8, 2023
Thursday, November 9, 2023
Friday, November 10, 2023
Saturday, November 11, 2023
Sunday, November 12, 2023
Monday, November 13, 2023
Tuesday, November 14, 2023
Wednesday, November 15, 2023
Thursday, November 16, 2023
Friday, November 17, 2023
Saturday, November 18, 2023
Sunday, November 19, 2023
Monday, November 20, 2023
Tuesday, November 21, 2023
Wednesday, November 22, 2023
Thursday, November 23, 2023
Friday, November 24, 2023
Saturday, November 25, 2023
Sunday, November 26, 2023
Monday, November 27, 2023
Tuesday, November 28, 2023
Wednesday, November 29, 2023
Thursday, November 30, 2023
Reader Interactions