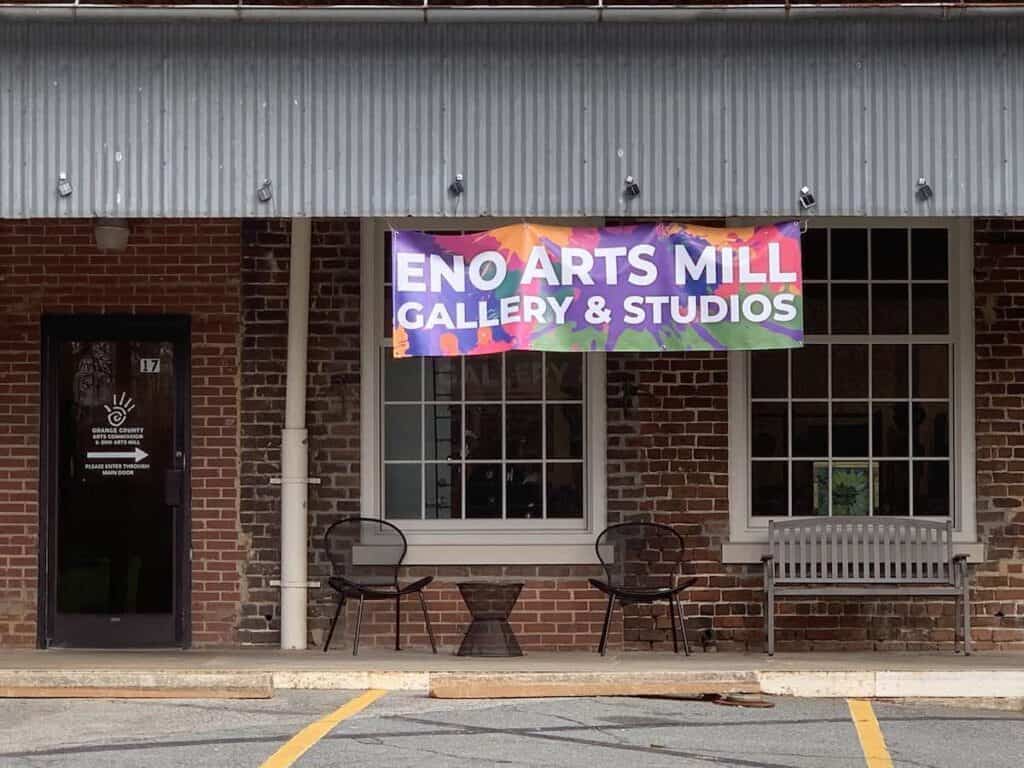 Eno Arts Mill is an arts hub in the historic Eno Mill, at 437 Dimmocks Mill Road, Suite 17, in Hillsborough.
The space includes both artist studios and a gallery, and is managed by the Orange County Arts Commission.
The First Friday of every month, Eno Arts Mill hosts First Fridays to celebrate the new exhibit. The visual art will be combined with poetry, music or other performances.
In the warm months, starting in April, the events take place outside, and there will be a food truck. In winter months, the events take place in the gallery and there is no food truck. Read on to learn about the next First Friday event.
There are also many arts classes offered, including drama, fiber arts, figure drawing and more. Learn about the classes.
Visiting Eno Arts Mill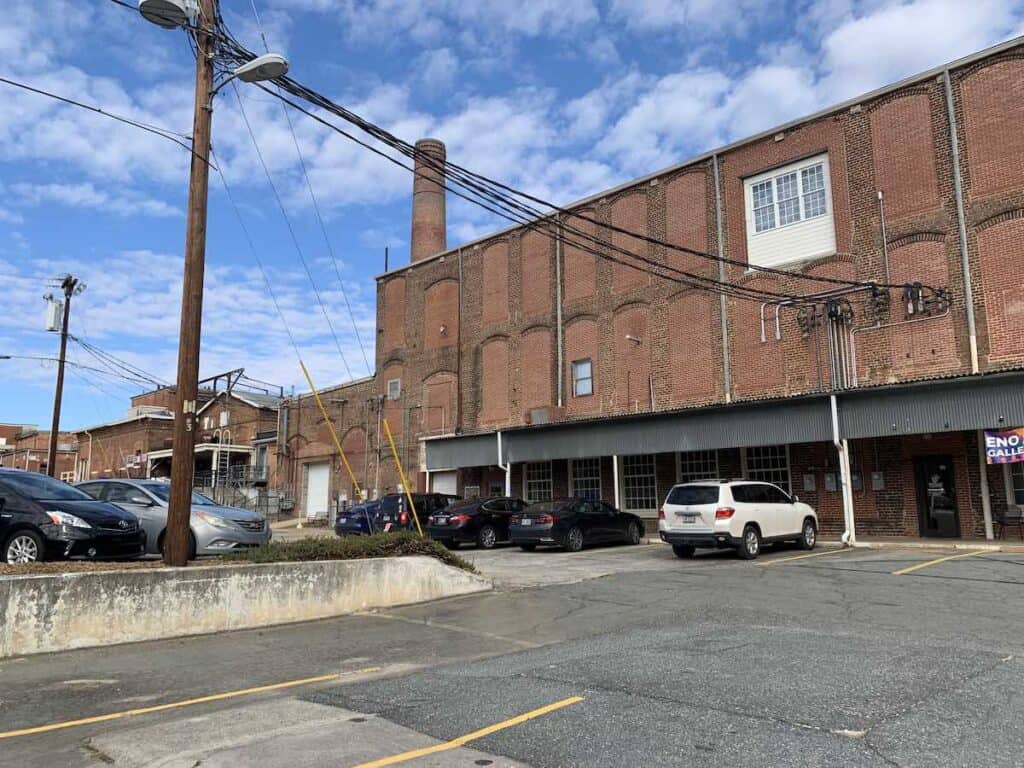 The gallery is open to the public from Tuesday to Saturday, 12 p.m. to 5 p.m. It's free to visit. Park in the Lower Level Parking Lot of Eno Mill, and look for the Eno Arts Mill Sign.
The artist studios are open only during monthly open studio and gallery receptions.
There is plenty of parking, including two handicapped accessible parking spaces directly in front of the ramp.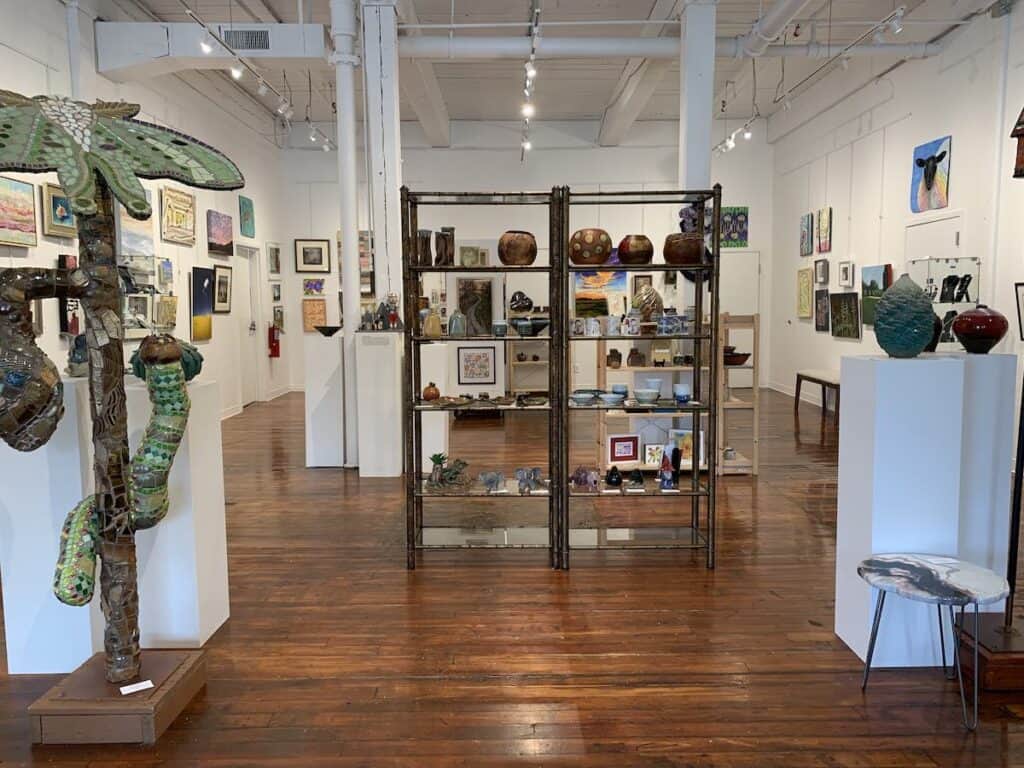 Moonfall Variations
Samir Knego is a multidisciplinary artist and zinester. He was LEVEL's Spring 2021 Local Artist-In-Residence and is currently part of Socially Distant Art's 2022-23 disability arts residency. Find him online at samirknego.wixsite.com/here or in person at the Eno Arts Mill in Hillsborough.

Moonfall Variations is a combination of printmaking, painting, and collage centered around the eponymous moonfalls. This show is sort of about the sky in all its various moods, sort of about the color yellow, and sort of about getting my hands covered in paint and ink.

Orange County Arts Commission
More Art Events in the Triangle
Check out a calendar of art events in the Triangle or look at a few of them here:
Wednesday, March 22, 2023
Thursday, March 23, 2023
Friday, March 24, 2023
Saturday, March 25, 2023
Sunday, March 26, 2023
Wednesday, March 29, 2023
Thursday, March 30, 2023
Friday, March 31, 2023
Saturday, April 1, 2023
Sunday, April 2, 2023
Wednesday, April 5, 2023
Thursday, April 6, 2023
Friday, April 7, 2023
Saturday, April 8, 2023
Sunday, April 9, 2023
Saturday, April 15, 2023
Sunday, April 16, 2023
Thursday, April 20, 2023
Friday, April 21, 2023
Saturday, April 22, 2023
Wednesday, April 26, 2023
Friday, April 28, 2023
Saturday, April 29, 2023
Sunday, April 30, 2023
Monday, May 1, 2023
Tuesday, May 2, 2023
Wednesday, May 3, 2023
Thursday, May 4, 2023
Friday, May 5, 2023
Saturday, May 6, 2023
Sunday, May 7, 2023
Saturday, May 13, 2023
Sunday, May 14, 2023
Wednesday, May 17, 2023
Thursday, May 18, 2023
Friday, May 19, 2023
Saturday, May 20, 2023