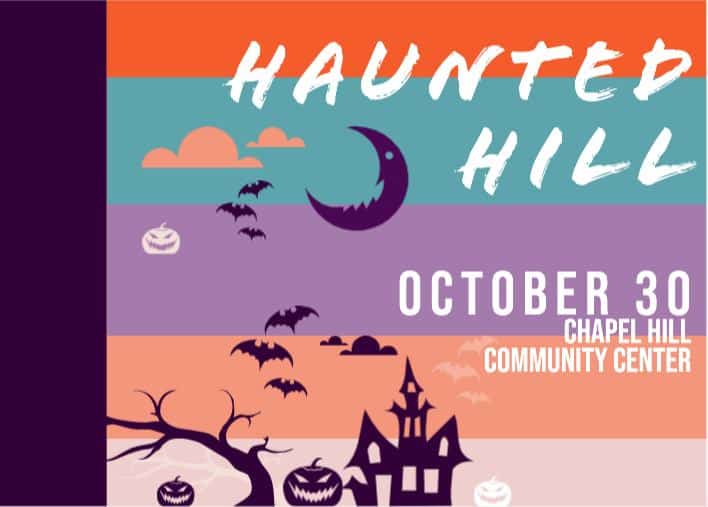 Haunted Hill is a free Halloween event at Chapel Hill Community Center, 120 S Estes Dr Chapel Hill, on Sunday, October 30th, 2022, from 5 to 8:30 p.m.
Grab a costume and join in for Trunk-or-Treat, some spooktacular games and activities, ghost stories, a haunted walk, and a movie in the park!
Fall is looking great around the Triangle, whether you're looking for something spooky or totally kid-friendly! Check out our HUGE list of fall festivals, as well as our list of pumpkin patches, haunted trails and corn mazes! We have also put together a big list of Halloween events and Trick or Treat events!
Trunk-or-Treat beings at 5 p.m. and will end at 6:30 p.m. The movie Happy Halloween, Scooby-Doo! begins at 6:30 p.m.
Scooby-Doo and Shaggy's favorite holiday is upon us! With fake monsters and candy galore – Halloween is heaven for these hungry foodies going door-to-door. But, this year, their sweet holiday turns sour when the neighborhood pumpkin patch is infected by toxic ooze, creating high-flying jack-o-lanterns, and a king-sized pumpkin leader squashing everything in its path. It's up to Scooby-Doo and the gang as they team up with their pals, Bill Nye The Science Guy and Elvira Mistress of the Dark, to solve this mystery of gigantic proportions and save Crystal Cove!
This is an outdoor event and subject to weather. This is a drop in program, with no registration required.
Look for updates on the Facebook event.
More Halloween Events in the Triangle
Check out our big list of Halloween events and ideas in the Triangle, or see a quick list here:
Saturday, October 8, 2022
Sunday, October 9, 2022
Monday, October 10, 2022
Tuesday, October 11, 2022
Wednesday, October 12, 2022
Thursday, October 13, 2022
Friday, October 14, 2022
Saturday, October 15, 2022
Sunday, October 16, 2022
Monday, October 17, 2022
Tuesday, October 18, 2022
Wednesday, October 19, 2022
Thursday, October 20, 2022
Friday, October 21, 2022
Saturday, October 22, 2022
Sunday, October 23, 2022
Monday, October 24, 2022
Tuesday, October 25, 2022
Wednesday, October 26, 2022
Thursday, October 27, 2022
Friday, October 28, 2022
Saturday, October 29, 2022
Sunday, October 30, 2022
Monday, October 31, 2022