A farm in the Triad, near Winston Salem and Greensboro, plants 100,000 tulip bulbs every year, as well as other spring flowers, in anticipation of visitors from all over North Carolina.
Dewberry Farm is at 2585 Dewberry Farm Lane, Kernersville. It's around an hour and a half drive from Raleigh, and less for those in Durham, Orange County and Chatham County. It's well worth the drive if you love flowers — especially tulips.
Springtime on the Farm starts March 17th, 2023. We originally had the opening date in our headline as March 13th. Apologies for the error.
Visitors can come to see all the tulips, and cut their own. Tulip season is expect to last until around April 8th, but the exact dates depend on the weather.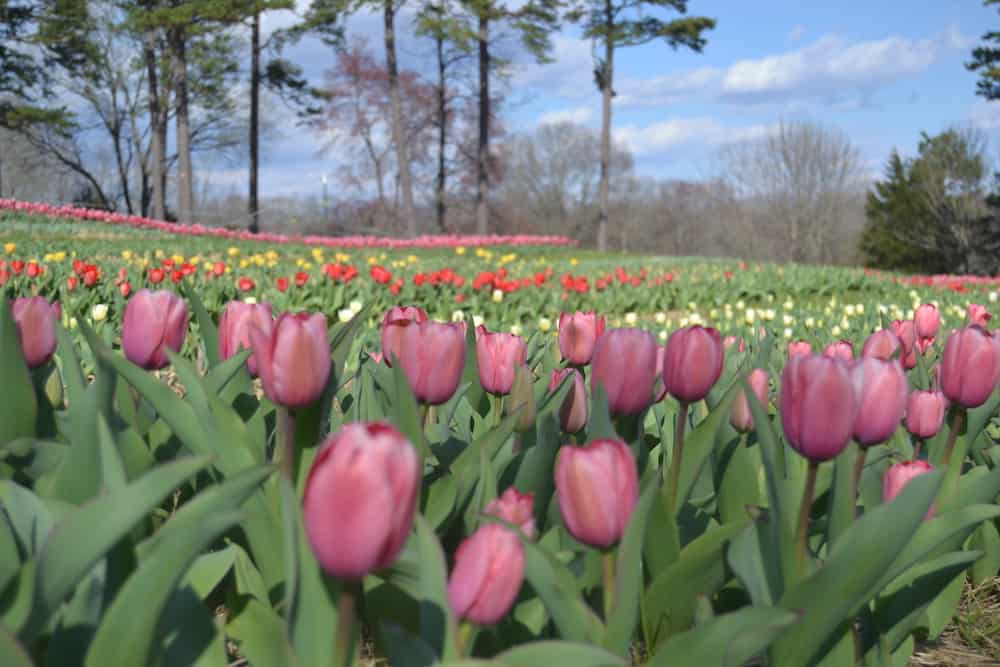 The cost to visit will be $8 for adults and $5 for children ages 3-15. Free admission for children 2 and under. The cost for tulips is $1.25 a stem. Bring your own clippers or scissors, baskets and buckets. 
Hours will be from 9 a.m. to 6 p.m. seven days a week, and your ticket will be for a two-hour block, except the first hour.
Take all the pictures you want of your family and the flowers with your own camera! Professional photography (where you charge a client) must be scheduled, and costs $25 an hour, in addition to regular admission prices for your clients.
You can purchase tickets on their website.
Tickets must be purchased in advance.
Follow them on Instagram and Facebook for updates.
In addition to their Springtime on the Farm event, they'll be hosting a Mother's Day Tea, with snapdragons, tulip peonies, a small amount of peonies, roses, anemones, ranunculus and other spring bulbs.
And in the summer they invite visitors to the farm once more to cut sunflowers, zinnias and dahlias.
You will be impressed by the tulip fields at Dewberry Farm, and it will be worth the drive, but you can also cut your own flowers at Firefly Farm, a wonderful, small, family-owned farm in Hillsborough. Check their website to see when spring flower season begins.
Also, check out our list of U-pick Farms in the Triangle. This list includes opportunities to pick fruits, vegetables and flowers. And our list of farmers' markets in the Triangle is also a great resource for anyone looking for fresh produce and flowers.
         You might also be interested in:
Subscribe to Triangle on the Cheap
U-pick tulips at Dewberry Farm
When
Daily @ 9:00 am-6:00 pm (March 17, 2023 - April 8, 2023)
What
U-pick tulips at Dewberry Farm
Where
Dewberry Farm, Kernersville
Dewberry Farm, Kernersville
2585 Dewberry Farm Lane
Kernersville, NC 27284

Reader Interactions