Colonial Inn, at 153 W. King Street in Hillsborough, is hosting an outdoor concert series.
Concerts at the Colonial are free and open to the public. The start time varies, so make sure to check each one.
You'll be able to order from the Colonial's regular menu and bar.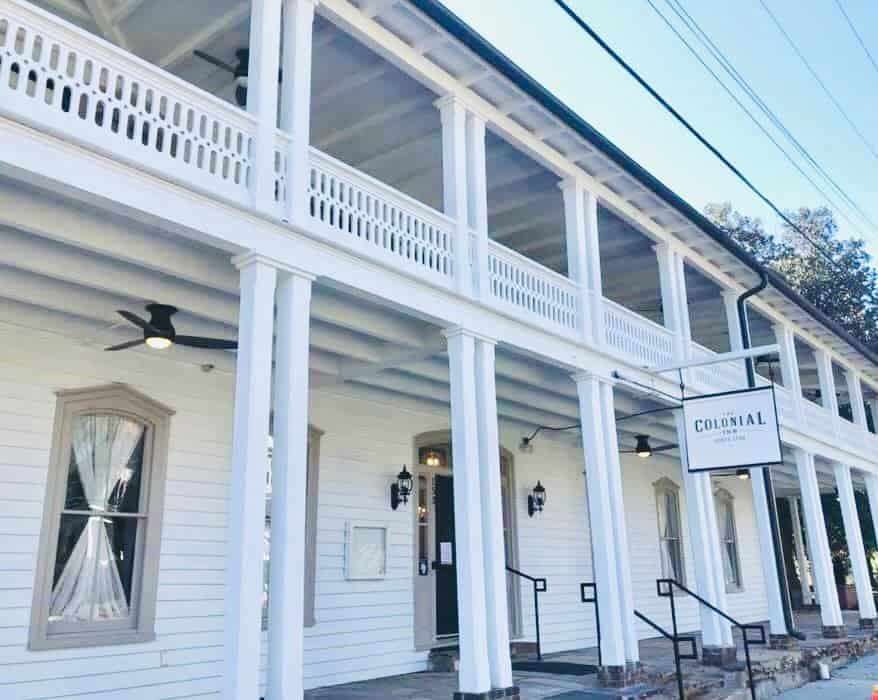 This is the artist schedule for fall of 2021, but make sure to check for changes on Colonial Inn's events page or their Facebook page.
Oct. 19 Courtyard Concert (6:00-8:00 p.m.): Joseph Silvers and Friends: Duo Jazz Guitar
Oct. 20 Courtyard Concert (5:30-7:00 p.m.): Impulsive Tattoo
Oct. 21 Courtyard Concert (5:30-8:00 p.m.): The Goodloves
Oct. 25 Courtyard Concert (5:30-7:30 p.m.): Tre Charles
Oct. 26 Courtyard Concert (6:00-8:00 p.m.): Joseph Silvers and Friends: Duo Jazz Guitar
Oct. 27 Courtyard Concert (5:30-7:00 p.m.): Impulsive Tattoo
Oct. 28 Courtyard Concert (5:30-7:00 p.m.): Keenan Jenkins
Nov. 1 Courtyard Concert (5:30-8:00 p.m.): Neville's Quarter
Nov. 2 Courtyard Concert (5:30-7:00 p.m.): Emy's List
Nov. 2 Courtyard Concert (5:30-7:00 p.m.): Wyatt Easterling
Nov. 8 Courtyard Concert (5:30-7:00 p.m.): beckwith
Nov. 9 Courtyard Concert (5:30-7:00 p.m.): Wake Moody
Nov. 10 Courtyard Concert (5:30-7:00 p.m.): Lisa R and Leslie Land
Nov. 11 Courtyard Concert (5:30-7:00 p.m.): Orange County Lockdown
Nov. 15 Courtyard Concert (5:30-7:30 p.m.): Tre Charles
Nov. 18 Courtyard Concert (5:30-8:00 p.m.): The Goodloves
More Outdoor Music in the Triangle
Learn all about outdoor music in the Triangle, including a description of the concert series, and a 90-day calendar, or take a quick look at some of the upcoming outdoor concerts here:
Sunday, October 2, 2022
Tuesday, October 4, 2022
Wednesday, October 5, 2022
Thursday, October 6, 2022
Friday, October 7, 2022
Saturday, October 8, 2022
Sunday, October 9, 2022
Tuesday, October 11, 2022
Wednesday, October 12, 2022
Thursday, October 13, 2022
Friday, October 14, 2022
Saturday, October 15, 2022
Sunday, October 16, 2022
Tuesday, October 18, 2022
Wednesday, October 19, 2022
Thursday, October 20, 2022
Friday, October 21, 2022
Saturday, October 22, 2022
Sunday, October 23, 2022
Tuesday, October 25, 2022
Wednesday, October 26, 2022
Thursday, October 27, 2022
Friday, October 28, 2022
Saturday, October 29, 2022
Sunday, October 30, 2022
Tuesday, November 1, 2022
Thursday, November 3, 2022
Saturday, November 5, 2022
Sunday, November 6, 2022
Tuesday, November 8, 2022
Wednesday, November 9, 2022
Friday, November 11, 2022
Tuesday, November 15, 2022
Friday, November 18, 2022
Tuesday, November 22, 2022
Tuesday, November 29, 2022