Colonial Inn, at 153 W. King Street in Hillsborough, is hosting an outdoor concert series.
Concerts at the Colonial are free and open to the public. The concerts are generally from 6 to 7:30 p.m. (with an occasional exception.)
You'll be able to order from the Colonial's bar.
Check the Colonial Inn's Facebook page a few hours before the concert to make sure it's not affected by the weather.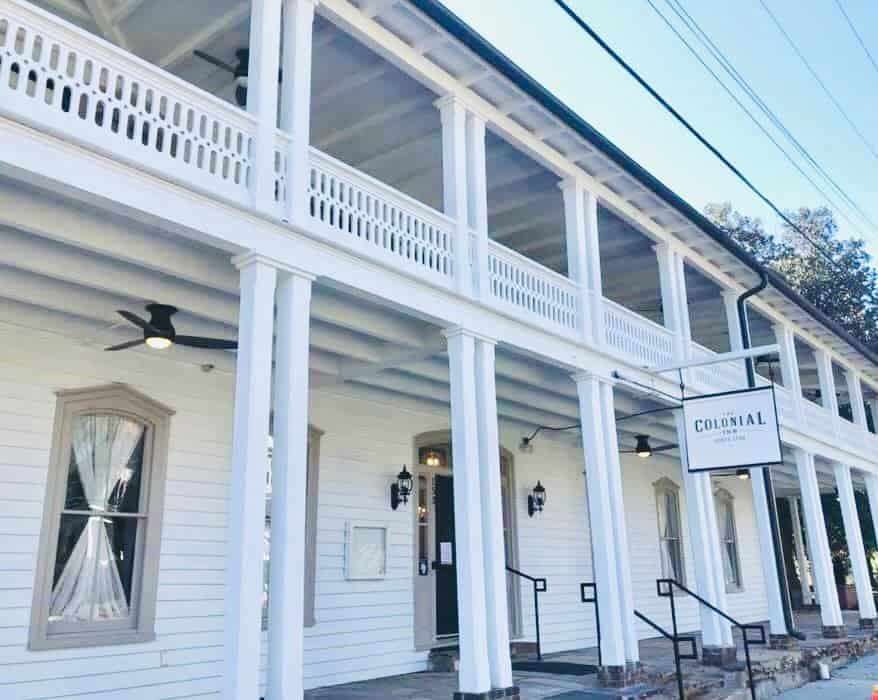 Concerts at the Colonial Inn
Monday, July 24: Tre Charles
Thursday, July 27: Erik Hawks
Friday, July 28: Mike June
Monday, July 31: Tre Charles
Thursday, August 3: Tea Cup Gin
Monday, August 7: Keenan Jenkins
Thursday, August 10: John Stevens
Monday, August 14: Story Charlemagne
Thursday, August 17: Tre Charles
Monday, August 21: Wallace Foutch
Thursday, August 24: Chris Bonelli
Friday, August 25: Tea Cup Gin
Monday, August 28: Bradley Edge
Thursday, August 31: Tea Cup Gin
Monday, September 4: Keenan Jenkins
Thursday, September 7: Wallace Foutch
Monday, September 11: GOODLOVES
Thursday, September 14: Jay Killman
Sunday, September 17: Pickard Mountain (3:30 to 5 p.m.)
Monday, September 18: John Stevens
Thursday, September 21: Tea Cup Gin
Monday, September 25: Pam Ross
Thursday, September 28: Wallace Foutch
Friday, September 29: Jasme Kelly (6 to 8 p.m.)
Monday, October 2: Colin Cutler
Thursday, October 5: Little Wing Band
Monday, October 9: Chris Bonelli
Thursday, October 12: Tea Cup Gin
Monday, October 16: Tre Charles
Thursday, October 19: The Holland Brothers
Monday, October 23: TBA
Thursday, October 26: TBA
Friday, October 27: Marigold Collective, plus pumpkin carving (4 to 6 p.m.)
Friday, October 27: Erik Hawks (6 to 8 p.m.)
More Outdoor Music in the Triangle
Learn all about outdoor music in the Triangle, including a description of the concert series, and a 90-day calendar, or take a quick look at some of the upcoming outdoor concerts here:
Friday, September 22, 2023
Saturday, September 23, 2023
Sunday, September 24, 2023
Monday, September 25, 2023
Tuesday, September 26, 2023
Wednesday, September 27, 2023
Thursday, September 28, 2023
Friday, September 29, 2023
Saturday, September 30, 2023
Monday, October 2, 2023
Tuesday, October 3, 2023
Wednesday, October 4, 2023
Thursday, October 5, 2023
Friday, October 6, 2023
Saturday, October 7, 2023
Sunday, October 8, 2023
Monday, October 9, 2023
Tuesday, October 10, 2023
Wednesday, October 11, 2023
Thursday, October 12, 2023
Friday, October 13, 2023
Monday, October 16, 2023
Tuesday, October 17, 2023
Thursday, October 19, 2023
Friday, October 20, 2023
Monday, October 23, 2023
Tuesday, October 24, 2023
Thursday, October 26, 2023
Friday, October 27, 2023
Saturday, October 28, 2023
Thursday, November 2, 2023
Friday, November 3, 2023
Friday, November 10, 2023
Friday, November 17, 2023