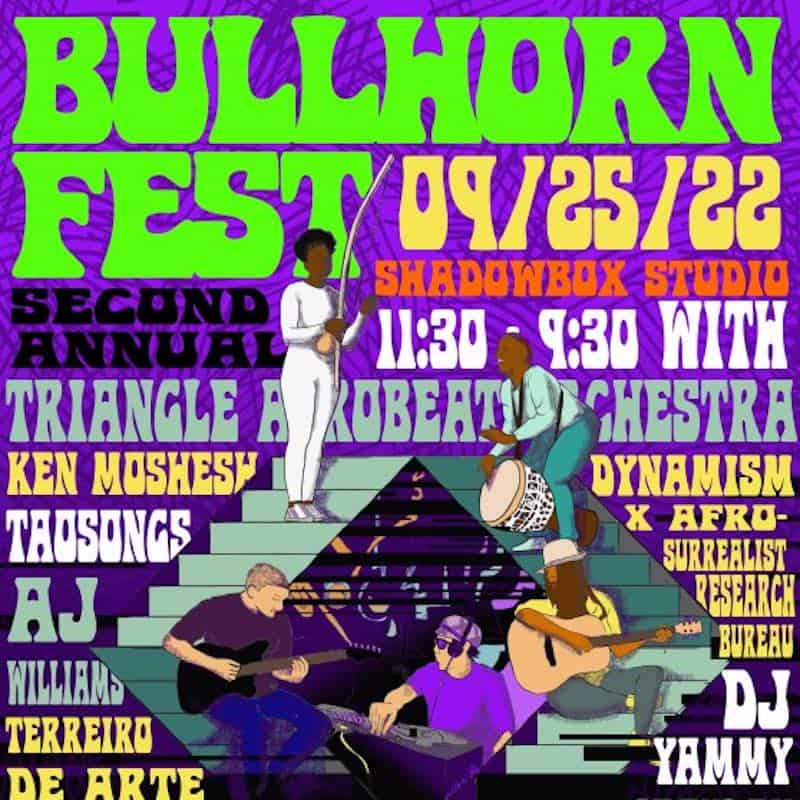 Bullhorn is an organize that amplifies Durham, North Carolina music with programs that include education, performance and development.
Bullhorn is presenting the second annual Bullhorn Fest on Sunday, September 25th, 2022, from 11:30 a.m. to 9:30 p.m., at Shadowbox Studio, 2200-D Dominion Street, Durham.
Love outdoor music? Check out our huge day by day list of outdoor music around the Triangle! Most of the shows are free.
This music festival will take place outside, weather permitting. Admission is donation-based. All donations go to the artists.
Reserve your spot and make a donation on Eventbrite. Look for updates on the Facebook event.
More Outdoor Music in the Triangle
Learn all about outdoor music in the Triangle, including a description of the concert series, and a 90-day calendar, or take a quick look at some of the upcoming outdoor concerts here:
Tuesday, October 4, 2022
Wednesday, October 5, 2022
Thursday, October 6, 2022
Friday, October 7, 2022
Saturday, October 8, 2022
Sunday, October 9, 2022
Tuesday, October 11, 2022
Wednesday, October 12, 2022
Thursday, October 13, 2022
Friday, October 14, 2022
Saturday, October 15, 2022
Sunday, October 16, 2022
Tuesday, October 18, 2022
Wednesday, October 19, 2022
Thursday, October 20, 2022
Friday, October 21, 2022
Saturday, October 22, 2022
Sunday, October 23, 2022
Tuesday, October 25, 2022
Wednesday, October 26, 2022
Thursday, October 27, 2022
Friday, October 28, 2022
Saturday, October 29, 2022
Sunday, October 30, 2022
Tuesday, November 1, 2022
Thursday, November 3, 2022
Saturday, November 5, 2022
Sunday, November 6, 2022
Tuesday, November 8, 2022
Wednesday, November 9, 2022
Friday, November 11, 2022
Tuesday, November 15, 2022
Friday, November 18, 2022
Tuesday, November 22, 2022
Tuesday, November 29, 2022
Thursday, December 1, 2022