The community is invited to the William Peace University Tree Lighting event at 15 E Peace Street, Raleigh, North Carolina.
Check out our big list of tree lighting events in the Triangle!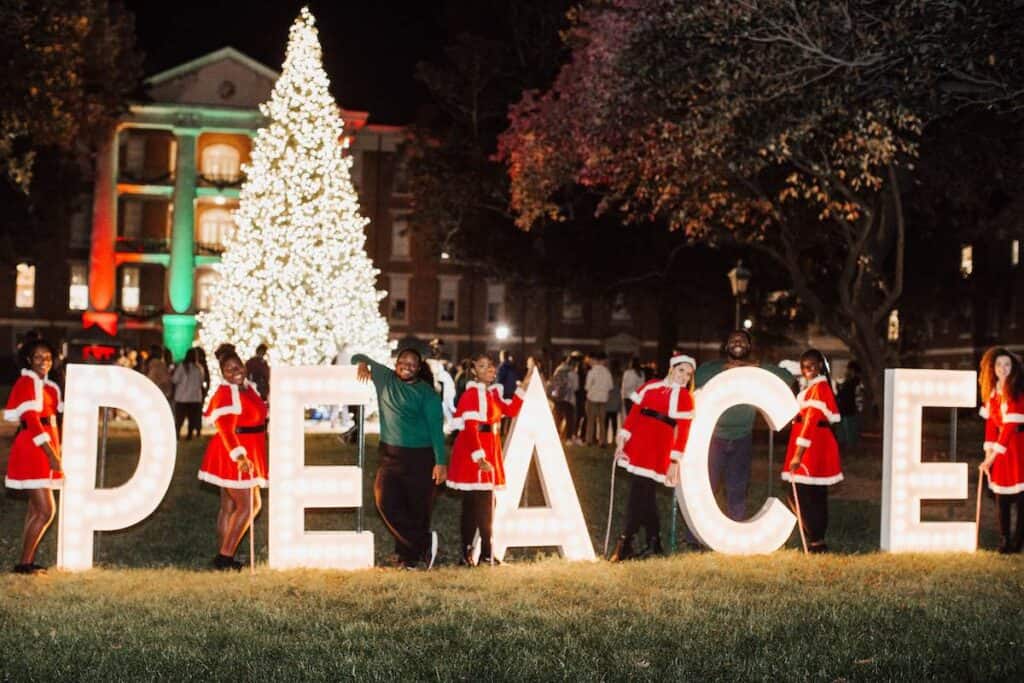 It takes place on Wednesday, November 15, 2023, at 7 p.m.
WPU President Brian Ralph will say a few words before lighting the 40-foot tree near the campus' iconic fountain.
Attendees are encouraged to gather at 6:45 p.m. Treats and hot chocolate will be available. After the 7 p.m. lighting, the staff will lead everyone in singing a carol.
Families and visitors are also welcome to get a special photo taken in front of the tree following the ceremony. A photographer will be on-site to print the images free of charge.
More Holiday Events in the Triangle
Check out our big list of holiday events in the Triangle, or look at a few of them here:
Thursday, November 30, 2023
Friday, December 1, 2023
Saturday, December 2, 2023
Sunday, December 3, 2023
Monday, December 4, 2023
Tuesday, December 5, 2023
Wednesday, December 6, 2023
Thursday, December 7, 2023
Friday, December 8, 2023
Saturday, December 9, 2023
Sunday, December 10, 2023
Monday, December 11, 2023
Tuesday, December 12, 2023
Wednesday, December 13, 2023
Thursday, December 14, 2023
Friday, December 15, 2023
Saturday, December 16, 2023
Sunday, December 17, 2023
Monday, December 18, 2023
Tuesday, December 19, 2023
Wednesday, December 20, 2023
Thursday, December 21, 2023
Friday, December 22, 2023
Saturday, December 23, 2023
Sunday, December 24, 2023
Monday, December 25, 2023
Tuesday, December 26, 2023
Wednesday, December 27, 2023
Thursday, December 28, 2023
Friday, December 29, 2023