The Durham Hotel, 315 East Chapel Hill Street in Durham, hosts events on its rooftop that are free for all, even if you're not staying at hotel. The hotel also features a coffee bar inside.
You can see the upcoming events on their event page and Facebook page.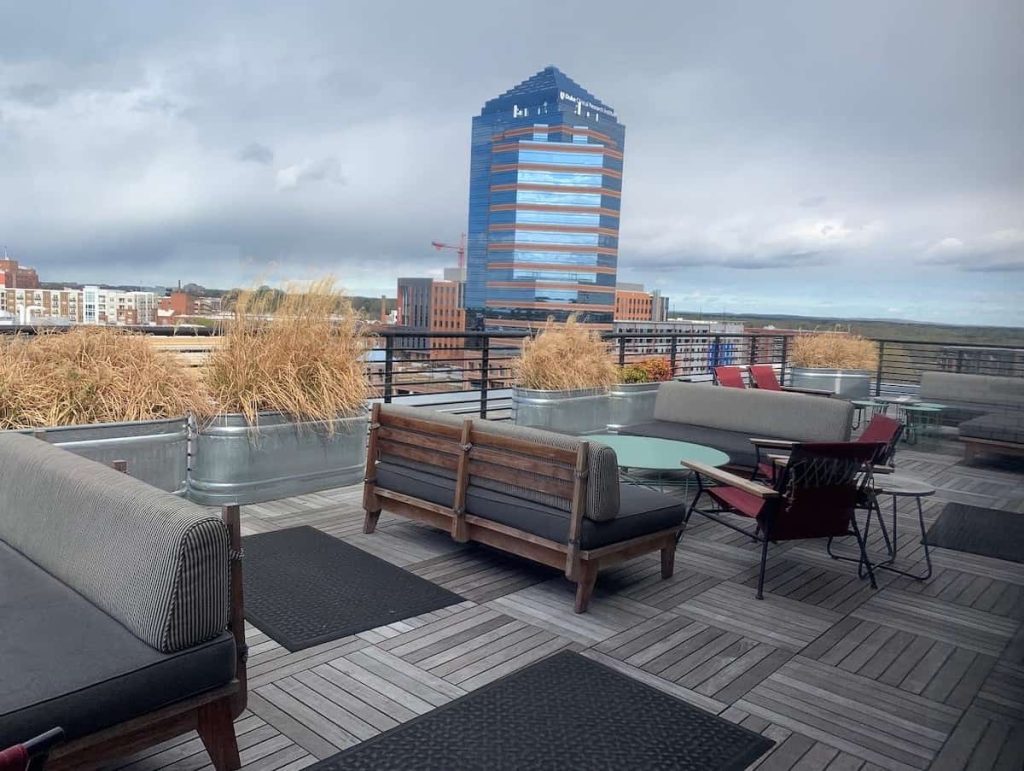 Swift Night Out
Wednesday, September 27, 2023
6:30 to 8 p.m.
Free
A favorite event returns to The Durham. Join us on the Roof Wednesday, September 27, from 6:30-8pm for a front-row view as large swarms of chimney swifts begin to gather for their annual trip to South America and swarm, dive and roost at sunset into downtown chimneys. New Hope Audubon will be on hand with scopes, binoculars, and information about how to protect these endangered birds and their habitats.
6:30pm: We should be able to see swifts flying, feeding, and calling.
7:15pm: At sunset, the swifts move en masse, swarming around chimneys to roost.
Free and family-friendly!
---
Al Strong Presents Jazz on the Roof
Multiple dates (see below)
7 to 9:30 p.m.
Free
Al Strong is a two-time Grammy-nominated artist who will bring regional jazz artists to improvise on the Roof. Performers will play a set, then members of the community will be invited to join in the jam session. This is a free event and is open to the public. The Roof will be first-come-first-served and opens at 5 p.m. for cocktails and snacks.
---
Storytime on the Roof with Durham County Library
Wednesday, September 20, 2023
Wednesday, October 25, 2023 (wear costumes!)
10:30 to 11 a.m.
Free
Bring the family up to the open-air rooftop for stories and songs with Durham County Library.
Stop by the Coffee Bar in our lobby to grab juice, house-made pastries, and Counter Culture Coffee to enjoy before or after Storytime. This event is free and all ages are welcome.
---
Views From the Durham
Multiple dates (see below)
8 to 11 p.m.
Free
Monday, September 25, 2023
This stargazing series is hosted by Morehead Planetarium and Science Center. Come up to the open-air Roof for telescopic stargazing with Morehead educators, and music from DJ Mic Check.
DJ Mic Check will spin out-of-this-world tunes 8 to 10 p.m. Stargazing will take place 9 to 11 p.m. The Roof opens at 5 p.m. so you can kick off the night with snacks, craft cocktails, and sunset views.
This event is free and open to the public. All ages are welcome.
Double-Check Before You Head Out!
We make every effort to make sure that everything on Triangle on the Cheap is 100% accurate.
However, sometimes things change without notice, and it's also possible that we can make a mistake. 
Please verify all deals and events with the venue or organizer before you go.
         You might also be interested in:
More Skywatching Events in the Triangle
Interested in getting started with skywatching? Check out our guide to skywatching in the Triangle, including where to go, what to look for, local resources and more. And check out the following list of upcoming guided skywatching events.
Wednesday, October 4, 2023
When
October 25, 2023 @ 10:30 am-11:00 am
What
Storytime on the Roof with Durham County Library