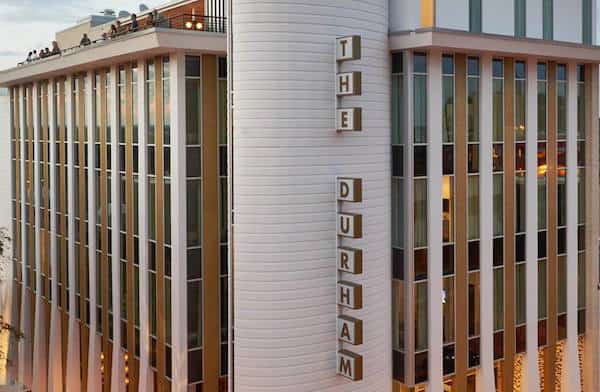 The Durham Hotel, 315 East Chapel Hill Street in Durham, hosts a wide variety of events and many are free. Many are held on the rooftop.
Here are some of the upcoming free events. See more events, plus updates, on The Durham Hotel's Facebook page. Food and drink will be available for purchase at many of the free events.
Jazz Night on the Roof featuring Zoocrü
Tuesday, August 15th, 6 p.m. to 9 p.m.
This month, Zoocrü joins us on the roof for Jazz Night presented by The Art of Cool Project.
6-9pm. Reservations at 919-768-8831. No fee for admission. All ages welcome.
ZOOCRÜ creates from the core belief that all American music is born from the seeds of Black music. Drawing from this rich musical legacy, ZOOCRÜ blends all popular American genres into a sound best described as Black American music. Jazz serves as the foundation, as all the members are classically trained jazz musicians, and is built upon with elements of hip hop, blues, rock and gospel. They were particularly influenced by artists such as Roy Ayers, Thelonious Monk A Tribe Called Quest, J Dilla, Jimi Hendrix, Wu-tang Clan, Radiohead, Herbie Hancock, and Miles Davis. Infuse that with the geographic and cultural diversity that each member brings and you have the ZOOCRÜ sound.
Every 3rd Tuesday
Storytime on the roof with Durham County Library
July 5, July 19, August 2, August 16
10:30 a.m.
This summer, kids and their grownups are invited to join the children's librarians from Durham County's North Regional Library for Storytime on the Roof. Bring a favorite pillow or blanket for sitting. Pre-registration is required.
Register with Durham County Library.
Every 3rd Sunday, 12 p.m. to 3 p.m.
Disco Brunch is every 3rd Sunday in the restaurant. Reserve your table for brunch, beats, and drinks at 919-768-8831. Brunch starts at 11; music and punch bowls, Durham bloody marys, and mimosas starts at 12.
Admission is free. Pay for food and drinks.
August 20: PlayPlay's Space Disco & Electro Edition
September 17: Flash Car
October 15: Karina Soni
November 19: Luxe Posh
December 17: Mike D
Dusk til Durham: Jazz, Hip Hop & Sunsets with The Beast
Sunday, August 20, 5:30 p.m. to 8 p.m.
The Beast brings another season of jazz and hip hop to Sunday afternoons on the roof. No cover, open to the public.
Now in its tenth year, The Beast is an innovative and electrifying hip hop and jazz ensemble, known for pushing creative boundaries and dynamic collaborations. Straight outta Durham, the cultural and entrepreneurial nexus of a new south, The Beast is a home-grown artistic force, mixing tap-dancers, puppeteers, and spoken word artists into its repertoire. Comprised of professor, community organizer, and emcee Pierce Freelon, keyboardist Eric W Hirsh, drummer Stephen Coffman, and bassist Peter Kimosh, The Beast has thus far executed a Duke University-commissioned big band project, curated residencies at the North Carolina Museum of Art, and toured Panama as featured in a PBS web-series. The quartet is currently finishing its second full-length album with Philly-native producer/drummer Steve McKie (Bilal, Jill Scott, Musiq, et al).