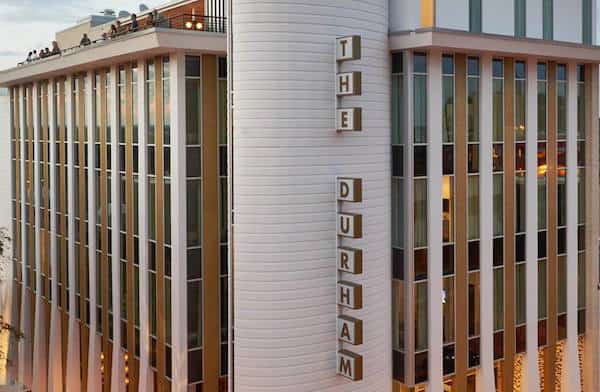 The Durham Hotel, 315 East Chapel Hill Street in Durham, hosts a wide variety of events and many are free. Many are held on the rooftop.
Here are some of the upcoming free events. See more events, plus updates, on The Durham Hotel's Facebook page. Food and drink will be available for purchase at many of the free events.
The Durham Book Social: Cookbook Swap
Sunday, March 10th, 2019
5 p.m. to 7 p.m.
Free but please register
You could call it a community book club, or an ice cream social recast for grownups who like books and wine. At the inaugural gathering of The Durham Book Social, co-produced with our friends at Piedmont Wine Imports, we'll swap cookbooks, drink wine, share cooking tips, discover books that inspire local food professionals, and celebrate our love of food.
Dust off that old cookbook, drop it at the swap table, and pick up a glass of wine before mingling with fellow swappers, and browsing a vintage cookbook collection curated by Jennings Brody of Parker and Otis. Settle in with snacks from The Durham and conversation with local food leaders on the books that helped shape their perspectives on food and wine.
5pm | Drop off a cookbook or two
5:30pm | Cookbook conversation
6:30pm | Pick up a "new to you" cookbook
Snacks by Andrea Reusing and The Durham Hotel
Wines by Piedmont Wine Imports (lovers and sellers of small farm wine, and avid home cooks)
Lobby Call: Mouthguard with Sadie Dupuis
Monday, March 11th, 2019
6:30 p.m. to 8 p.m.
Free but please register
At our next Lobby Call event, Sadie Dupuis of Speedy Ortiz , will be joined by former SPIN editor Charles Aaron to talk about her first book of poetry, Mouthguard.
"Like crying alone in a movie theater, Mouthguard is tender, self-deprecating, nostalgic, and unavoidably romantic. In the end, we're all simultaneously comforted and freaked out by the idea that there is something bigger and deeper in the quiet spaces that operate within us, something just out of reach. This book gives us the language to describe this, a solid place we can remember together." ~ Gramma Press
6:30pm | Bar opens with conversation, reading, and Q&A to follow.
Copies of Mouthguard will be available for purchase courtesy of The Regulator Bookshop and Sadie will be on hand for signings.
Sadie Dupuis:
Sadie Dupuis is the guitarist, vocalist & songwriter of rock band Speedy Ortiz. She's also the producer & multi-instrumentalist behind pop project Sad13. Sadie heads the record label Wax Nine, has written for outlets including Spin, Nylon, and Playboy, and holds an MFA in poetry from UMass Amherst. Mouthguard is her first book.
Charles Aaron:
Charles Aaron grew up in North Carolina, went away for a long time, and is now back, living in Durham. For 20 years, he held a variety of jobs at SPIN, from lowly writer to figurehead Editorial Director. At SPIN in 2008-2009, he met Sadie Dupuis, who was an intern. He soon realized, due to her talent, work ethic, winning personality, and general artistic awesomeness, that she would render him and his colleagues obsolete.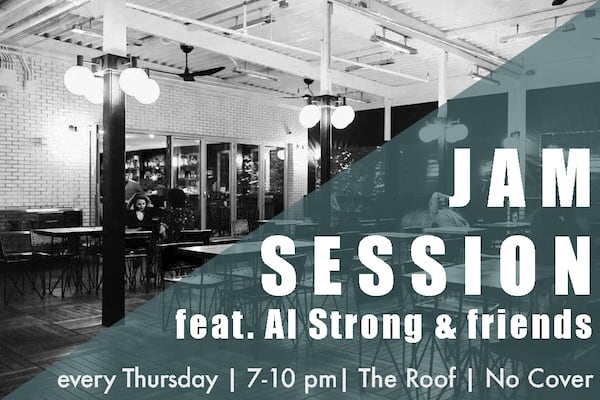 Jazz Jam Session feat. Al Strong & Friends
Thursdays
7 p.m. to 10 p.m.
Free
Every Thursday, Al Strong Music & friends meet on the roof for an open jam session from 7-10pm. Local musicians are invited to bring their instruments and sit in; everyone else is invited to stop by for a drink & check out the show. No cover.
Storytime on the Roof
First Wednesday of month through October 2nd
Also: Wednesday, October 30th, 2019
10:30 a.m.
Free but please register
This summer, kids and their grownups are invited to join the children's librarians from Durham County's North Regional Library for Storytime on the Roof. Bring a favorite pillow or blanket for sitting & don't forget to stop by the coffee shop for coffee, juice, pastries, cookies, and lunch before or after storytime.
Wednesdays starting at 10:30am
Apr 3 | May 1 | June 5 | Jul 3 | Aug 7 | Sep 4 | Oct 2 | Oct 30*
* Special Halloween end of the season party
Pre-registration is required here:
https://events.durhamcountylibrary.org/events
When
Weekly on Thursday @ 7:00 pm-10:00 pm (starting January 17, 2019)
What
Jazz Jam Session feat. Al Strong & Friends
When
Monthly on the 1st Wednesday @ 10:30 am (April 3, 2019 - October 2, 2019)
What
Storytime on the Roof of The Durham Hotel
When
October 30, 2019 @ 10:30 am
What
Halloween Storytime on the Roof of The Durham Hotel