Once a month, N.C. Museum of Natural sciences holds a free event for teens, Open MInds Teen Science Café
Each Open Minds Teen Science Café include a scientist presentation, an interactive activity relating to the discussion, a Q&A session, and time to meet other teens who enjoy science. This program is recommended for participants ages 11–17.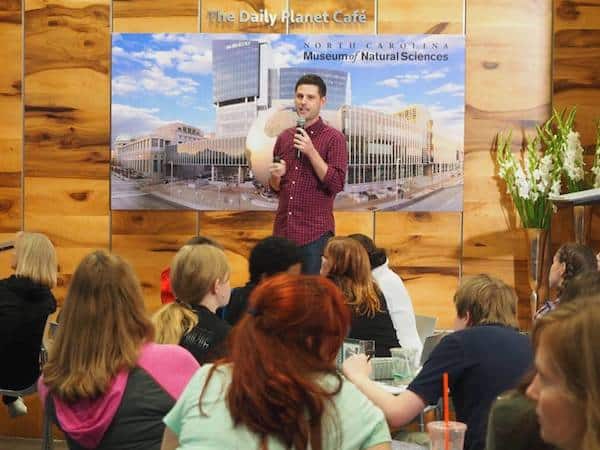 The first 50 teens to arrive will receive a voucher for a free meal.
Registration is not required. Just show up!
Here is information on the next two events, followed by a list of all of the scheduled events.
December 7th, 2018
6 p.m. to 7 p.m.
There are more microbes in your body than there are stars in the Milky Way, and 99% of those microbes live in your gut. Gut bacteria are influenced by the foods that we eat and help with digestion, immune regulation, disease prevention … these tiny sidekicks may even control our cravings, moods and food allergies! In this Teen Science Café, we will explore how the foods we eat impact our health.
ABOUT OUR SPEAKERS
Christina Roche has a background in plant genetics primarily researching novel gene expression sequences and evaluating technologies in crop plants. Now she investigates microbes in fermented foods (vegetables and over 100 types of cheese), identifying all the species of bacteria and fungi that contribute to flavor development and preservation. She loves engaging the public about research through workshops, carts, and citizen science.
Dr. Erin McKenney studies the microbial communities in food and guts. She has collected poop from over 150 animals at four different zoos to investigate the relationship between diet, anatomy, and the gut microbiome. More recently, Erin has begun studying the microbes in sourdough and other fermented foods. Beyond the lab, she brings research into the classroom to empower students of all ages as citizen scientists.
January 4th, 2018
6 p.m. to 7 p.m.
Is the truth out there? In a galaxy far, far away? In this Teen Science Café, Dr. Patrick Treuthardt will discuss the oddities of outer space, like supermassive black holes, dark matter, and strange galaxies, and what they can tell us about our Universe.
ABOUT OUR SPEAKER
Dr. Patrick Treuthardt is Assistant Head of the Astronomy and Astrophysics Research Lab at the NC Museum of Natural Sciences. He obtained his PhD from the University of Alabama and has been a visiting researcher at the University of Oulu in Oulu, Finland, as well as a Postdoctoral Research Fellow at the University of Arkansas at Little Rock. His research focuses on understanding the different forms and structures that make up galaxies and their connection to the supermassive black holes they harbor in their nucleus, as well as the enormous halo of dark matter they reside in.
Teen Science Café Schedule
Food Science: Microbes on the Menu: Dec 7, 2018, 6-7pm
Astrophysics: Ask an Astronomer: Jan 4, 2019, 6-7pm
Citizen Science: Feb 1, 2019, 6-7pm
Paleontology: Mar 1, 2019, 6-7pm
Reptile and Amphibian Conservation: Apr 5, 2019, 6-7pm
If you missed one, or want to see what they're like, you're in luck because they're live streamed. You can watch the videos from past events here.
Also, there's a Teen Science Café in Chapel Hill as well.
       New to Triangle on the Cheap? You might also be interested in:
More informal learning events in the Triangle
Thursday, December 20, 2018
Thursday, December 27, 2018
Wednesday, January 2, 2019
Friday, January 4, 2019
Friday, January 11, 2019
When
January 4, 2019 @ 6:00 pm-7:00 pm
Where
North Carolina Museum of Natural Sciences
When
February 1, 2019 @ 6:00 pm-7:00 pm
Where
North Carolina Museum of Natural Sciences
When
March 1, 2019 @ 6:00 pm-7:00 pm
Where
North Carolina Museum of Natural Sciences
When
April 5, 2019 @ 6:00 pm-7:00 pm
Where
North Carolina Museum of Natural Sciences