Durham Parks and Recreation's 2023 Rock the Park Movie and Concert Series takes place in several Durham parks and is free to attend.
Sit back, relax and enjoy family and friends while grooving to music or watching a movie on a big screen under the stars. Both activities are free and open to the public. Food vendors will be on site and food will be available for purchase.
Please bring blankets and lawn chairs. No alcohol or smoking allowed.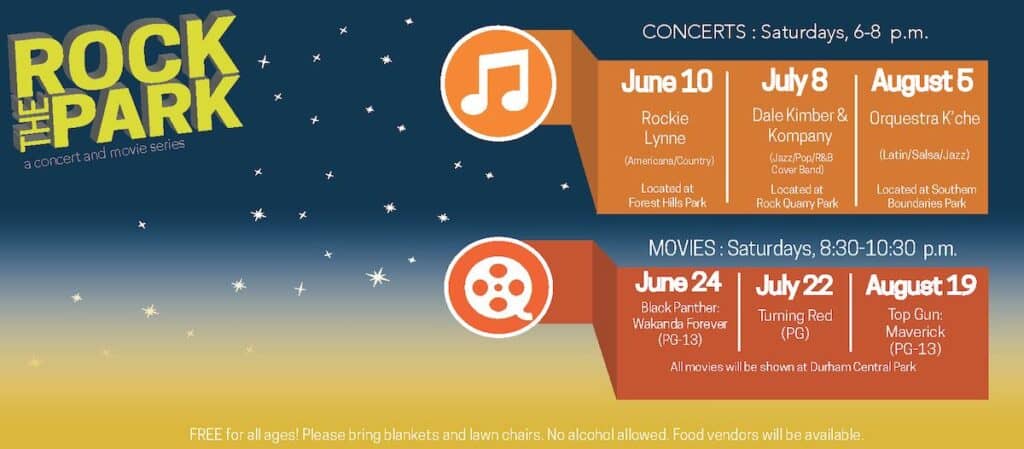 2023 Schedule for Durham's Rock the Park Movie and Concert Series
Concert: Rockie Lynne
Americana/Country
Saturday, June 10th, 2023
6 to 8 p.m.
Forest Hills Park
1639 University Drive, Durham
Movie: Black Panther: Wakanda Forever (PG-13)
Saturday, June 24th, 2023
8:30 to 10:30 p.m.
Durham Central Park
501 Foster Street, Durham
Concert: Dale Kimber & Kompany
Jazz/Pop/R&B Cover Band
Saturday, July 8th, 2023
6 to 8 p.m.
Rock Quarry Park
701 Stadium Drive, Durham
Movie: Turning Red (PG)
Saturday, July 22nd, 2023
8:30 to 10:30 p.m.
Durham Central Park
501 Foster Street, Durham
Concert: Orquestra K'che
Latin/Salsa/Jazz
Saturday, August 5th, 2023
6 to 8 p.m.
Southern Boundaries Park
100 Third Fork Road, Durham
Movie: Top Gun: Maverick (PG-13)
Saturday, August 19th, 2023
8:30 to 10:30 p.m.
Durham Central Park
501 Foster Street, Durham
More Outdoor Music in the Triangle
Learn all about outdoor music in the Triangle, including a description of the concert series, and a 90-day calendar, or take a quick look at some of the upcoming outdoor concerts here:
Sunday, September 24, 2023
Monday, September 25, 2023
Tuesday, September 26, 2023
Wednesday, September 27, 2023
Thursday, September 28, 2023
Friday, September 29, 2023
Saturday, September 30, 2023
Monday, October 2, 2023
Tuesday, October 3, 2023
Wednesday, October 4, 2023
Thursday, October 5, 2023
Friday, October 6, 2023
Saturday, October 7, 2023
Sunday, October 8, 2023
Monday, October 9, 2023
Tuesday, October 10, 2023
Wednesday, October 11, 2023
Thursday, October 12, 2023
Friday, October 13, 2023
Monday, October 16, 2023
Tuesday, October 17, 2023
Thursday, October 19, 2023
Friday, October 20, 2023
Monday, October 23, 2023
Tuesday, October 24, 2023
Thursday, October 26, 2023
Friday, October 27, 2023
Saturday, October 28, 2023
Thursday, November 2, 2023
Friday, November 3, 2023
Friday, November 10, 2023
Friday, November 17, 2023