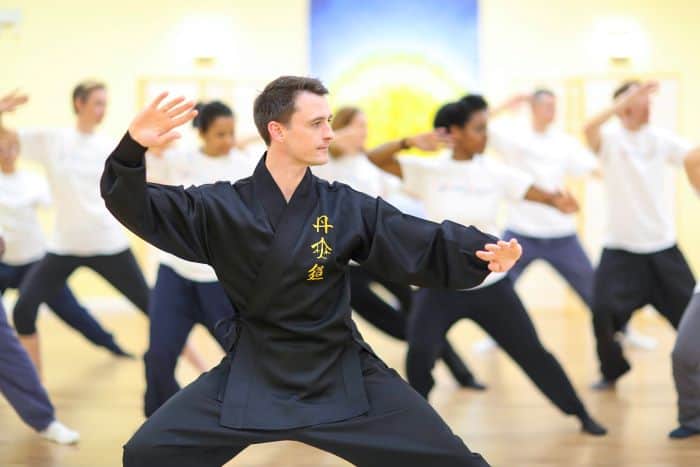 Once a month, Body & Brain Yoga Tai Chi of Raleigh offers a free monthly Tai Chi / Ki Gong class. The classes are now taking place in person.
Did you know we keep a big list of free fitness opportunities in the Triangle? The list includes yoga, bootcamps, group hikes and more, and we update it every day!
The classes take place 2 p.m. Registration closes on 12 p.m. the day of the class.
This class will help you de-stress, improve your flexibility and balance, as well as increase circulation to support your health and well-being.
You do not need to have any experience with Tai Chi or Ki Gong. Class starts with some circulation and joint opening exercises then followed by simple tai chi/energy movement. Class finishes with some seated meditation. Masks are not required.
In-person Tai Chi / Ki Gong Class
The in-person classes are held at Body & Brain Yoga Tai Chi Raleigh, 6300 Creedmoor road, Raleigh.
Sunday, July 24th, 2022
Sunday, August 28th, 2022
Sunday, September 25th, 2022
Sunday, October 23rd, 2022
Sunday, November 27th, 2022
Sunday, December 18th, 2022
Double-Check Before You Head Out!
We make every effort to make sure that everything on Triangle on the Cheap is 100% accurate.
However, sometimes things change without notice, and it's also possible that we can make a mistake. 
Please verify all deals and events with the venue or organizer before you go.
More Free Fitness Opportunities
Check out our big list of free fitness opportunities in the Triangle, or take a quick list here:
Saturday, November 26, 2022
Sunday, November 27, 2022
Saturday, December 3, 2022
Saturday, December 10, 2022
Tuesday, December 13, 2022
Saturday, December 17, 2022
Sunday, December 18, 2022
Saturday, December 24, 2022
When
Monthly on the 4th Sunday @ 2:00 pm-3:00 pm (July 24, 2022 - November 27, 2022)
What
Free Tai Chi / Ki Gong class (in person)
Where
Body & Brain Yoga Tai Chi Raleigh
When
December 18, 2022 @ 2:00 pm-5:00 pm
What
Free Tai Chi / Ki Gong class (in person)
Where
Body & Brain Yoga Tai Chi Raleigh
Body & Brain Yoga Tai Chi Raleigh