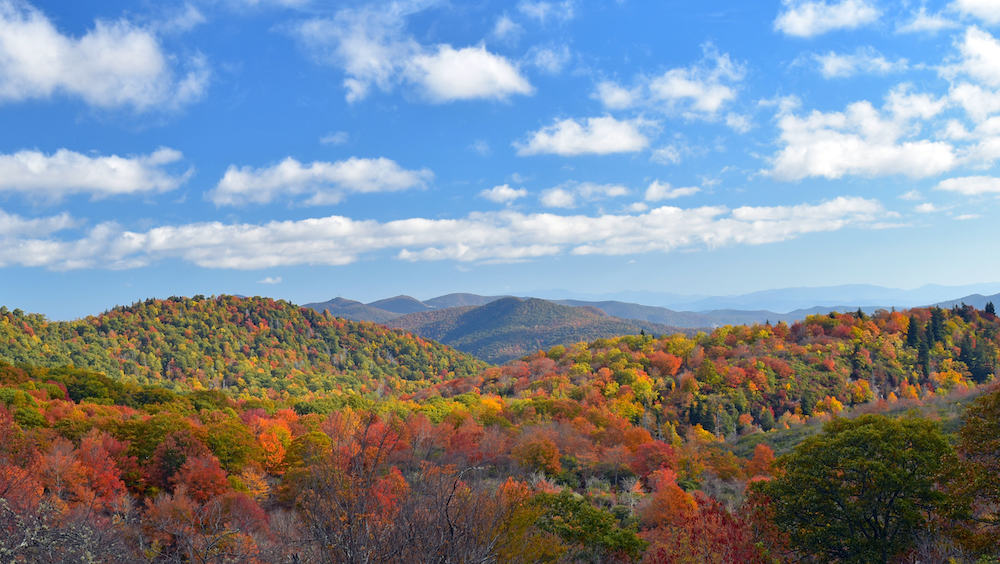 If you're seeking North Carolina fall colors, there are many beautiful, scenic drives in North Carolina, especially Western North Carolina, where you can experience vibrant fall foliage as part of a stunning landscape.
Since so many North Carolinians head toward the mountains for fall colors (for good reason) we reached out to ExploreAsheville.com for advice. They generously shared some recommended routes, and some breathtaking pictures, with us. They have even separated the routes by time of season, since the leaves in higher elevations change first.
The North Carolina mountains were the best place to start for fall colors, but keep reading for information on scenic drives for fall color close to the Triangle.
One of the most useful resources for planning your trip to the North Carolina mountains for fall color is Explore Asheville's Fall Color Map & Fall Leaves Schedule.
Follow the above link, and drag the red dot on the time line to see the projected peak color, starting in early October, move across the mountains. The actual dates depend on weather conditions, and Explore Asheville might tweak the map as the season progresses, but bottom line: at the highest elevations, visit in early October, and in lower elevations peak leaf watching dates are probably from late October to around early/mid November.
You might also find the foliage map on smokymountains.com/fall-foliage-map useful for visualizing when different places will start to experience fall colors.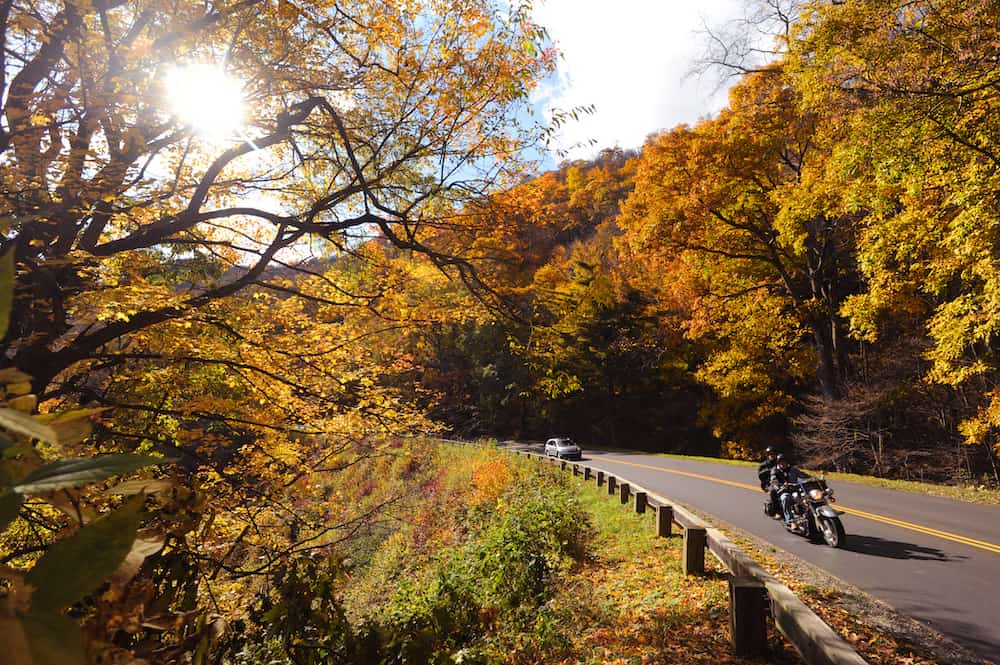 All of the drives described below start in or near Asheville.
Early Fall Scenic Drives in the North Carolina Mountains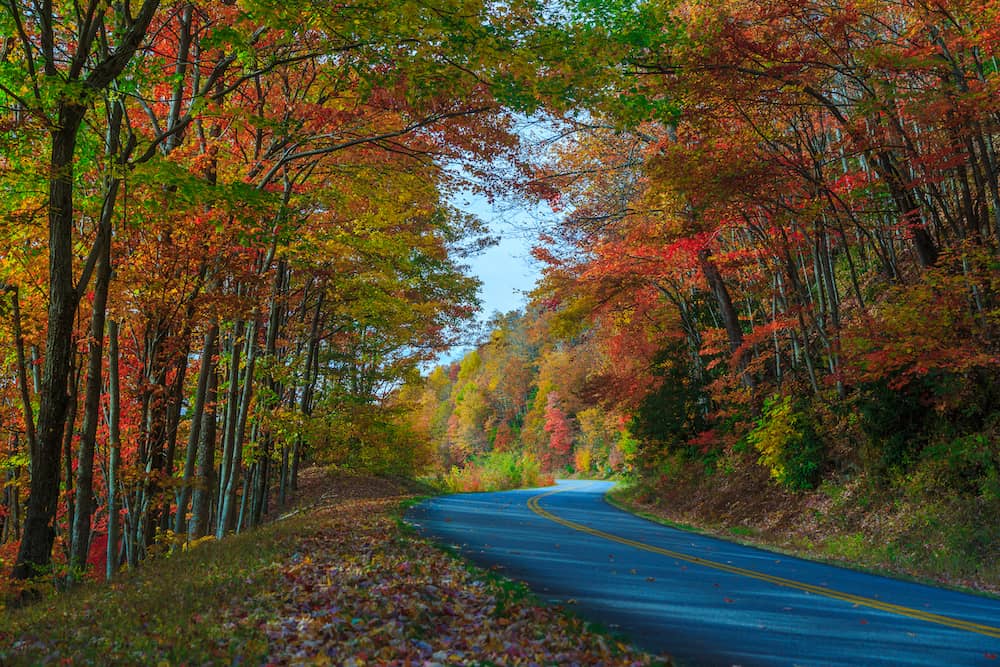 You'll find more details on these early fall scenic drives, as well as maps, on ExploreAshville.com.
Grandfather Mountain/The High Country: There are several ways to get to Grandfather Mountain from Asheville, and all will be beautiful. Take the Blue Ridge Parkway north from Asheville. This will take you past Craggy Gardens (Milepost 364) and Linn Cove Viaduct (Milepost 304.) Grandfather Mountain is at Milepost 305 on the Blue Ridge Parkway. The speed limit on the Blue Ridge Parkway is 45 mph.
Alternatively, take I-40 East to Marion, and then then Hwy 221 north to Linville Falls at Milepost 316. Or, if you'd like see Table Rock, take I-40 east to Morganton, and then take Hwy 181 north to the Parkway.
U.S. Highway 19: Take US 19/23 north, and stay on 19E to Burnsville, continuing to Spruce Pine. In Spruce Pine, visit the North Carolina Museum of Minerals. This trip will give you a great view of the Black Mountains and Mount Mitchell. Linville Caverns is a short drive from Spruce Pine.
Pisgah National Forest: Take the Blue Ridge Parkway south from Asheville, to Mount Pisgah at Milepost 408. There you will find picnic area, hiking trails and Pisgah Inn's dining room. At the time of this post, dinner is reserved for hotel guests, but you can make reservations for lunch. Then at Milepost 411 turn onto US 276, toward Waynesville. You'll go through Pisgah National Forest, with views of Cold Mountain. Go through Wayneville, and back to Asheville.
Mid-Fall Scenic Drives in the North Carolina Mountains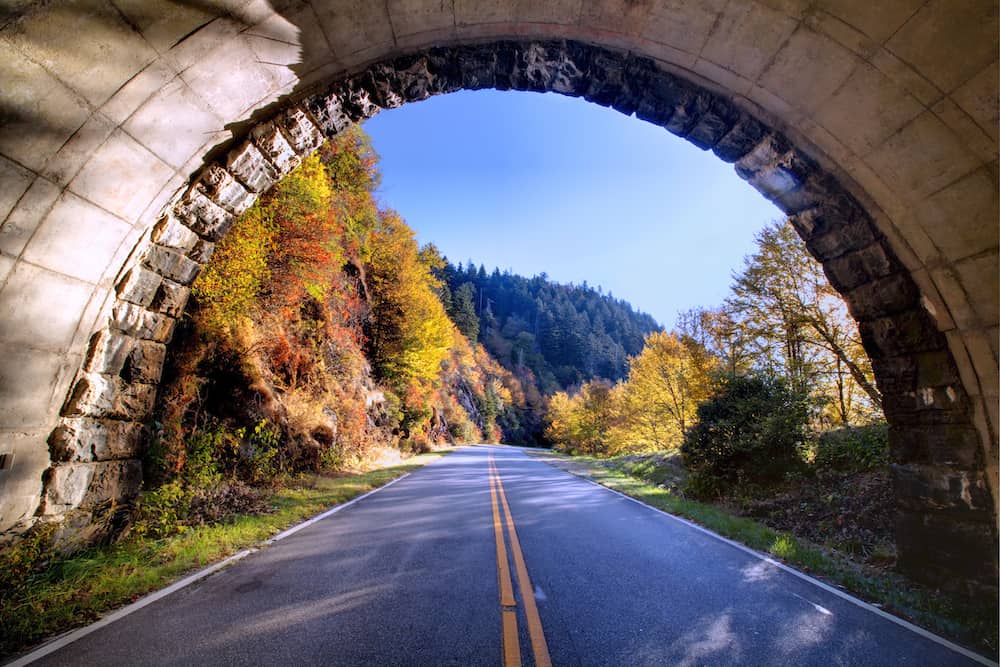 You'll find more details on these mid-fall scenic drives, as well as maps, on ExploreAshville.com.
Waterfall Country: For the waterfall fan! Start out by going south on the Blue Ridge Parkway from Asheville, and then exit at Milepost 411 to US 276. Follow US 276 to the south, and you'll get to Sliding Rock. It might be too cold to slide down the rock in the fall, but it's still very scenic. Also, visit the Cradle of Forestry and Looking Glass Falls. You can park at the Looking Glass Rock trailhead, and hike on a 3.1 mile trail, where you'll be in the middle of stunning fall colors. Then, continue on 276 to 280 North to NC 191. This will take you along the banks of the French Broad River and back to Asheville.
Hot Springs: Take NC 63 west. You'll past Leicester and Trust, and then take NC 209 to Hot Springs. Hot Springs is a charming town to explore, including Hot Springs Resort and Spa, with its natural hot mineral waters. Hot Springs has an entrance to the Appalachian Trail, so you can at least put a toe on the Trail. Then return on US 25/70 to Weaverville and take I-26 East back to Asheville.
Maggie Valley and Cherokee: Travel US 19 between Maggie Valley and Cherokee, and you'll enjoy winding roads and plenty of great vantage points to look at leaves.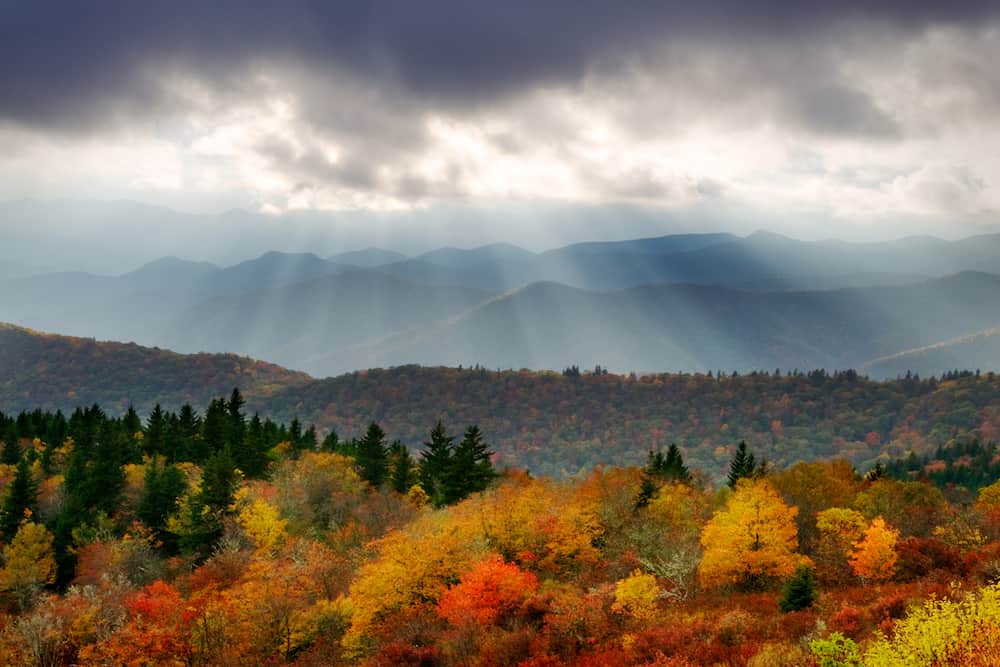 Late Fall Scenic Drives in the North Carolina Mountains
You'll find more details on these late fall scenic drives, as well as maps, on ExploreAshville.com.
Reems Creek Valley: Take US Highway 19/23 north from Asheville to the New Stock Road exit 21. Turn right at the light and left at the next light. That will bring you to US 25. In less than a mile, turn right onto Reems Creek Road. Drive 5 miles to Zebulon B. Vance Birthplace State Historic Site. After your visit, turn left, go a half mile, and turn left again on Ox Creek Road. This will bring you back to the Blue Ridge Parkway. Turn south, back to Asheville.
Hickory Nut Gorge to Black Mountain: Take I-26 East to US 64 East, into Hickory Nut Gorge. This will take you to Chimney Rock Park and to Lake Lure. Then head back to Bat Cave and drive up NC 9, which has spectacular views of the cliffs. Make your way to Black Mountain, where you can explore galleries and boutiques, and then take US 70 through the Swannanoa Valley back to Asheville.
North Carolina Arboretum: This destination will let you enjoy the fall colors by foot. The North Carolina Arboretum, at 100 Frederick Law Olmstead Way, Asheville, features 65 acres of cultivated gardens, and more than 10 miles of hiking and biking trails. It's just south of Downtown Asheville, and within the Bent Creek Experimental Forest of the Pisgah National Forest, so it allows visitors to explore fall colors close-up.
Scenic Drives for Fall Color Closer to the Triangle
Although nothing beats the North Carolina mountains for fall color, there are also plenty of opportunities to enjoy the changing leaves closer to home. Any of our greenways or nature preserves are great choices. Make sure to check out these amazing botanical gardens in the Triangle as the leaves change. You'll see them in a different way.
And here are some scenic drives close to the Triangle. All of these drives are designated Scenic Byways by North Carolina Department of Transportation. Read more about North Carolina's Scenic Byways here.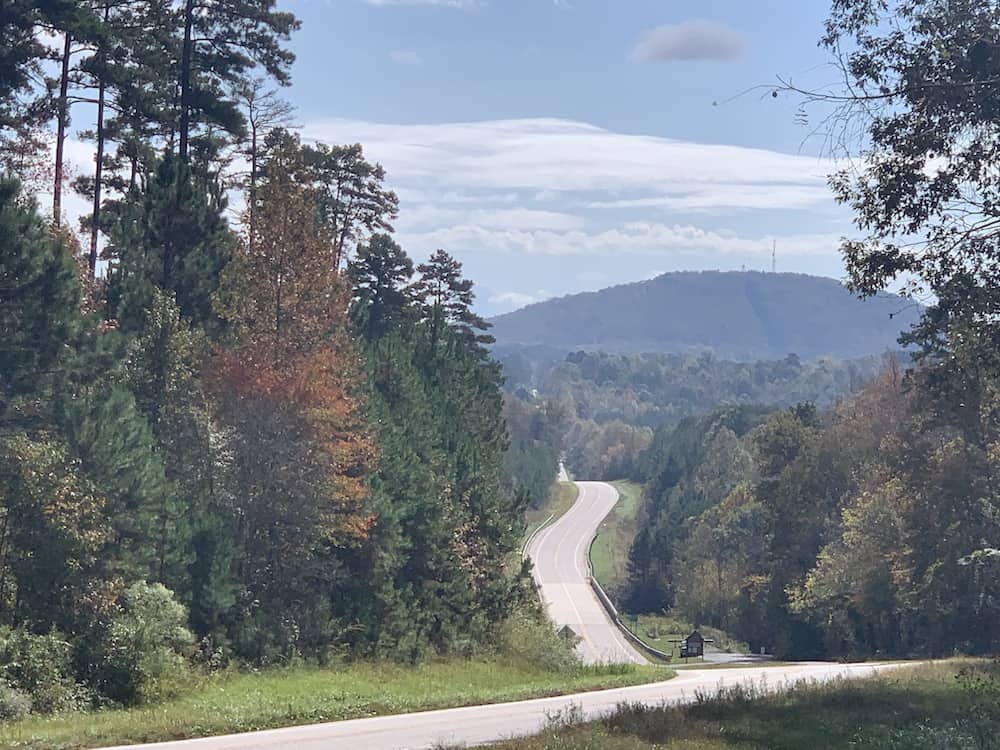 Please verify all driving directions with your own mapping software or a map!
Uwharrie Scenic Road: The drive between Asheboro and Charlotte takes you through the Uwharrie Mountains. These peaks were formed several hundred million years ago by volcanoes. Once you are in the Uwharrie area, two great places for hiking are Morrow Mountain and the trails throughout Uwharrie National Forest. On the way back, the North Carolina Zoo in Asheboro is one of the most popular tourist destinations in North Carolina. If you're in Albemarle for the evening, and it's "drive-in movie" season, make sure to check out one of North Carolina's few permanent drive-in theaters, Badin Road Drive-In Theater.
Flint Hill Ramble: This remote and beautiful Scenic Byway beings on Flint Hill Road (S.R. 1306), northeast of the Uwharrie community in Montgomery County. If you're driving the Uwharrie Scenic Road (above), you might want to check out Flint Hill Ramble as well. From N.C. 109, turn onto Ophir Road (S.R. 1303.) After five miles you'll get to the Ophir community. Turn right onto Flint Hill Road. This stretch of road offers impressive mountain views.
Two miles down the road there's a shaded parking area and trailhead for the Uwharrie National Recreational Trail. Take the short hike up the trail for a great view of the Uwharrie Mountains.
Then, continue along Flint Hill Road. A short distance later you'll get a turn-off on the left. Take a quick walk from the car to get to Jumping-Off Rock, a rocky bluff that overlooks a stream and the Uwharrie National Forest. But, do not jump off the Jumping-Off Rock. It's a very bad idea. This Scenic Byway ends where Flint Hill Road intersects with Lovejoy Road (S.R. 1310.)
Hanging Rock Scenic Byway: In the northern Piedmont region, a highlight is Hanging Rock State Park. The Hanging Rock Scenic Byway offers a chance to explore the Sauratown Mountains. You'll start near Winston Salem. From U.S. 52 (which you can get to from I-40), take exit 118 and follow N.C. 65 East. Then turn left to follow N.C. 66 North. When the intersects Denny Road, the Scenic Byway begins (staying on N.C. 66.) Drive 2.3 miles, then bear right on Flat Shoals Road.
Go five miles, then turn left onto Mountain Road. You'll see excellent view of Hanging Rock on this section of the Byway. After four miles, turn left onto N.C. 8/89. This section of the route passes by the town of Danbury, which is on the Register of Historic Place. Just past Danbury, you have two route options to stay on the Byway.
The first: turn left on Hanging Rock Park Road and follow it as it becomes Moore Spring Road. This seven-mile stretch of road, offers several entry points into Hanging Rock State Park. When Moore Springs Road ends, turn left onto N.C. 66 and go five miles back to the Mount Olive community, where the Scenic Byway started.
The second option from just past Danbury: Continue on N.C. 89 for 25 miles to the Byway's western end at Airsville Road in the Shelton Town community east of Mount Airy.
North Durham Country Byway: This 27-mile drive through Durham County takes you through historic farmlands, by waterways, and through forests. Take exit 182 off I-85 and go north on Red Mill Road (S.R. 1632) for 4.5 miles. The route turns right onto Teknika Parkway (S.R. 1794) and then left at the first stop sign to continue on Red Mill Road. Then turn right on Old Highway 75 (S.R. 1004) to begin following the Scenic Byway.
You'll be near Historic Stagville, a historic site that focuses on African-American history. Turn left on Stagville Road (S.R. 1615) You'll pass the Horton Grove Commercial Center, and then travel for almost four miles. You'll get to the town of Bahama. The Byway then turns right onto Bahama Road (S.R. 1616/1607.) You'll travel by Lake Michie, and then 3.2 miles later to Mount Tabor United Methodist Church. Continue another 2.5 miles and turn left onto Red Mountain Road (S.R. 1471.)
Alternately, after traveling 3.7 miles on Bahama Road, turn left onto Hampton Road (S.R. 1603), travel 1.5 miles, then turn left onto the second Wilkins Road (S.R. 1613.) Quickly turn right and you'll be on State Forest Road (S.R. 1614) and into Hill Demonstration Forest. There's a one-lane bridge on this route, with views of Flat River. The forest was established in 1929. It's a great place for bird watchers, who often spot egrets, herons, ibis and osprey.
Continuing on Red Mountain Road (S.R. 1471) there will be a 4.5-mile rural segment. You'll pass the Flat River. Turn left onto Moores Mill Road (S.R. 1601) and follow the rolling hills to U.S. 501.
After 1.5 miles, turn right onto South Lowell Road (S.R. 1461/1464.) This five-mile drive will offer frequent views of farms.
The byway temporarily ends at the intersection of N.C. 157 (Guess Road) and South Lowell Road. To experience the last portion of the scenic byway, turn left onto N.C. 157 and travel a little more than a mile.
Turn left onto Mason Road (S.R. 1002). Follow this road to U.S. 501, turn left and quickly turn right onto Orange Factory Road (S.R. 1628). The byway starts back up here and continues three miles past Little River Lake and the entrance to Treyburn before ending at the intersection with Stagville Road.
Clayton Bypass Scenic Byway: This is one of only two freeways in North Carolina that have been named Scenic Byways. This unexpected scenic drive goes past rolling hills, open pastures, and woodlands, with distant views of the surrounding countryside. Begin at I-40, and take U.S. 70 at the Clayton Bypass. Follow U.S. 70 for 10.7 miles. It ends at the intersection of U.S. 70 and U.S. 70 Business in Johnston County.
Subscribe to Triangle on the Cheap