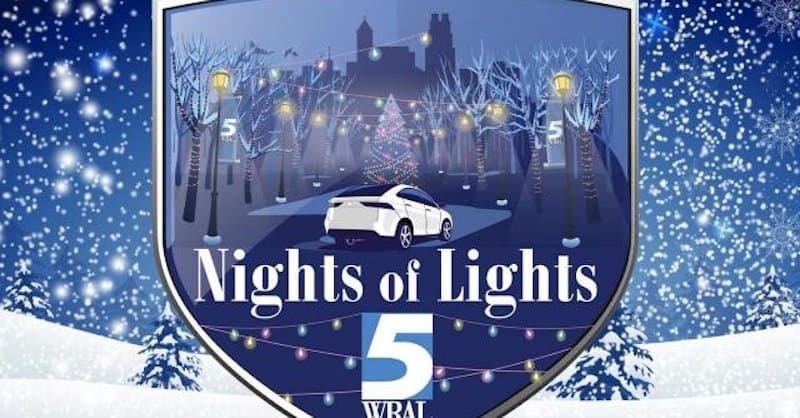 WRAL/Capitol Broadcasting, in partnership with the City of Raleigh, is bringing back Nights of Lights, a 1.3 mile drive-thru holiday light show in Dorothea Dix Park, for a third year, in 2022.
Tickets are on sale now.
We are putting together a huge list of holiday events in the Triangle, including parades, festivals, markets, Santa visits, and more. Check out our growing day by day list of holiday events in the Triangle!
There will be some new elements for 2022:
Large-scale light displays
In-person activations like a personal igloo rental or holiday outpost experience
Multiple bike-only nights
5K Nights of Lights run/walk
Dates of Nights of Lights
Vehicle Nights: Friday, November 25th and most nights through December 24th
Bike nights: Wednesday, November 30th, and Wednesday, December 7th
5K Fun Run/Walk: Saturday, November 19th
Hours are 6 p.m. to 9:30 p.m.
Tickets
Tickets are on sale now.
General admission (up to 8 passengers): $20
General admission on Christmas week (up to 8 passengers): $30
Save $5 for Thursdays and Sundays if you order before November 1st
Bike Nights
November 30th and December 7th, 2022. Ride your bike, trike or scooter through the Nights of Lights. Individual tickets are $10. A family 4-pack is $30 (limited availability.)
Nights of Lights 5K and Fun Run
November 19th, 2022, at 6:30 p.m. A ticket for an individual is $30. There's also a free fun run for kids. Register.
Food Lion Feeds Night
On Saturday, December 10th, 2022, bring in 5 or more cans of food to donate to Inter-Faith Food Shuttle and receive a $20 Food Lion gift card. (Limit 1 per vehicle.)
More information about Nights of Lights
Drive through 5 magical lands:
Toyland
North Pole Neon
Wild Lights
Winter Wonderland
Santa's Village
Learn about other spectacular light displays throughout the Triangle this holiday season.
See the best Christmas light displays in the Triangle
More Holiday Events in the Triangle
Check out our big day by day list of holiday events in the Triangle, or look at a few of them here:
Tuesday, November 15, 2022
Wednesday, November 16, 2022
Thursday, November 17, 2022
Friday, November 18, 2022
Saturday, November 19, 2022
Sunday, November 20, 2022
Monday, November 21, 2022
Tuesday, November 22, 2022
Wednesday, November 23, 2022
Thursday, November 24, 2022
Friday, November 25, 2022
Saturday, November 26, 2022
Sunday, November 27, 2022
Monday, November 28, 2022
Tuesday, November 29, 2022
Wednesday, November 30, 2022
Thursday, December 1, 2022
Friday, December 2, 2022
Saturday, December 3, 2022
Sunday, December 4, 2022
Monday, December 5, 2022
Tuesday, December 6, 2022
Wednesday, December 7, 2022
Thursday, December 8, 2022
Friday, December 9, 2022
Saturday, December 10, 2022
Sunday, December 11, 2022
Monday, December 12, 2022
Tuesday, December 13, 2022
Wednesday, December 14, 2022
Thursday, December 15, 2022
Friday, December 16, 2022
Saturday, December 17, 2022
Sunday, December 18, 2022
Monday, December 19, 2022
Tuesday, December 20, 2022
Wednesday, December 21, 2022
Thursday, December 22, 2022
Friday, December 23, 2022
Saturday, December 24, 2022
Sunday, December 25, 2022
Monday, December 26, 2022
Tuesday, December 27, 2022
Wednesday, December 28, 2022
Thursday, December 29, 2022
Friday, December 30, 2022
Saturday, December 31, 2022
Sunday, January 1, 2023
Monday, January 2, 2023
Tuesday, January 3, 2023
Wednesday, January 4, 2023
Thursday, January 5, 2023
Friday, January 6, 2023
Saturday, January 7, 2023
Sunday, January 8, 2023
Monday, January 9, 2023
Tuesday, January 10, 2023
Wednesday, January 11, 2023
Thursday, January 12, 2023
Friday, January 13, 2023
Saturday, January 14, 2023
Sunday, January 15, 2023
Monday, January 16, 2023