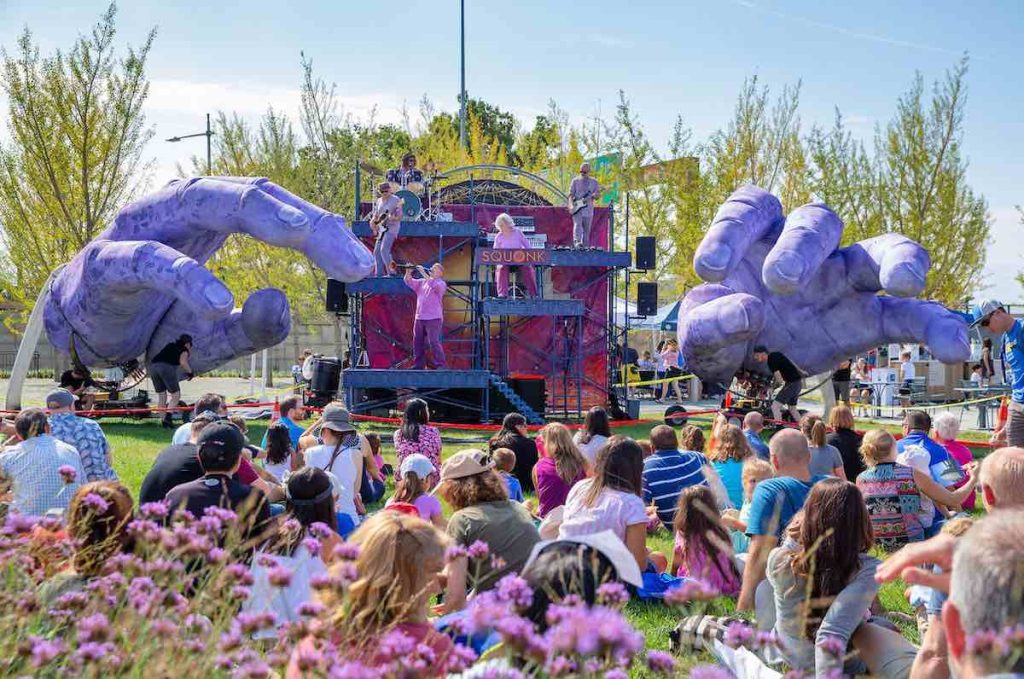 NC State LIVE is celebrating its 50th anniversary with a free block party on Sunday, September 18th, 2022, from 1 to 5 p.m., on Stafford Commons, behind Talley Student Union, 2610 Cates Avenue, Raleigh, NC.
Fall is looking great around the Triangle, whether you're looking for something spooky or totally kid-friendly! Check out our HUGE list of fall festivals, as well as our list of pumpkin patches, haunted trails and corn mazes! We have also put together a big list of Halloween events and Trick or Treat events!
This is a free event. No ticket required.
The event features two performances of Squonk's Hand to Hand, free cake and ice cream, student performances interactive art-making and t-shirt giveaways.
Squonk's Hand to Hand concert features two giant puppet hands, each the size of a house and rigged like a sailing ship. Between the delightful puppets, Squonk musicians climb a multi-tiered stage delivering a progressive rock journey that is spectacular, hypnotic and joy inducing.
Audience members are invited up to grab the rigging, each person powering a section of these giant puppet hands – creating a celebration of shared discovery and humanity.
More Festivals
Sunday, February 12, 2023
Friday, February 17, 2023
Saturday, February 18, 2023
Tuesday, February 21, 2023
Saturday, February 25, 2023
Saturday, March 11, 2023
Saturday, March 18, 2023
Thursday, March 23, 2023
Saturday, March 25, 2023
Sunday, March 26, 2023
Saturday, April 1, 2023