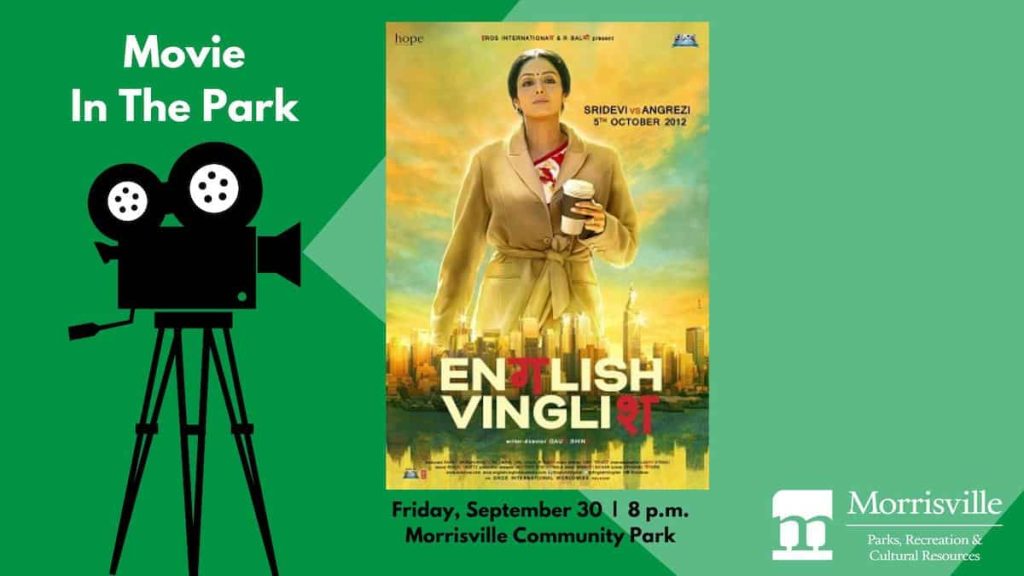 Morrisville Parks, Recreation & Cultural Resources is hosting Movie in the Park on Friday, September 30th, 2022, at Morrisville Community Park, 1520 Morrisville Parkway, Morrisville, NC.
This is a free event. The event starts at 7 p.m. and the movie will begin at 8 p.m.
Learn about more outdoor movies throughout the Triangle!
The movie will be English Vinglish.
Please bring your own chairs or blankets. You're welcome to bring dinner or snacks. Trader Joe's will be on site, providing samples of snacks and beverages.
Look for updates on the Facebook event.
More Outdoor Movies in the Triangle
Learn all about outdoor movies in the Triangle, including a description of the concert series, and a 90-day calendar, or take a quick look at some of the upcoming outdoor concerts here:
Thursday, October 6, 2022
Friday, October 7, 2022
Saturday, October 8, 2022
Friday, October 14, 2022
Saturday, October 15, 2022
Thursday, October 27, 2022
Friday, October 28, 2022
Saturday, October 29, 2022
Sunday, October 30, 2022
Friday, November 4, 2022