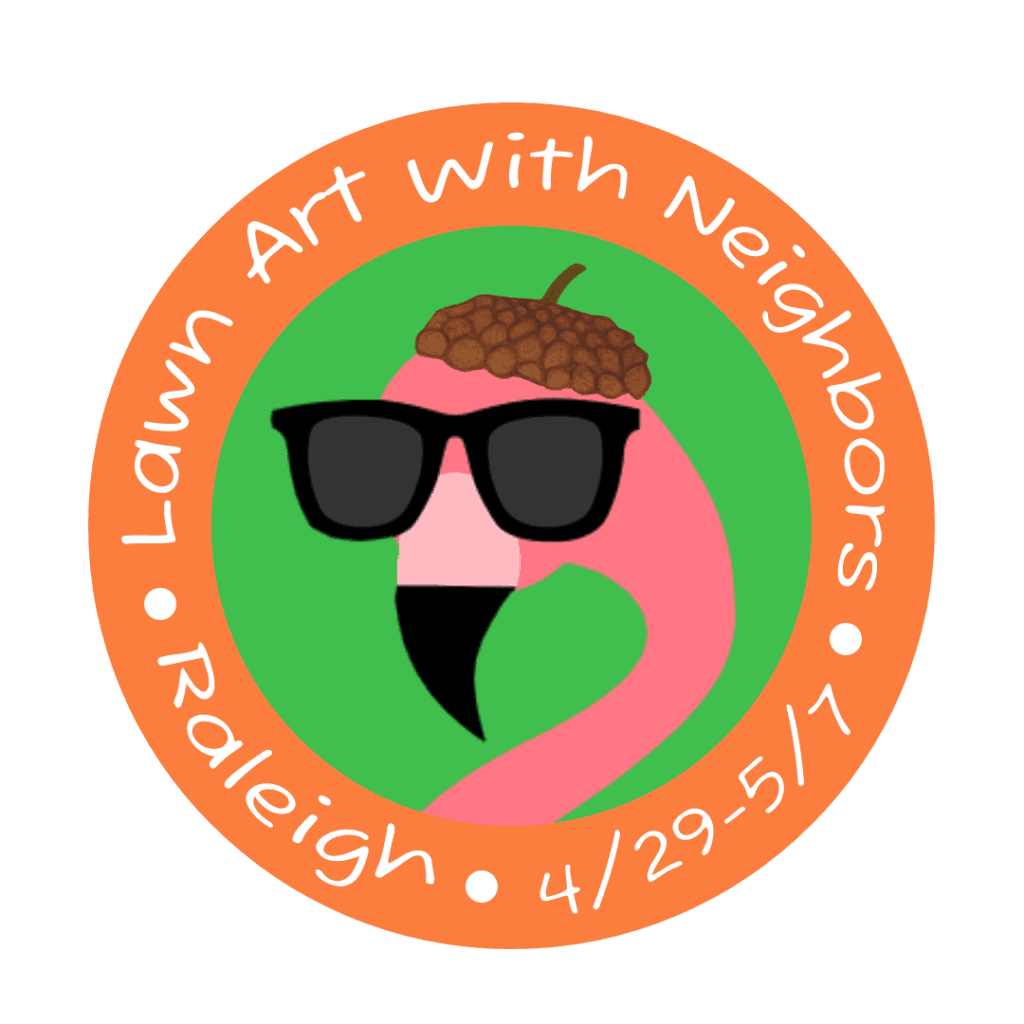 Lawn Art with Neighbors, or L.A.W.N. Raleigh, is a public art event that everyone can participate in and enjoy.
From April 29th to May 7th, 2023, all Raleighites are invited to create and display art of any kind on their front yards or any spot that's viewable to people passing by. The displays should be visible from 9 a.m. to 5 p.m. each day, but can stay out at night.
Create a fun art project with your kids or friends for the front yard. Gather neighbors together to create something for a common area in your subdivision or apartment complex. Unleash creativity on your balcony (your concrete lawn) or on a patch of grass in front of your business. Gather your friends at college and create something for the quad.
Register your project and L.A.W.N. will add it to the map, starting April 1st, 2023.
You can start creating now! If you are planning a performance piece, note the performance times when you register, and they'll add that to the pin on the map.
It's free to participate and be added to the map, and it's free to enjoy the art all around Raleigh.
More Art Events in the Triangle
Check out a calendar of art events in the Triangle or look at a few of them here:
Friday, June 9, 2023
Saturday, June 10, 2023
Monday, June 12, 2023
Tuesday, June 13, 2023
Thursday, June 15, 2023
Friday, June 16, 2023
Saturday, June 17, 2023
Monday, June 19, 2023
Tuesday, June 20, 2023
Wednesday, June 21, 2023
Thursday, June 22, 2023
Saturday, June 24, 2023
Monday, June 26, 2023
Tuesday, June 27, 2023
Friday, June 30, 2023
Saturday, July 1, 2023
Monday, July 3, 2023
Tuesday, July 4, 2023
Thursday, July 6, 2023
Friday, July 7, 2023
Saturday, July 8, 2023
Sunday, July 9, 2023
Monday, July 10, 2023
Tuesday, July 11, 2023
Wednesday, July 12, 2023
Friday, July 14, 2023
Saturday, July 15, 2023
Sunday, July 16, 2023
Monday, July 17, 2023
Tuesday, July 18, 2023
Thursday, July 20, 2023
Friday, July 21, 2023
Saturday, July 22, 2023
Monday, July 24, 2023
Tuesday, July 25, 2023
Wednesday, July 26, 2023
Friday, July 28, 2023
Saturday, July 29, 2023
Monday, July 31, 2023
Tuesday, August 1, 2023
Friday, August 4, 2023
Saturday, August 5, 2023