The best deal on Hulu is happening Thanksgiving Weekend 2022. New subscribers or eligible returning subscribers can get Hulu for only $1.99 a month for 12 months.
Get this deal from November 23rd to November 28th, 2022.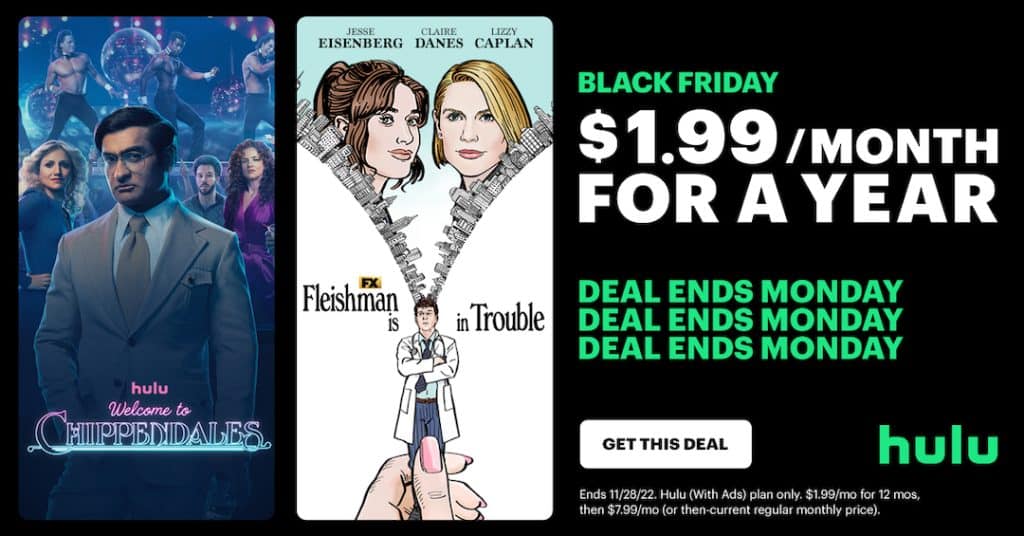 You're eligible for this deal if you're new to Hulu or it's been at least a month since you canceled your subscription. This deal includes Disney+ and ESPN+ standalone subscribers.
If you've been thinking about cutting cable service or just want to add another streaming service at a super economical price, you can't beat this Hulu Black Friday deal.
After a year at the $1.99/month rate, the price goes back to the regular price of $7.99 monthly, so make sure to mark your calendar in case you want to cancel before then.
There's no catch to this deal. If you've been thinking about a Hulu subscription, you won't find a better price.
This is the ad-supported version of Hulu, which means there will be ads/commercials during your tv and movie watching. If you want a commercial-free viewing experience, Hulu does have an upgraded plan for a higher cost, but you won't get the Black Friday deal on that plan.
With this Hulu deal you will spend less than $24 for the year. Without this deal it would cost $79.99 a year!
Upcoming Events in the Triangle
Check out our
full events calendar
, where you can enter any date, or look at the events for the next few days here:
Friday, December 9, 2022
Saturday, December 10, 2022
Sunday, December 11, 2022