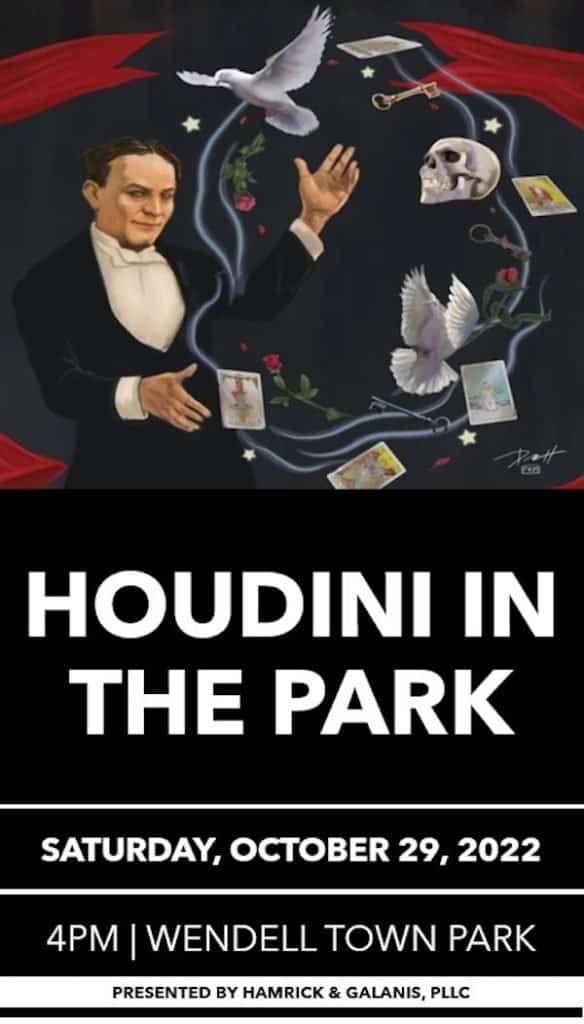 Hamrick & Galanis, PLLC is presenting Houdini in the Park on Saturday, October 29th, 2022, at 4 p.m. The FREE performance will be at Wendell Town Park, 601 W 3rd Street, Wendell, NC.
Looking for stuff for your kids to do? Check out Triangle on the Cheap's big list of upcoming free and cheap kid-friendly events in the Triangle!
Just in time for Halloween, Broadway actor Duffy Hudson will be entertaining families with magic tricks while telling the story of Houdini's life.
More Kids' Events in the Triangle
Please check out our big list of free and cheap kids' events in the Triangle or look at a quick list here:
Sunday, September 24, 2023
Monday, September 25, 2023
Tuesday, September 26, 2023
Wednesday, September 27, 2023
Thursday, September 28, 2023
Friday, September 29, 2023
Saturday, September 30, 2023
Sunday, October 1, 2023
Tuesday, October 3, 2023
Wednesday, October 4, 2023
Thursday, October 5, 2023
Friday, October 6, 2023
Saturday, October 7, 2023
Sunday, October 8, 2023