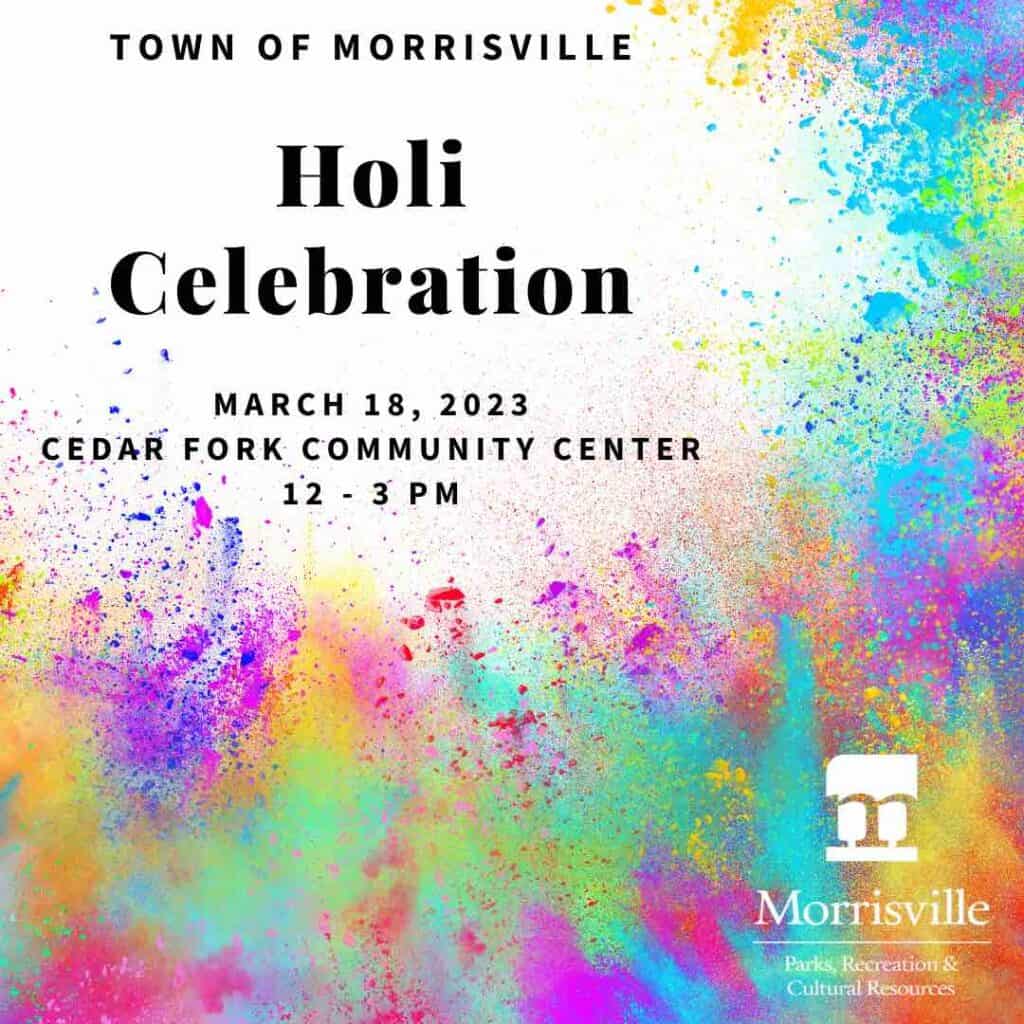 The Town of Morrisville is hosting a Holi Festival on Saturday, March 18th, 2023, from 12 p.m. to 3 p.m., at the Cedar Fork Community Center, 1050B Town Hall Drive, Morrisville, North Carolina.
Join the community to celebrate Holi, the ancient Hindu festival marking the end of winter and welcoming the spring season.
The Festival is free, and will feature dancing, Holi powders, artisan vendors, and food for purchase.
The Town will supply Holi powder to get the event started, but attendees are strongly encouraged to bring their own Holi powder to keep the fun going. This will be a dry Holi celebration, so please don't bring water toys.
Shuttle transportation will run to and from Iron Mountain at 826 Church Street and Church Street Park at 5800 Cricket Pitch Way. Cedar Fork Community Center parking is for staff, performers, and those with handicap placards.
Look for updates on the Facebook event.
Food Trucks
Curry in a Hurry
Ty's All Natural
Brusters Ice Cream
More Festivals
Check out a list of spring festivals in the Triangle, or take a quick look at upcoming festivals:
Thursday, March 23, 2023
Friday, March 24, 2023
Saturday, March 25, 2023
Sunday, March 26, 2023
Thursday, March 30, 2023
Friday, March 31, 2023
Saturday, April 1, 2023
Sunday, April 2, 2023
Wednesday, April 5, 2023
Thursday, April 6, 2023
Friday, April 7, 2023
Saturday, April 8, 2023
Sunday, April 9, 2023
Wednesday, April 12, 2023
Saturday, April 15, 2023
Friday, April 21, 2023
Saturday, April 22, 2023
Sunday, April 23, 2023
Friday, April 28, 2023
Saturday, April 29, 2023
Sunday, April 30, 2023
Saturday, May 6, 2023
Saturday, May 13, 2023
Saturday, May 20, 2023