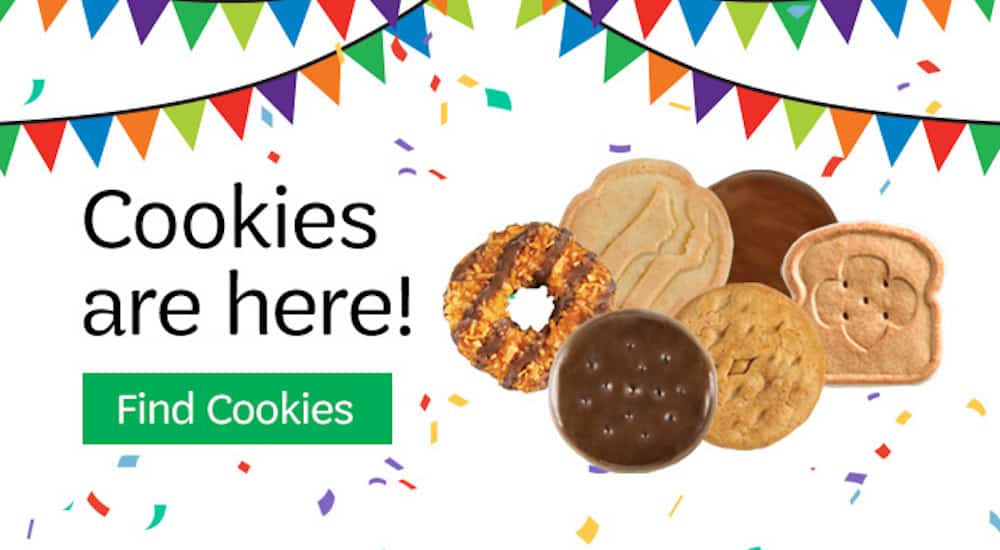 Worried about getting your Thin Mint or Samoa fix? The Girl Scouts have you covered.
Girl Scout cookies are available in the Triangle now! Girl Scout Cookie season goes from January 15th to March 6th, 2022, for the North Carolina Coastal Pines Council, which covers the Raleigh, Durham, Chapel Hill, and the rest of the Triangle.
2022 Girl Scout Cookies
When two names are listed, it's because two very similar cookies have different names in different regions. They might be baked in different bakeries.
Adventurefuls (new!): Brownie-inspired cookies topped with caramel flavoried crème with a touch of sea salt
Caramel Chocolate Chip (gluten-free!): Chewy cookies with rich caramel, semisweet chocolate chips and a hint of sea salt
Toast-Yay: Toast-shaped cookie full of French toast flavor, dipped in icing
Thin Mints: Mint-flavored cookies with a chocolate coating
Caramel deLites / Samoas: Crisp cookies with caramel, coconut and chocolaty stripes
Do-si-dos / Peanut Butter Sandwich: Crunchy oatmeal sandwich cookies with peanut butter filling
Girl Scout S'mores: Crunchy graham sandwich cookies with chocolate and marshmallow filling
Lemonades: Shortbread cooies with a tangy lemon-flavored icing
Lemon-Ups: Crispy lemon cookies with inspiring messages
Peanut Butter Patties / Tagalongs: Crispy cookies layered with peanut butter and covered with a chocolaty coating
Shortbread / Trefoils: Shortbread cookies baked in the shape of the Girl Scout trefoil
Toffee-tastic (gluten free!): Rich, buttery cookies with sweet, crunchy toffee bits
Order Girl Scout Cookies Online
If you know a Girl Scout, ask her about ordering online. You can order from her online site using the Digital Cookie platform.
If you don't know a Girl Scout, connect with your local Girl Scout Council to ask about ordering online. Girl Scouts — North Carolina Coastal Pines serves the Triangle.
Cookie Booths
Girls Scouts are operating cookie booths, and you can find one close to you by using the Find Cookies tool.
Just enter your zip code and you'll find the addresses, dates and times of cookie booths close to you.
Mobile App
You can also find cookies near you by downloading the Girl Scout Cookie Finder app on your iOS or Android device. Just press "Find Cookies Now!"
Use the app to find the cookie booth closest to you (including the sale's time, date, and location), locate your local Girl Scout council, and access the complete listing of Girl Scout Cookies available across the United States and Puerto Rico.
Text
Text COOKIES to 59618 (message and data rates may apply.) That will bring you to a screen where you can enter your zip code and find out where the closest cookie booths are.
Subscribe to Triangle on the Cheap
Upcoming Food and Drink related deals and events
Check out our big list of
food and drink events and deals in the Triangle
, or look at a few of them here:
Monday, December 5, 2022
Tuesday, December 6, 2022
Wednesday, December 7, 2022
Thursday, December 8, 2022
Friday, December 9, 2022
Saturday, December 10, 2022
Sunday, December 11, 2022
Monday, December 12, 2022
Tuesday, December 13, 2022
Wednesday, December 14, 2022