Bass Pro Shops, at 801 Bass Pro Lane, Cary, and Cabela's, at 201 Cabela Drive, Garner, are hosting Santa's Wonderland, with a FREE Santa experience. from November 5 to December 24, 2023. On November 4, 2023, officially kick off the Santa's Wonderland experience with Santa's grand entrance.
We've put together a huge list of holiday events in the Triangle, including parades, festivals, markets, Santa visits, and more. Check out our growing day by day list of holiday events in the Triangle!
Santa's Grand Entrance
Santa will arrive at both stores on November 4, 2023. There will be a parade, tree lighting, hot chocolate, cookies and free giveaways, including a Tic-Tac-Toe game and Puff Stickers to decorate your own Christmas tree or stocking craft.
At Bass Pro Shops in Cary, Santa will arrive on a boat. The tailgate parade will also feature Christmas characters and local community members.
At Cablela's in Garner, Santa will also arrive in a boat. The local fire department and police department will also be featured in the parade. The event will also include carolers from local schools as well as a tap-dancing group.
Families can meet Santa as he opens Santa's Wonderland for the season. The next day the free photos begin!
Santa's Wonderland
The full indoor Santa's Wonderland experience, with the free Santa pictures, starts the next day, November 5, 2023, and will take place every day, through December 24. Hours vary.
You'll need to make a reservation for your child's free photo appointment with Santa. Reservations might go quickly. Reservations open October 29, 2023:
Register here for Santa's Wonderland at Bass Pro Shops.
Register here for Santa's Wonderland at Cabela's.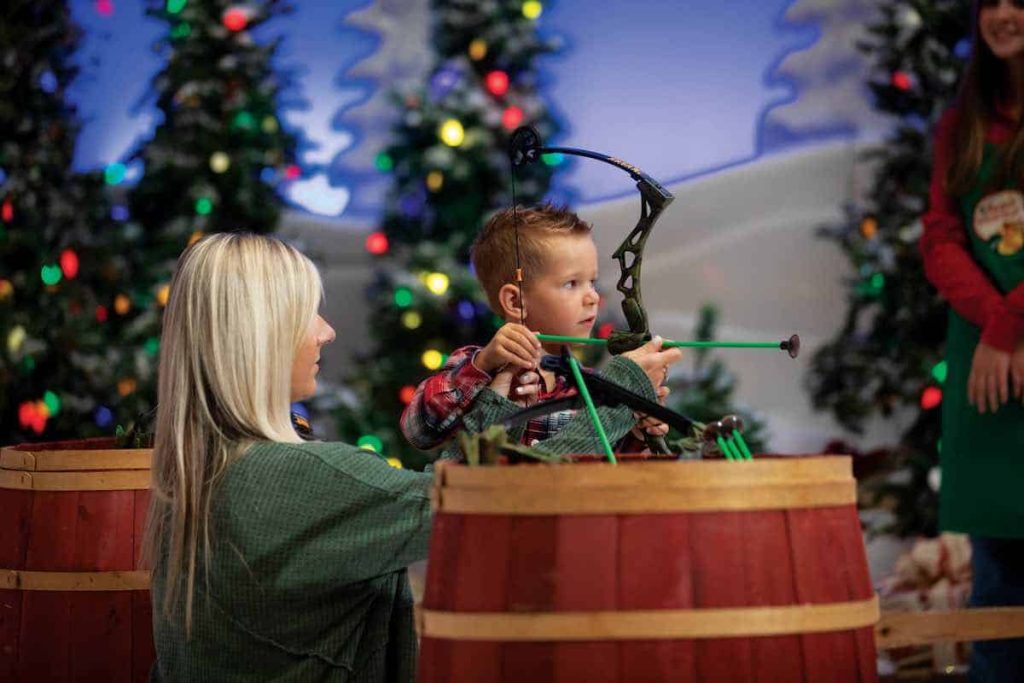 The free Santa picture is a 4×6 print. Children will receive candy canes, while supplies last.
Other packages are available for purchase.
Children will have an opportunity to write a letter to Santa and drop it in the mailbox at Santa's Wonderland. If an email address is included, children will receive an email from Santa.
More Holiday Events in the Triangle
Check out our big list of holiday events in the Triangle, or look at a few of them here:
Friday, December 8, 2023
Saturday, December 9, 2023
Sunday, December 10, 2023
Monday, December 11, 2023
Tuesday, December 12, 2023
Wednesday, December 13, 2023
Thursday, December 14, 2023
Friday, December 15, 2023
Saturday, December 16, 2023
Sunday, December 17, 2023
Monday, December 18, 2023
Tuesday, December 19, 2023
Wednesday, December 20, 2023
Thursday, December 21, 2023
Friday, December 22, 2023
Saturday, December 23, 2023
Sunday, December 24, 2023
Monday, December 25, 2023
Tuesday, December 26, 2023
Wednesday, December 27, 2023
Thursday, December 28, 2023
Friday, December 29, 2023
Saturday, December 30, 2023
Sunday, December 31, 2023
Monday, January 1, 2024
Tuesday, January 2, 2024
Wednesday, January 3, 2024
Thursday, January 4, 2024
Friday, January 5, 2024
Saturday, January 6, 2024