Preservation Durham leads free walking (and one biking) tours on Saturdays. These tours have started up again for 2023, and take place through November, 2023.
It's free, but you need to register in advance, and the group is limited to 20 people.
Learn about more free walking tours around the Triangle!
The tours meet at the corner of Parrish and Corcoran Streets in Downtown Durham at the "Major the Bull" sculpture. The tours meet at 10 a.m.
Walking and biking tours may be canceled on short notice due to extreme heat or inclement weather. Walking Tours will be shortened to one hour on days when the temperature is above 90° or below 50°.
Please take the weather into account when planning to join a tour.
In hot weather, wear a hat and sunscreen and bring a bottle of water. In cold weather, bundle up and bring a cup of hot coffee! Always wear comfortable shoes.
All the descriptions of the tours below are provided by Preservation Durham.
Murals by Bike
Dates below.
Preservation Durham has partnered with The Nasher Museum of Duke University and the Museum of Durham History to create a bicycle tour of the historic murals of downtown Durham. Some murals that will be featured, amongst others, include:
Manbites Dog Mural
Angel of Spring Mural
The Wall of Hope Mural
The Cookery Mural
Two Way Bridges Mural
The Hayti Mural
Durham Civil Rights Mural
Trinity Design Mural
The Pauli Murray Murals
Also, the tours include a mural by Odili Donald Odita, commissioned by the Nasher Museum, at the Downtown Durham YMCA
The tours are designed for anyone who has a bike or a scooter and is comfortable riding on a city street. The tour is guided by a docent who is an experienced cyclist and lasts about 90 minutes. BYOB – bring your own bike.
July 1, October 7, November 4, 2023.
Downtown Durham Tobacco Heritage Walking Tours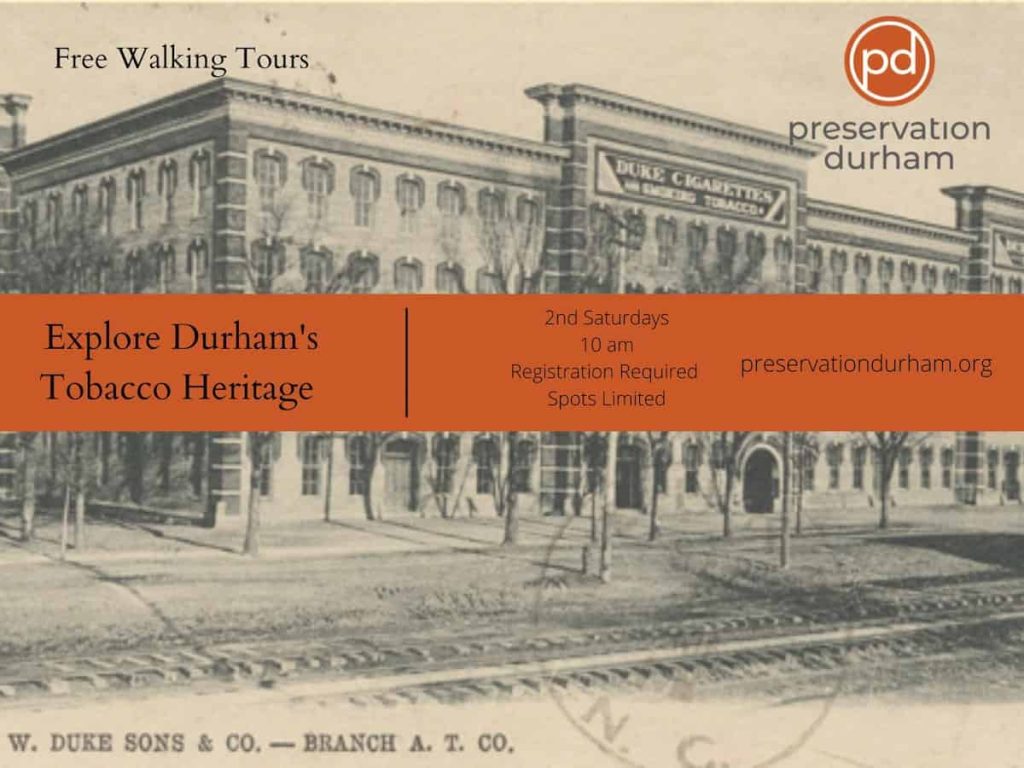 Dates below.
Preservation Durham's enthusiastic and well-informed volunteer tour guides will lead you through the history of the tobacco industry as they tell many tales from Durham's past, using oral histories and photographs to illustrate the history of tobacco and the people who supplied tobacco products known throughout the world. The tour includes descriptions of life in the factories and at home for the thousands of workers who made the Bull City one of the biggest industrial cities in the South as well as those who, like guitarist John Dee Holeman, trekked to Durham's tobacco auctions to play the blues.
November 25, 2023.
Downtown Durham Civil Rights History Walking Tour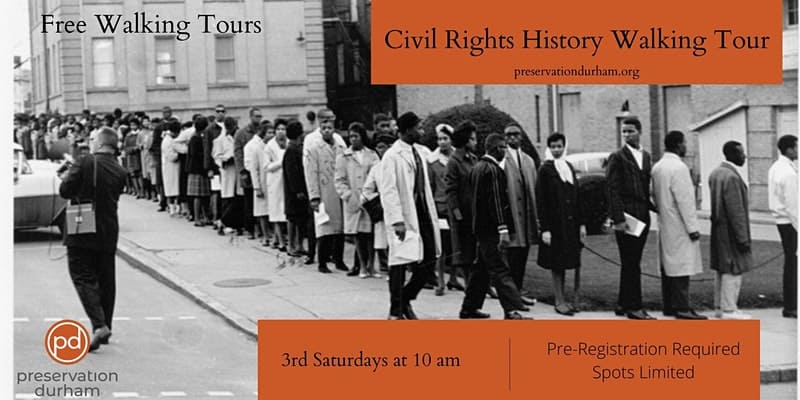 Dates below.
Explore Durham's Civil Rights Legacy with Preservation Durham's walking tour. This exciting tour focuses on many of the sites in downtown Durham that were important during the 1950s and 60s Civil Rights movement, including the Durham County Courthouse, the Arts Center (originally Durham High School and later City Hall), and the Kress and Woolworth buildings, sites of sit-in protests. Learn about the contributions of ordinary Durham residents to the struggle for equality as well as local leaders like Floyd McKissick and national figures like Dr. Martin Luther King, Jr. who brought America's attention to the campaign for civil rights in the Bull City.
June 17, July 15, August 19, September 16, October 21, November 18, 2023.
Downtown Durham Architecture & Urban Landscapes Walking Tour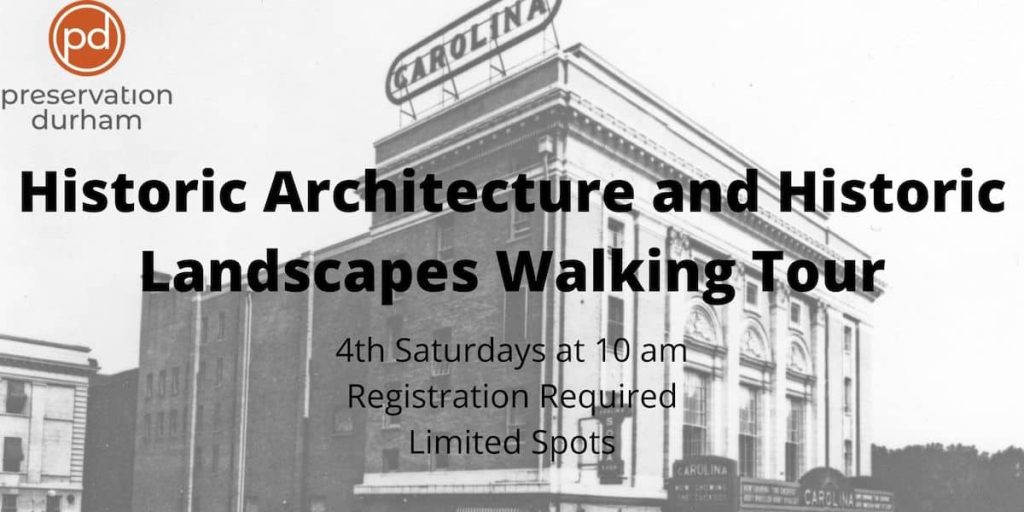 Dates below.
Explore Downtown Durham and learn how it has transformed itself from an industrial center to the City of Medicine. Docents describe the history of many of the landmark buildings that make up the Downtown Historic District, listed on the National Register of Historic Places since 1977. Featured on the tour are the 1915 First National Bank, the 1921 Mechanics and Farmers Bank Building, and Preservation Durham's one-time home, the Snow Building, built in 1933.
Built by the successful entrepreneurs of early 20th Durham, buildings Downtown were designed by nationally known architects like Milburn and Heister, Bertrand E. Taylor, Edward F. Sibbert, and Shreve, Lamb, and Harmon as well as by local companies Rose and Rose, George Watts Carr, Hill C. Linthicum, and Atwood and Weeks. There are fine examples of many architectural styles popular in the 20th century, including Art Deco, Italianate, and Neo-Classical, and post World War II Modern. Many of downtown's older building have recently changed their functions, turning from tobacco factories and textile mills into hip urban lofts, stores, and offices.
June 24, August 26, September 23, October 28, November 25, 2023.
More Walking Tours in the Triangle
Check out our list of FREE walking tours in the Triangle, or look at a few upcoming walking tours here:
Sunday, September 24, 2023
Thursday, September 28, 2023
Friday, September 29, 2023
Saturday, September 30, 2023
Sunday, October 1, 2023
Thursday, October 5, 2023
Friday, October 6, 2023
Saturday, October 7, 2023
Sunday, October 8, 2023
Thursday, October 12, 2023
Friday, October 13, 2023
Saturday, October 14, 2023
Sunday, October 15, 2023
Thursday, October 19, 2023
Friday, October 20, 2023
Saturday, October 21, 2023
Sunday, October 22, 2023