The ArtsCenter, at 300-G East Main Street in Carrboro, provides arts opportunities to people of all ages and skill levels.
Opportunities include:
Arts Classes for Adults and Youth
Summer Arts Camps & Afterschool Arts Immersion
Family-Friendly Performances
Artist Residencies
School Shows
Concerts
Theater Productions
Gallery Exhibits
You can find its performance and class schedule on its website. Among the events are some free ones.
Here are some of the upcoming free events:
Songwriter's Circle
2nd Monday of every month
7:30 p.m.
Whether an experienced or beginning songwriter, nothing is more valuable than the response of other songwriters. The Songwriters' Circle at The ArtsCenter provides an evening every other week for composers to share their work with each other and receive both encouragement and honest feedback. The bar will be open. This is a time for participating in a sharing community rather than performing. Come to The ArtsCenter Gallery on alternate Mondays to find a community of songwriters developing their craft together. Upcoming sessions will be coordinated by Kirk Ridge and Jay Ladd of the North Carolina Songwriters Co-Op. Upright piano on site!
Bluegrass Jam
3rd Monday of every month
5:45 p.m.
Grab your fiddle, guitar, banjo, or mandolin and come join us at the Bluegrass Jam! Together, in The ArtsCenter's Gallery, we'll play some old time and bluegrass favorites. Feel free to join in playing the chord progression or try taking a break or two! Whether you're a beginner or a long-time player, bassist or vocalist, play banjo or mandolin or fiddle or guitar, this jam will be an opportunity to hone your skills, meet some other musicians and have a lot of fun! All levels and instruments are welcome! Admission free, donations welcome.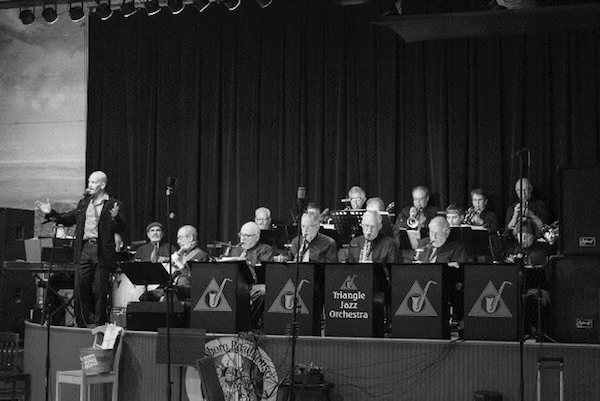 Big Band Night with Triangle Jazz Orchestra
1st Wednesday of the month
7:30 p.m.
Free, but $5 donation encouraged
The Triangle Jazz Orchestra is a Big Band composed of enthusiastic musicians from across the Triangle area of North Carolina. We perform the great American music of the jazz masters of the Swing Era, including Count Basie, Duke Ellington, and Benny Carter as well as more recent jazz and blues tunes. Our 20 musicians including a vocalist play in the traditional big band format with a full horn section for rich harmonies and a complete rhythm section for a driving, danceable beat. Don't hesitate to dance if the mood strikes you!
When
Monthly on the 2nd Monday @ 7:30 pm (starting July 10, 2017)
When
Monthly on the 3rd Monday @ 5:45 pm (starting July 17, 2017)
When
Monthly on the 1st Wednesday @ 7:30 pm (starting September 6, 2017)